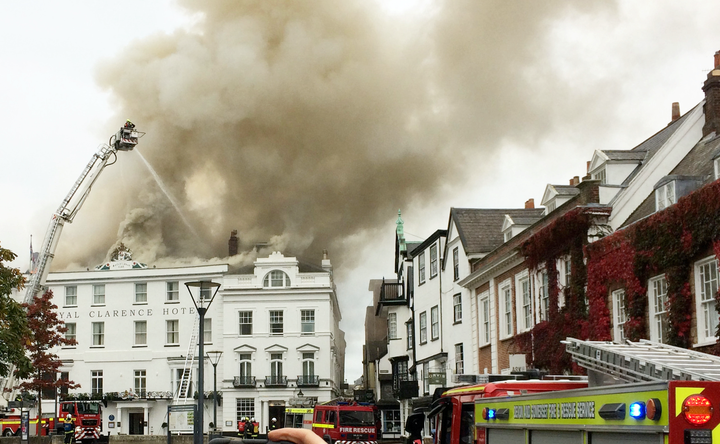 There are fears Exeter maybe "changed forever" as hundreds of firefighters battle a blaze which has ripped through a number of buildings including the "oldest hotel in England".
The fire is believed to have started around 5.20am on Friday at an art gallery which faces Exeter Cathedral in Devon, but has now spread to the nearby Royal Clarence Hotel, Devon and Cornwall Police have said.
Reports suggested the fire appeared under control earlier today until the hotel, just yards from Norman Cathedral, caught fire.
The cause of the fire is presently unknown.
About 110 firefighters, police and paramedics are said to be attending the blaze which is affecting what historian Dr Todd Gray has called "hugely significant" buildings.
Gray told the BBC: "It's the building where they first declared themselves as a hotel, before that we had inns, but they took the new French word and applied it to their building. This was the place to stay
"All these buildings have medieval origins and the buildings in between are very fine 17th century buildings of Exeter at its height. So whatever you see from the outside, it's got a deeper, more interesting past just behind the plasterwork.
"It's hugely significant for Exeter."
BBC presenter Richard Green summed up the emotion of those at the scene, tweeting: "I feel like crying seeing Exeter changing forever."
The Canon at Exeter Cathedral described seeing "flying debris".
The Royal Clarence Hotel has been evacuated and all staff and residents are accounted for, police have said.
There are no reports of any injuries.
The fire service said air is being pumped through Costa and Laura Ashley - which are close to the burning buildings - to stop the fire spreading.
As a result of the fire, Queen Street, High Street, Cathedral Green and other surrounding roads are closed.
Popular in the Community