An Exeter nightclub has been accused of racism after an image emerged of one of its bartenders wearing blackface and an afro wig at a Halloween event.
The photo was taken at Unit 1 Exeter, which describes itself as the "premier destination" for students in the city, at its Return of the Killer Clowns event on Monday night.
Students have reacted angrily to the incident, calling the costume "horrible" and "racist".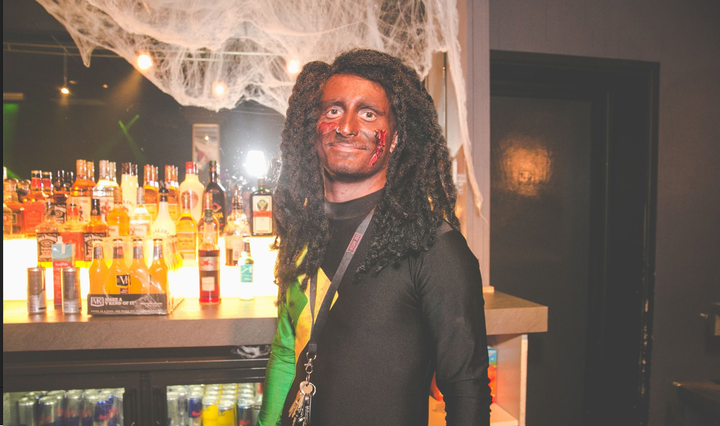 A second year Exeter University student, who asked to remain anonymous, told The Huffington Post UK: "This is disgusting. I am just beyond shocked.
"I am a minority student myself, and it hurt's that it happened on the last day of black history month," they continued.
"The club itself has not said anything publicly, but have continued to update their social media. A simple sorry would have sufficed."
The image was posted to one of the club's Facebook pages on Tuesday, before being taken down a few hours later.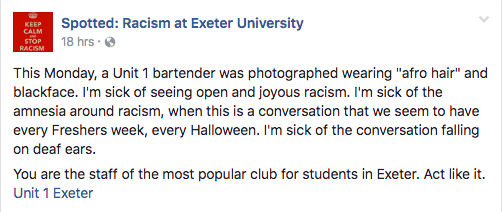 However, it has since been shared on the Facebook group Spotted: Racism at Exeter University, where students have shared their outrage at their costume.
The university's FemSoc treasurer Beth Pitcher said: "This makes me sick."
Another student added: "You can dress up as a person without having to match their skin tone? Like even if he didn't do blackface you'd know it was the guy from Cool Runnings. Going that extra bit with the face painting pushed it into racist."
Unit 1 Exeter has apologised for the incident, calling it a "lapse of judgement".
A spokesperson for the nightclub told HuffPost UK: "Although no offence was intended, this was clearly a lapse of judgement for which we apologise unreservedly.
"We have removed the photo from our social media and will be working with our staff to ensure that nothing like this happens again. We would like to apologise for any offence caused."
Due to the popularity of the club among students, the incident was also reported to the University of Exeter, which is not connected to Unit 1 Exeter.
A spokesperson for the uni said: "The University is an inclusive and friendly environment where all students are welcomed, and we don't tolerate any form of racism.
"The well-being of all our students - both on campus and in the wider Exeter community - is a central priority and there are a number of well signposted channels in place for students to raise any concerns they may have, and receive the necessary support."
Popular in the Community