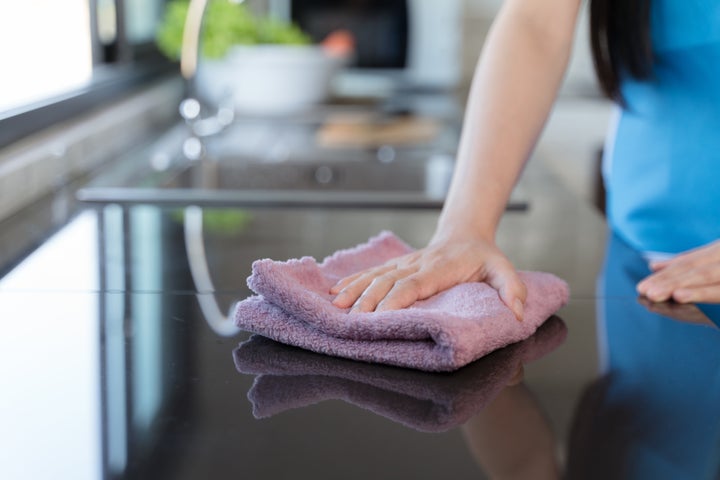 Spring is here and it's time to de-clutter and clean our homes. Sure, everything might look clean but you might be surprised to see how much dirt has accumulated in your home, especially your kitchen.
While the kitchen is a great space to cook and socialise, it can also be one of the messiest places in a home. This is why the hashtag #kitchencleaninghacks has received over 25.9 million views on TikTok.
With so many videos to choose from, InSinkErator has revealed the top trending kitchen cleaning hacks, all households should be using.
From the lemon oven cleaner hack to the bathtub hack, here's how to give your kitchen a real deep clean this spring.
The Lemon Oven Cleaner Hack - 1.6 million views
@washy_wash received over 1.6 million views after revealing how a lemon can completely transform your oven from being greasy and grimy to spotlessly clean. Simply slice a lemon and place it in a bowl with water and heat for 20 minutes at 200 degrees Celsius in your oven. Then, soak a cloth and wipe down your oven both inside and out with the solution - your oven will be left looking brand new.
The Tin Foil Hack - 586.3k views
Do you want to find a way to make your kitchenware shine?
@aestheticallyinhome has the answer to restoring your tarnished kitchen utensils. Receiving over 586,000 views, @aestheticallyinhome went viral on TikTok after revealing the power of tin foil. If you're wanting shiny glassware and silverware, simply add tin foil to your dishwasher.
The Mop Hack - 577.6k views
You've probably used a mop to clean your kitchen floor, however, have you ever thought about using a mop to clean your kitchen cabinets?
@arya.lifestylee received over 577,000 views after revealing their favourite kitchen spring cleaning hack. Simply mix together kitchen surface cleaning products and boiling hot water. Then soak your mop in the solution and wash down your kitchen cabinets as well as your large appliances including your fridge freezer!
The Dishwasher Tablet Hack - 476.7k views
If you have noticed your drains smelling, look no further than @cleanwithjen's drain cleaning hack.
@cleanwithjen received over 476,000 views after revealing that a dishwasher tablet is key to cleaning your kitchen drain pipes. Simply place a dishwasher tablet over the sink drainage hole and pour boiling water over it.
The Bath Tub Hack - 137.8k views
@carolina.mccauley recently went viral on TikTok receiving over 137,000 views after showing how to clean your dirty oven/baking trays.
@carolina.mccauley advises lowering your kitchen trays into a bathtub and soak for 3 hours after adding dishwasher tablets along with warm water. Your trays will be left clean without needing to scrub them at all.