An 83-year-old retired parole officer and longtime environmental activist was among the five climate change protesters arrested after standing atop a train at Canary Wharf this morning.
Phil Kingston, a Roman Catholic, is part of the Christian Climate Action organisation and was among one of the first Extinction Rebellion protesters when the demonstrations began 10 days ago.
Equipped with determination and a packed lunch, Kingston was pictured laying on top of the DLR train on Thursday, as well as holding a banner that read: "Business as usual = death".
He was later photographed flanked by police, with a sign around his neck that read: "We act in peace". Kingston had previously chained himself to a pipe at Oxford Circus.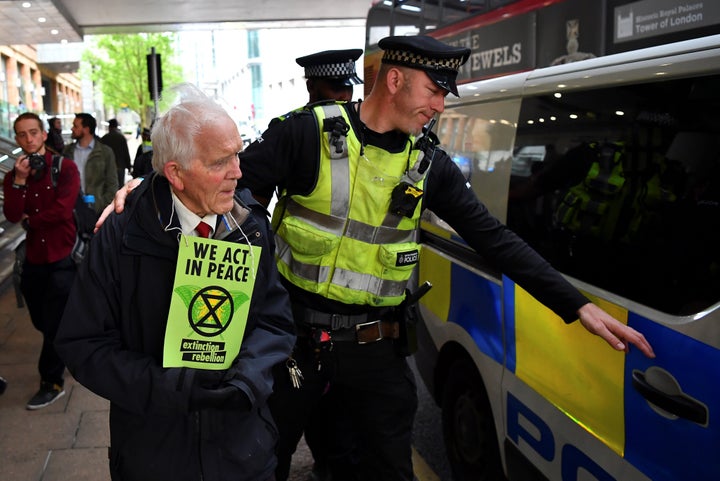 British Transport Police used ladders, ropes and harnesses to slowly guide the protesters down from the train.
Retired GP Diana Warner, 60, glued herself to a train window, while Ian Bray, 51, Ruth Jarman, 55, Richard Barnyard, 45, and Nick Cooper, 37, were stood on top.
They sang and prayed as they were approached by police.
Demonstrators outside Goldman Sachs on Fleet Street were also arrested, while a road was closed as other protesters lie on the ground, in a "swarm" of the financial district on the final day of protests.
Several buses were backed up on either side of the blockade.
On Thursday morning, separate XR protesters were unglued by police from outside the building.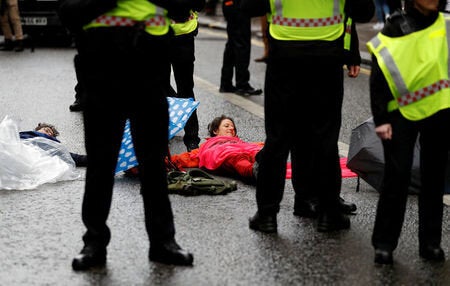 The environmental group said they were glued 'Robocop style' outside the doors.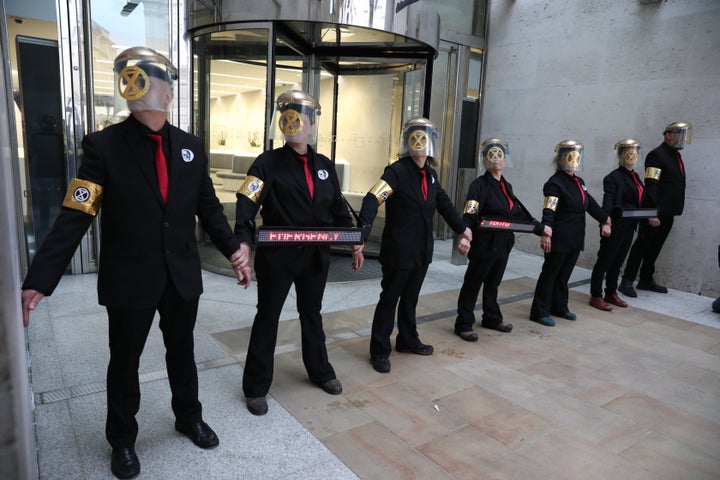 XR said it was carrying out small actions similar to these across the financial district on Thursday, as they targeted banking firms and big business, which they say are "responsible for funding climate and ecological destruction".
The 10-day demonstration will culminate in an event at Speaker's Corner in Hyde Park on Thursday evening.
The move to climb the DLR train is also in solidarity with a similar stunt by climate change protesters last week, who were arrested and charged for climbing and gluing themselves to a train.
A group spokeswoman said: "There's a public event which is what we are calling swarming, where at different locations in the City people will swarm into the roads and block the roads."
Richard Barnard of Christian Climate Action, who stood in the train, said: "We would really rather not be here but the ravaging of God's creation calls us to do something, anything to stop this headlong rush into extinction on the back of the myth of financial progress and growth and business as usual."
He added: "Our house is on fire, our children are screaming to put it out. Act now."
In a statement announcing the end of its action XR said: "We would like to thank Londoners for opening their hearts and demonstrating their willingness to act on that truth.
"We know we have disrupted your lives. We do not do this lightly. We only do this because this is an emergency."
The group also said the public should expect more action "very soon", adding there will be a "closing ceremony" at Speakers' Corner in Hyde Park on Thursday at 5pm.
""We know we have disrupted your lives. We do not do this lightly. We only do this because this is an emergency."
More than 1,000 people have been arrested during the protests which started on April 15, while more than 10,000 police officers have been deployed.
The action has seen Waterloo Bridge and Oxford Circus blocked and a "die-in" at the Natural History Museum.
A British Transport Police spokesman said: "We are currently responding to a protest incident at Canary Wharf station where a @LondonDLR service is being obstructed.
"Specialist units are on scene who are working to remove the protesters."
A Transport for London spokesman said: "The safety of our customers and staff is our number one priority and we're working closely with the police to manage the impact on London's transport network. We would encourage people to check their journeys before they travel."