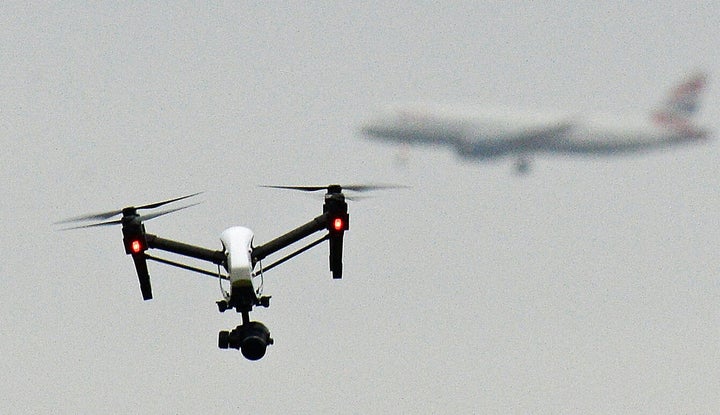 One of the founding members of Extinction Rebellion has been rearrested after attempting to fly a drone near Heathrow Airport – hours after being released from police custody.
Roger Hallam was one of five climate change activists from Heathrow Pause, an Extinction Rebellion splinter group, to be arrested on Thursday evening ahead of plans to cause mass disruption at the airport, and was arrested again on Saturday while attempting to pilot the drone.
The stunt – which was set to involve flying within the airport's 5km exclusion zone – is part of a campaign by the group to halt the planned expansion of Heathrow Airport, which includes the construction of a third runway.
Hallam was released from custody at 10pm Friday evening, however early on Saturday morning a spokesperson from Heathrow Pause stated on Twitter that he planed to fly his drone at midday near the airport.
It has been reported that another activist has also been arrested after successfully managing to fly a drone in the area.
There has not yet been any disruption to air control and flight traffic is currently moving as normal.
On Thursday, the Met Police said it had arrested five people in total – three men and two women, including Hallam – on suspicion "of conspiracy to commit a public nuisance in relations to operations at Heathrow Airport".
Nine people – three women and six men – were arrested in the early hours of Friday morning on suspicion of conspiracy to commit a public nuisance within the perimeter of Heathrow Airport.
A live-stream shared on the Heathrow Pause Twitter account showed activists struggling to get a drone off the ground, with the two men being filmed telling viewers they were experiencing technical difficulties.
The device could be seen flashing red and green lights as the men held it above their head to little effect. Flights on Friday continued as normal.
Earlier this week, a senior Metropolitan officer advised Heathrow passengers to travel as normal and said they were "confident" disruption would be kept to a minimum.
Deputy Assistant Commissioner Laurence Taylor said: "We will be arresting anybody who commits unlawful offences.
"We are really clear that it is unlawful, it is a criminal offence, and anybody who turns up expecting to fly drones in that exclusion zone will be arrested."