The BBC radio host found himself defending capitalism during a heated debate with the group's spokesperson, Rupert Read, asking him if he was "aware" that it had "enabled people to have a decent life".
Read replied: "Look John, I think everybody knows that our current system is failing and that's what we're asking – we're asking to stop and take a look at our system and be ready to reassess it because if we don't do that, and fast, then we're in dire trouble."
The interview came on the same day that a report from the Policy Exchange think-tank described Extinction Rebellion's (XR) as having a "subversive" agenda rooted in the "political extremism of anarchism".
After noting the report's findings, Humphrys questioned XR's stance on GDP, saying: "You want our GDP to stop rising because 'it is nothing to be proud of before or after we cause our civilisation to collapse'.
"So in other words you want there to be a permanent state of recession in this country, that's your position is it?"
An increasingly irate-sounding Read responded by saying the choices faced by the UK are "business as usual and climate breakdown and mass death" or "finding a way of going forward together so we can actually live and prosper together".
He added: "I really don't think that's too much to ask, it's not remotely extreme, it's just common sense."
After the success of their London protests in April, XR is this week taking action across five UK cities to call on the Government to halt wildlife losses and cut greenhouse gases to net zero by 2025.
The group has launched a "summer uprising" in Bristol, Cardiff, Glasgow, Leeds and London and protesters in each city are unveiling a large coloured boat, each named after an environmental activist, with the message "Act Now" on it.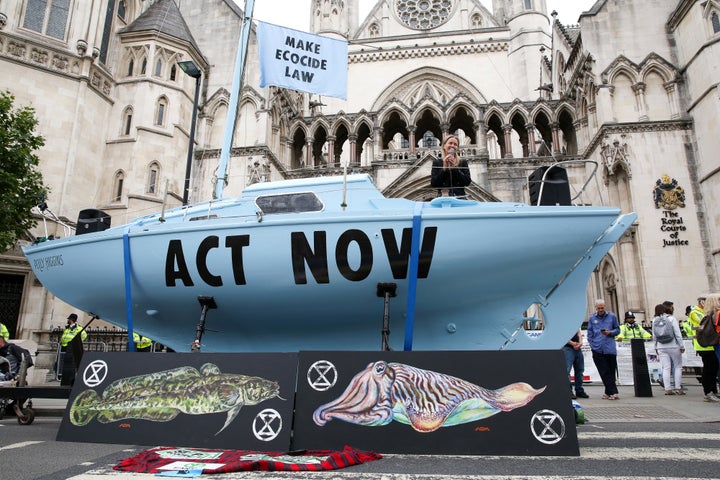 But the protests are drawing some criticism, particularly in Bristol where the blocking of a main road leading to the M32 has caused long delays.
The city's mayor Marvin Rees told the BBC that protesters have "stepped over the line" and made a "tactical error".
He added: "As a city we did have a level of understanding with them of the action they would be taking this week, and it did not include the M32."