A former firefighter, who was left severely disfigured after a burning building collapsed on him, has spoken of how his life has changed after undergoing the world's most extensive face transplant.
Patrick Hardison, 42, from Mississippi said he feels like "a normal guy" for the first time in 15 years.
Surgeons performed lengthy and complicated procedures on his face which enabled him to eat, see and hear properly once again.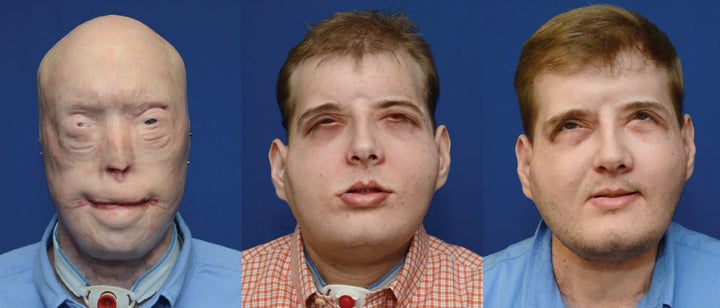 Hardison was severely injured back in 2001 when he was fighting a house fire and the walls of the building collapsed on him.
His severe burns and disfigurement left him without eyelids, lips, ears, part of his nose and hair. He was forced to eat through a feeding tube into his abdomen and breathe through a tube in his trachea.
He couldn't blink properly and was in danger of going blind.
"After my accident, my life was really hard. I hated life," he said.
But thanks to a soft tissue face transplant in 2015 and further procedures since then, all of these issues have gradually been reversed.
Hardison received the $1 million (approximately £750,000) transplant from a donor called David Rodebaugh, who lost his life in a bike accident. It was performed by surgeons at NYU Langone Medical Center.
He later had surgery to adjust his new eyelids and lips, as well as to remove the feeding tube from his abdomen and the breathing tube from his trachea.
As a result, he has been able to return to activities he loves such as driving and swimming.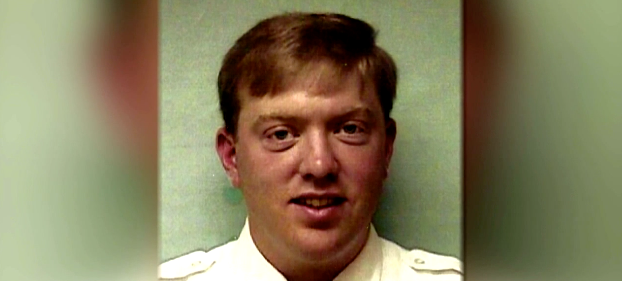 Doctors were particularly thrilled that the donor's eyelids and blinking mechanisms had been successfully transplanted - especially as this function enables the body to appropriately hydrate and clean the eyes to prevent infection and preserve vision.
Lead surgeon Eduardo Rodriguez said this particularly aspect of Hardison's surgery was a "game changer" in the field of face transplantation.
He added: "We are amazed at Pat's recovery, which has surpassed all of our expectations.
"Most significant is the lack of a rejection episode. We believe this has much to do with the methodical approach we took in the matching process to ensure that Patrick's donor provided the most favourable match.
"Doing so also has allowed us to reduce the levels of certain medications that Pat takes to prevent rejection."
Hardison, meanwhile, is thrilled to be able to live a normal life once more.
He said: "I go about my day just like everyone else. It's allowed me to do things with my family that I had not been able to do. I can't tell you what a sense of freedom it is to even drive my kids to school.
"We recently went on a family vacation to Disney World, and I swam in the pool with them - something I hadn't done in 15 years."
He added: "There are no more stares, no more frightened children running away from me. I'm pretty much just a normal guy.
"Now, I want to help others to pursue this type of surgery, especially fellow firefighters and members of the armed services. There definitely is hope."