"This is clearly a challenging time for all sectors, including retailers, and there will now be thousands of Arcadia staff who will understandably be very concerned about their jobs, pensions and overall financial security as a result of this news," says Nick Hill, customer advisory manager at the Money and Pensions Service.
"We would recommend that Arcadia staff check what they're entitled to from their employer, including redundancy and holiday pay, and to consider that they may need to review their wider financial situation."
This doesn't only mean knowing your rights and planning and organising your finances, but taking some time to look after your wellbeing. "Issues like unemployment, redundancy and problems with finances can all worsen our mental health, so it's really important you ask for help if you need it," says Nash.
With worry at the forefront of your mind, it can be hard to make a plan, but here are four steps to preparing both mentally and financially for what may come.
1. Prioritise your mental health
Tough times are ahead – and even the threat of redundancy can be harmful to your mental health. As Brian Semple, head of external affairs at the Money and Mental Health Policy Institute, tells HuffPost UK: "Worrying about how you're going to pay bills or put food on the table causes serious distress, which in turn can make it much harder to deal with money problems."
And in the midst of a pandemic, with many of us already experiencing trauma and grief, the mental health implications are likely to be greater. "If you're worried you might lose your job, it's important to know that there's a lot of help available, both for money worries and mental health problems," says Semple.
He recommends charities such as Turn2Us, which offers support and grants for people who are struggling financially, and Mind and Rethink Mental Illness which can help with mental health advice and information.
The strain of the next few weeks may lead people to lose sleep, which can have a knock-on affect on their physical health and personal relationships, isolating them from support systems when you may need them the most.
It's important to be kind to yourself, says Paul Day, support officer at wellbeing charity CABA, which offers free counselling, career coaching, financial assistance and debt advice. Accept that any feelings of stress and anxiety are normal given the pressure of the situation – and that you're not alone.
Self-care techniques, alternative therapy and small lifestyle changes can all help you manage symptoms of stress and prevent your mental health from spiralling. It might be worth considering therapy if you feel overwhelmed – you can access this through the NHS or privately.
Physical activity and time spent outdoors are proven mood boosters and can aid clearer thinking. Diet also plays a crucial role. Eat fresh fruit and vegetables if you can (frozen veggies are good too); stick to regular mealtimes; choose foods that release energy slowly (like oats and unrefined wholegrains); and cut down on caffeine, alcohol and sugary foods – especially in the evening, as they disrupt sleep.
2. Speak to loved ones
If you've been told you may lose your job, it's crucial to be as honest and open as possible with a partner or family members – telling them as soon as you are able. If they are ill or have a lot on their plate, too, Relate counsellor Peter Saddington tells HuffPost UK it might be best to wait to have the discussion when you know if you are definitely being made redundant.
Couples should talk over their worries, feelings and how they plan to tackle the situation together, he said – even if that plan is simply to wait until you have more information. Talking to children is also important, although again, you might want to wait until you have clear details, particularly if they're young.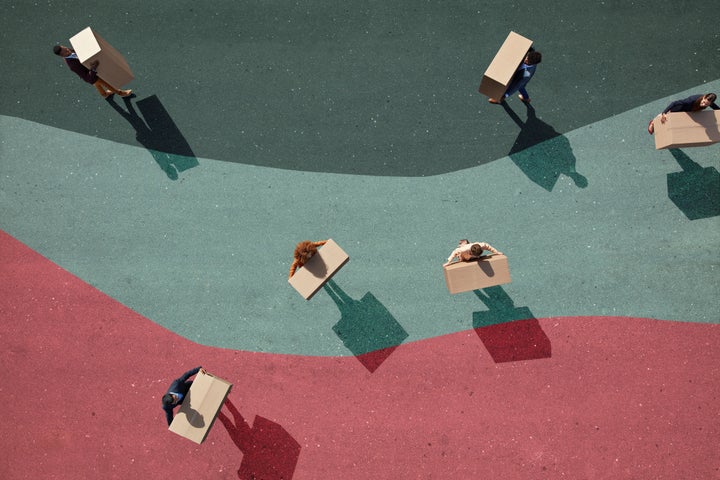 "For young children under the age of 11 you might say 'mummy or daddy is going to be stopping their work for a while,'" Saddington advises. "Children need to know that you're still going to be okay. Explain to them that there may be some changes," he says, "but that there's nothing to be scared of."
For older children, Saddington recommends being more straightforward. Tell them you're facing redundancy and aren't sure what's going to happen, but avoid going into lots of detail about debt, mortgages or overheads.
"You can explain that while you're a little worried, it's nothing for them to worry about themselves. It's good for children to know that things can go wrong in life and it gives them a chance to see how you resolve any problems that might arise as a family," he says. "The crucial message is that any problem can be dealt with if you talk about it and support each other."
3. Prepare financially
Take back some control over your finances amid all of the uncertainty will not only put your in a better position long-term – but also give you a mental boost.
Money Saving Expert has some helpful resources for those facing redundancy during the pandemic. The site advises to do a debt audit now and pay off any debts (like credit cards) – although not to use all your money to do this, keeping some emergency funds on standby.
Prioritise being able to pay your rent or mortgage payment, council tax and utility bills. If you still have other debts like credit card debt, contact your card provider to explain the situation and see if your payments can be reduced.
Ask your lender whether your mortgage, loan or credit card is covered by insurance, as if you lose your job or are too ill to work, you might be able to make a claim. You can find out where to get free debt advice here.
Do you own any items you never use that you can sell? Do a "money makeover" by going over bills that you can cut completely or save money on simply by switching provider. This budget planner can help you see where your money is going. Once completed, the form will explain what steps you should take next.
The Money Advice Service, a body supported by the government to offer free and impartial financial advice, recommends its redundancy pay calculator and planner. The calculator will give you straightforward advice on how to manage money and a summary of your legal rights. If you are a member of a trade union, you can also get advice and support from your representatives.
You might want to speak to the Money and Pensions Service before making any decisions about pensions. "Your pension rights will depend on the scheme you're in," says Nick Hill from the service. "If you're unclear how you might be affected, call our pension specialists for free on 0800 111 3797."
4. Look for other jobs
Another way to take back control is to look for other jobs in the coming weeks. Don't automatically assume there isn't any work there, despite the bleak forecasting. Start updating your CV. Think about the skills you've picked up on your most recent job so you can demonstrate the experience you have and show you're a good employee. Ask friends, family and former colleagues if they know of any suitable job opportunities.
If you've been considering a career switch, now might be the time to take the leap. LinkedIn analysed data from 690 million members to identify 10 jobs that are in-demand in the post-lockdown economy. The roles identified have the highest number of openings, pay a good wage, offer long-term stability, and can be learned online. These are: software developer, sales representative, project manager, IT administrator, customer service specialist, digital marketer, IT support/help desk, data analyst, financial analyst, graphic designer.
Microsoft and LinkedIn are currently offering free access to learning resources and interview tools. Josh Graff, the company's UK country manager, said Covid-19 has "drastically changed" the dynamics of the UK jobs market, making it harder to land a job.
"People working in the sectors hardest hit by the pandemic are already looking at changing industries to find new opportunities, but there's huge competition for roles," he said. "Gaining new skills, particularly digital skills, is essential to helping people improve their employability."
Useful websites and helplines
Mind, open Monday to Friday, 9am-6pm on 0300 123 3393.
Samaritans offers a listening service which is open 24 hours a day, on 116 123 (UK and ROI - this number is FREE to call and will not appear on your phone bill).
CALM (the Campaign Against Living Miserably) offer a helpline open 5pm-midnight, 365 days a year, on 0800 58 58 58, and a webchat service.
Rethink Mental Illness offers practical help through its advice line which can be reached on 0300 5000 927 (Monday to Friday 10am-4pm). More info can be found on rethink.org.