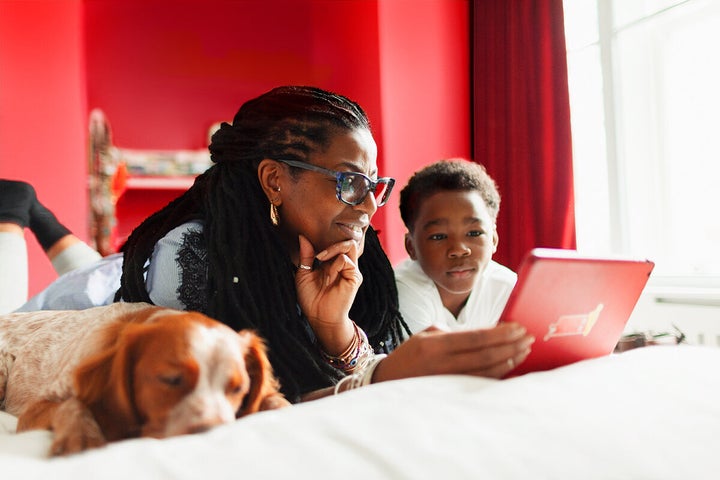 The days of dad circling programmes in the Radio Times and sitting down together as a family to watch Blind Date are well and truly gone. But contrary to the myth of isolated family members tapping away on separate screens, easy access to digital technology has been shown to enhance family life.
Research by the London School of Economics and Political Science found that media and internet-related activities are now deeply integrated into family life. The study also found that engaging in digital media activities together such as watching films, playing video games and keeping in touch via calls and messaging apps brings families together rather than dividing them.
Last year's Parenting for a Digital Future report, based on a survey of 2,000 parents, concluded: "Contrary to what panicky headlines might have us believe, rather than displacing established ways of interacting, playing and communicating – digital media sit alongside them.
"Today, British families eat, shop and read together – and they watch TV, stream content, play video games, and use educational technology. They stop by to see friends and family and they text, use messaging apps and make video calls."
And given that 5G is set to revolutionise the speed of connections (imagine a normal cable with data flowing through; then imagine said cable the size of a hula hoop to get an idea of the increase), families are set to interact online more than ever before.
Digital parenting
As parents' tech skills and confidence increase and as more web-native millennials become parents, we're seeing less of a strain between digitally-savvy kids and anxious parents and this more collaborative, communicative approach is set to increase in the future.
Nevertheless, parents will continue to have valid concerns about their children's digital usage and setting the right balance and boundaries. Check out Vodafone's Digital Parenting Guide, for example, which is all about building children's confidence and resilience so that they get the very best out of the fast-moving, awe-inspiring, sometimes-overwhelming digital world.
Future technology for families
The impetus continues to be for parents to stay in touch not just with their children, building stronger, more communicative relationships, but also with the constantly evolving technology in and out of our homes. Here are just some of the ways family life will be even more connected in the future…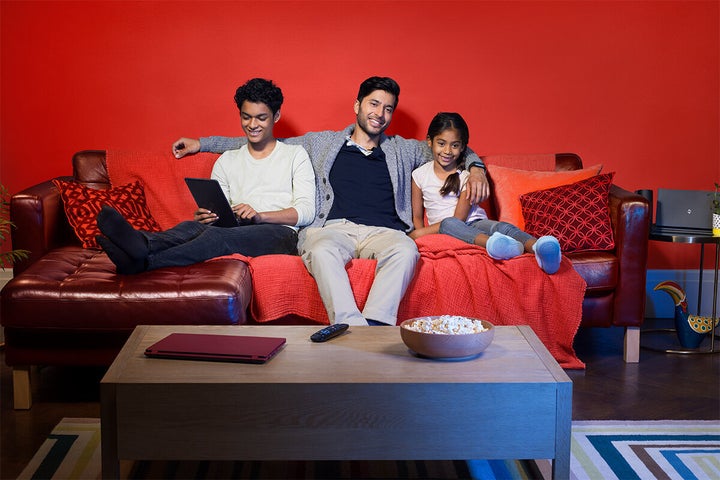 The Internet of Things and smarter homes
Connected devices like Amazon Echo, Google Home range and V-Home by Vodafone already let you control your home by smartphone, wearable or voice commands. You can keep these connected with unlimited home broadband and unlimited mobile data in one great deal with Vodafone Together. And you can even now use Alexa to make or receive hands-free calls on your Amazon Echo, using your existing mobile plan.
From family members taking turns to stream their music choices to turning the heating on before your holiday homecoming, smart technology already makes family life a whole lot more convenient.
So what's next after smart plugs? Antony Marcano co founder of RiverGlide, an innovation consultancy, says, "Conversational voice interactions plus AI anticipating our needs and acting on them – without needing to ask – are likely to be commonplace in our homes. Our alarms will go off at the right time to ensure we leave for our morning commute, based on current travel conditions. Climate control in our cars will be at the right temperature just as we need to leave for work. Haircuts will be anticipated and booked on our behalf via AI voice handled phone call, popping it straight into our diary. Our evening meal playlist will be created for our mood – picked up by our tone of voice, heart rate or the spring in our step."
A YouGov survey in February discovered that over half of people (53%) believe Artificial Intelligence is the next step in the technical home evolution, and almost three-quarters (71%) are convinced robots will become a part of our lives and help with most of our daily tasks.
A robot to pair socks, yes please!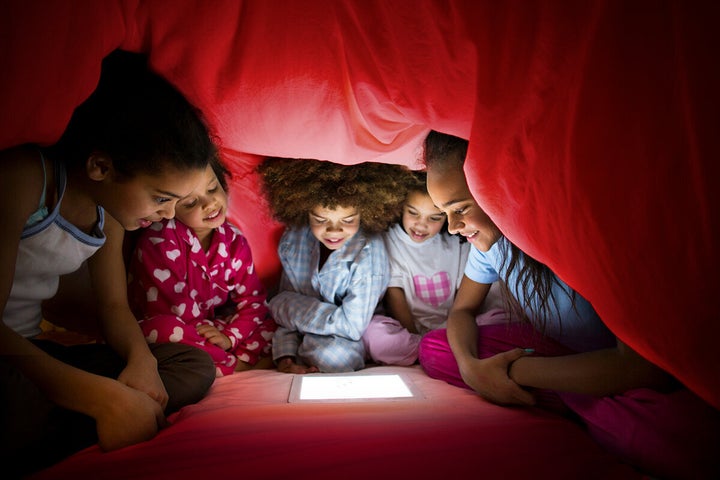 James Kington, Group Innovations Manager at BSH Home Appliances, says families are already future-proofing by buying kitchen appliances that are in line with current smart tech such as voice control and remote control by phone and will stay functional as tech gets smarter.
Already, he says: "There are instances where using the Home Connect app with a Bosch or Siemens appliance will give you a better experience than the appliance alone. For example, the app can communicate with the dishwasher to count how many dishwasher tablets you've got left and send you a notification when it's time to buy more. If Amazon Dash replenishment is activated, the app can actually reorder and have new tablets delivered before you run out. It may sound lazy, but it isn't – it's convenient.
"My washing machine's set up so that I can simply say 'hey Google, I've dropped a sock', and if the washing machine isn't too far along in the programme, it will pause so I can add it in."
The future of family entertainment
Mundane tasks sorted smartly means there should be more time for us to enjoy precious family time together on screens and off.
Our love of streaming services and subscription TV packages will definitely continue and content discovery engines will become increasingly sophisticated.
While we might not be ready to say goodbye to dramatic story twists and presenters fluffing their lines, losing the remotes down the sofa cushions will definitely be consigned to the past, as we bark instructions or even operate controls with eye movements.
In fact, our mega-inch flat screen TVs will be replaced by interactive, multi-dimensional spaces for visual and sensory Augmented Reality experiences. We may still be cuddling on the sofa but instead of enjoying the dulcet tones of David Attenborough we could be wearing AR glasses and helmets while climbing the Andes.
Chris Jones is Chief Technology Officer of iRobot Corporation, the consumer robot company which designs and builds robots that vacuum and mop. He believes our future family lives will be increasingly streamlined, so much so we won't even notice how seamlessly integrated technology will be in our daily lives. He says: "AI and automation will make home life easier by anticipating a homeowners' needs and preemptively offering solutions."
Just as we no longer think how electricity works when we switch a light switch, so we won't give a second thought to how our entertainment is automated to respond to our schedules, movements and moods. Smart will simply be the new normal.
New Vodafone Together allows you and your family to enjoy unlimited home broadband and unlimited mobile data in one great deal. Still in a contract? No problem, simply start with a mobile plan, before adding Home Broadband and you'll start saving when you have both. And with Vodafone Together you don't just get a discount, you get peace of mind. There's no need to worry about being offline with our Stay Connected Promise.
Vodafone Together: Minimum term agreement, subject to RPI increases, credit check, acceptance and availability in your area. Discount only applies while both the home broadband and handset/SIMO plans are active. Minimum term of each service will only coincide if you purchase both plans at the same time. Selected plans only includes unlimited Home Broadband + unlimited data, texts & minutes. Terms & verification: vodafone.co.uk/vodafonetogether.