A fashion brand has been criticised online for selling a garment called a 'Refugee Dress'.
UZI NYC, a New York based fashion retailer, who describe their brand as being 'urban nomadic', appear to have named the £90 ($119) garment after someone who has been forced to leave their country due to war or a natural disaster.
After people on social media calling out the brand on their choice of name they have now changed it.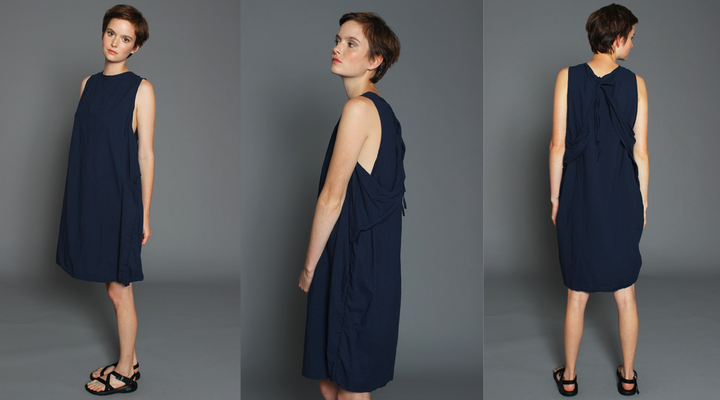 After approaching UZI NYC for comment, they said:
"Fashion designers like Courrèges, Dior, Cardin and other visionaries have always tried to look to the future as inspiration. Often these designs have been shiny and hopeful, depicting a world of plastic happiness and flying cars. There is often the idea that the future will be a better place. Unfortunately, that idea appears to be wrong today," said Mari Gustafson.
"In 2007 we created a dress that was our vision of the future based upon the reality of what we saw around us. A future of mass migration, climate change and increased economic disparity. We named the dress in 2007 when we could not see ourselves escaping the reality of a global economy spinning out of control.
"We feel that it is important to keep these issues within public discourse. The American economy has recovered, and through perseverance and luck our company has recovered as well. We are now able to provide jobs for others and give them a sense of hope and stability.
"This isn't the case for many peoples of the world and it's important that we continue to discuss ways that individuals can work to change the environment around us, petition our governments, help our neighbours, and spread awareness. Hopefully, collectively we can return to the idea that the future will be a better place.
"We could have named the dress anything we wanted but then we wouldn't be having this discussion. Thank you for helping us bring these issues into the fashion pages of your website. I know that you could be writing about hemlines, the upcoming SS18 season, or the opening of a new boutique.
"The language we have used to describe our fabric is common within the fabric industry it in no way references human beings. We understand that we have unintentionally offended some people with whom we share the same concerns, but in that process we have also been able to amplify our shared message.
"We are praying for universal healing and re-naming the dress the 'Oxford Dress'."