Dame Vivienne Westwood broke into some energetic dance moves in a swipe at Theresa May as she joined anti-fracking protesters in Lancashire.
The fashion designer is a long-time opponent of fracking. She was joined by her son and environmental activist Joe Carre on the public highway in front of Cuadrilla's fracking well gates on Preston New Road, near Blackpool, on Tuesday.
The company was given permission to drill for shale gas at the site last week, despite a High Court bid by protesters to block the action, and three demonstrators were given jail sentences for attempting to block a lorry convoy last month.
Wearing a flamboyant cape, the 77-year-old enthusiastically boogied along to Abba's Dancing Queen, mocking the prime minister's antics at the Tory Party conference earlier this month.
Westwood told the crowd: "What this is so seriously about is about freedom of speech.
"That if you try to protest against government misrule and corruption, then you are going to be arrested and put in prison.
"The laws are here to protect the government, not to protect people and this is what we are fighting – that the government can just do what they want, make whatever laws they want, tell their friends they can do what they want."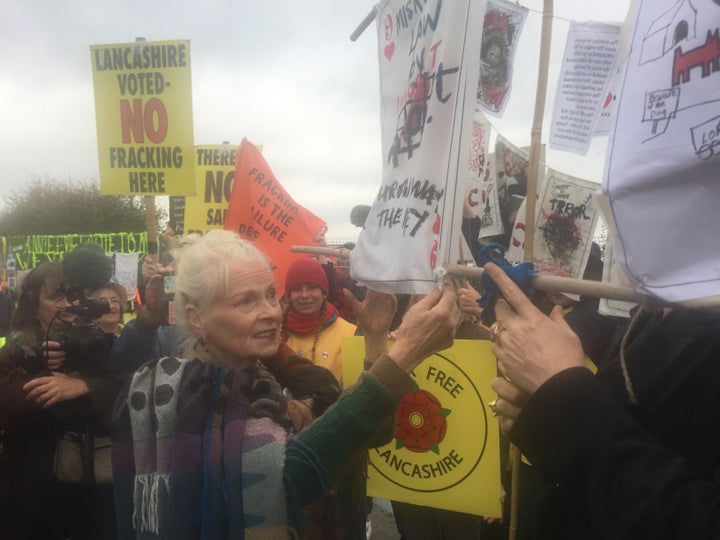 Cuadrilla began hydraulic fracturing on Monday. It is the first time fracking has taken place in the UK since 2011, when it was halted after it caused two small earthquakes in Lancashire.
Westwood added: "I'm here guys because I'm going to save the world from climate change.
"I've got a plan and I'm the only person who's got a real strategy of something easy to do."
She said she had designed a set of playing cards which set out a strategy to stop climate change and one of them, the three of diamonds, represented fracking and showed three snakes' heads.
Dame Vivienne said: "Snakes are about poison and all the crap that happens every hour of the day, of the week.
"This is what it is all about, all the confusion and the poison that we get from fracking.
"This is what we've got to stop because we have got to save the world."
She met protesters who have been demonstrating outside the site, some for the last 18 months, and praised their work.
She said: "I think it's just amazing. I think it's absolutely heroic and wonderful.
"If I can speak on behalf of the world, I thank them for everything they've done and every minute of their life that they are doing their heroic protest."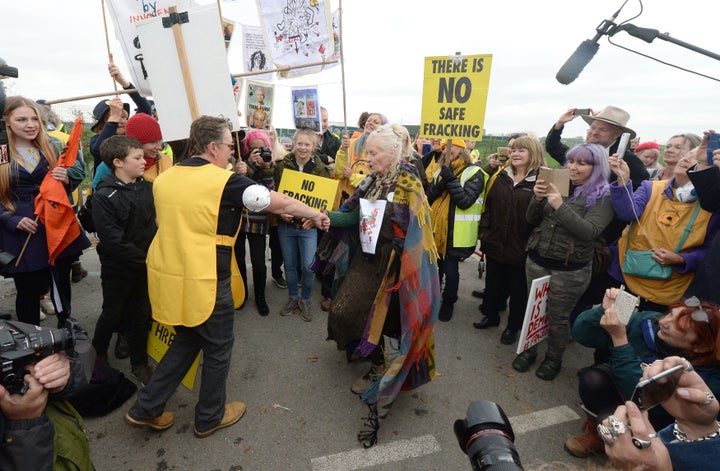 Cuadrilla plans to continue fracking at the site for three months to test the flow rate of the gas produced.
The work had been due to start on Saturday but was delayed by the effects of Storm Callum.
Fracking is controversial, as campaigners say it is dangerous and causes risks to public health and potentially contaminates water.
Westwood came to Lancashire in 2015 when Lancashire County Council voted against the process which was later overturned.
She has previously accused the government of failing to properly inform the public on the fracking debate.