Fast radio bursts are among the most mysterious phenomena in the universe and have baffled astronomers for years.
Now, researchers at Harvard have suggested the ultra-bright bursts could be evidence of interstellar spaceships in distant galaxies.
If that sounds too absurd to be true, bear with us; there's method in the madness.
Despite a decade of research, scientists have been unable to identify a natural source for the beams, which are unusually bright given their distant origin and short duration. They travel billions of light-years and last for a millisecond.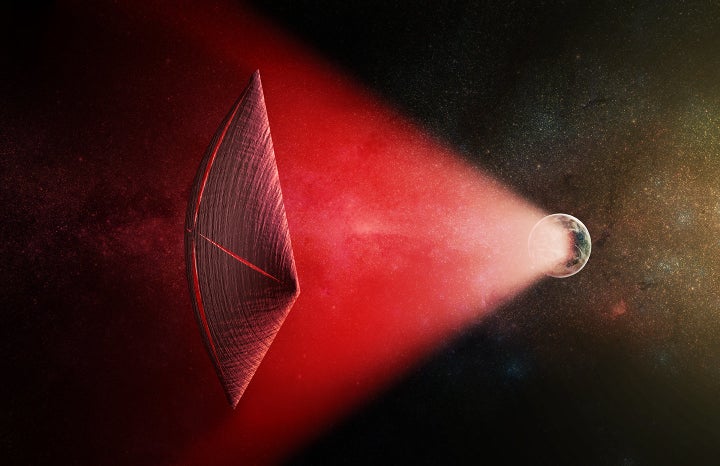 Alongside his co-author Manasvi Lingam, Loeb set about trying to explain the elusive fast radio bursts (FRBs), which are rarely spotted on Earth.
FRBs could originate from a solar-powered radio transmitter twice the size of Earth, which generates enough power to drive light sails on interstellar ships.
The probes would weigh about 20 times more than Earth's heaviest cruise ship.
"That's big enough to carry living passengers across interstellar or even intergalactic distances," said Lingam.
Sunlight falling on an area of a planet twice the size of Earth would be enough to generate the required energy, the researchers found.
A construction of that size is beyond our own capabilities, but physically possible if it's water-cooled.
The transmitter would focus a beam on the sails continuously, but would occasionally flash Earth as it sweeps across the sky.
Naturally, the work is speculative, but Loeb has confidence in the study: "Science isn't a matter of belief, it's a matter of evidence. Deciding what's likely ahead of time limits the possibilities. It's worth putting ideas out there and letting the data be the judge."
NASA's Most Famous Images