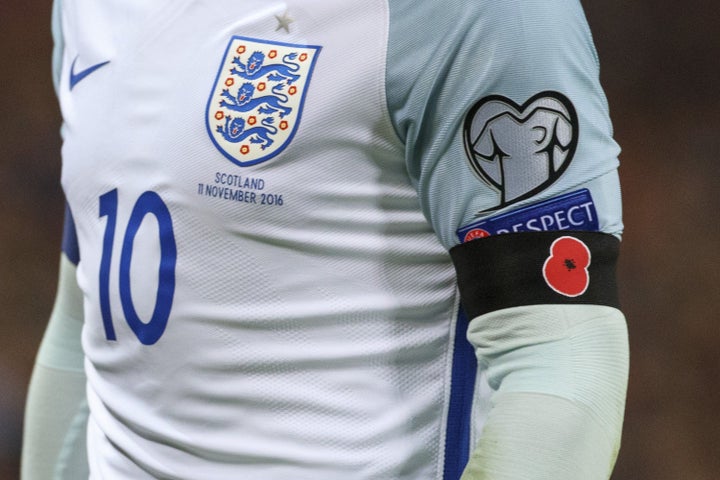 Fifa have opened disciplinary proceedings against England and Scotland for wearing poppies during Friday's qualifier.
Players from both teams defied the football governing body by wearing black armbands bearing a poppy during their recent World Cup qualifier which England won 3-0 at Wembley on Armistice Day.
Fifa rules forbid "political" statements on shirts.
Fifa, world football's governing body, would not "speculate on any outcome or provide an estimated timeline", the BBC reported.
In a statement released before the clash the Football Association said they wanted to make "an appropriate tribute to those who made the ultimate sacrifice" at the Remembrance Day match between the teams.
Many believe the England-Scotland 2018 World Cup qualifying game on November 11 had special significance as it falls in the centenary year of some of the First World War's most deadly battles.
Fifa bans political or religious messages on shirts, but it was forced to allow England players to wear black armbands embroidered with poppies in 2011, after pleas from David Cameron and FA president Prince William.
The FA said on November 2:
"The poppy is an important symbol of remembrance and we do not believe it represents a political, religious or commercial message, nor does it relate to any one historical event.

"In keeping with the position agreed with Fifa back in 2011 and in what we believe is in accordance with Law 4, para 4, the FA intend to pay appropriate tribute to those who have made the ultimate sacrifice by having the England team wear black armbands bearing poppies in our fixture on Armistice Day."
The Scottish FA also confirmed it "intends to pay appropriate tribute by having the Scotland national team wear black armbands bearing poppies". It said:
"We fully respect the laws of the game and take our founding role on the International Football Association Board extremely seriously.

"The poppy is an important symbol of remembrance and we do not believe it represents a political, religious or commercial message, nor does it relate to any one historical event.

"In keeping with what we believe is in accordance with Law 4, para 4, the Scottish FA intends to pay appropriate tribute to those who have made the ultimate sacrifice by having the Scotland national team wear black armbands bearing poppies in our fixture against England on Armistice Day."