A petition launched after police dog Finn was stabbed in the head and chest has received more than 121,000 signatures since it was created last month.
The petition reads: "I propose that UK police dogs and horses be given protection that reflects their status if assaulted in the line of duty. This would be similar to the US Federal Law Enforcement Animal Protection"
The petition is due to be debated in Parliament on Monday, but a government response posted by the Home Office said "in light of the maximum penalties already in place" additional legislation is unnecessary.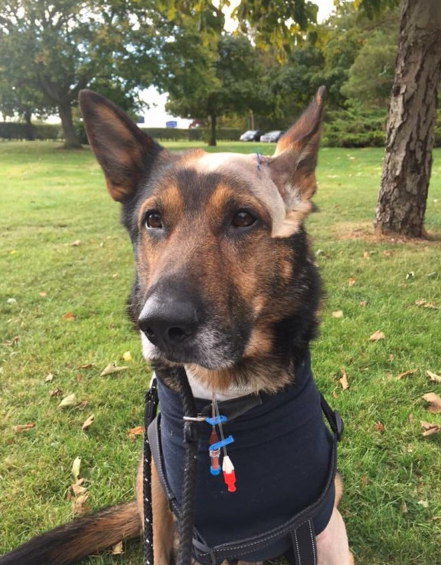 Campaigners from Finn's Law, who created the petition, said they will not be accepting the response as the government's "final position".
Finn was stabbed while he and his handler, PC Dave Wardell, pursued a suspect in Stevenage on October 5.
Seriously injured Finn underwent emergency surgery and is now recovering.
A 16-year-old boy from London has been charged with the assault of the officer and criminal damage relating to the dog attack.
The petition gained tens of thousands of signatures within days. It calls for people who attack police animals to face similar charges to those who attack a police officer.
The statement from the Home Office read: "Under some circumstances assaults on support animals could be treated as criminal damage which would allow for penalties of up to 10 years' imprisonment.
"An additional offence dealing specifically with attacks on police animals or a move to change their legal status is unnecessary in light of the maximum penalties already in place.
"An additional and separate offence may not result in more prosecutions, or increased sentences."
A statement on the Finn's Law Facebook page read: "Obviously, we disagree that an additional offence is not needed, as existing laws simply do not cover the majority of attacks on police animals.
"We had a good meeting with the Home Office the other day, so rest assured, we are not accepting this response as HMG's final position."
Conservative MP David Mackintosh, who is presenting the debate on Monday as he sits on the Petitions Committee, said the law should reflect the status "of our brave and courageous animals".
He told the Press Association: "When you look at their current status, assaults on police dogs and horses are treated in the same way as criminal damage.
"We are putting police dogs and horses on the same level as police cars and riot vans, and I think that's wrong.
"This should be looked at in a way that reflects the status of our brave and courageous animals who help us fight against criminality."
In some parts of the US attacks on dogs are treated the same as attacks on their human handlers.
Mackintosh said ministers should look at giving greater protection to animals, although he said there would be problems giving them the same status as humans.
Retired police dog handler Neil Sampson, 56, from Swindon, said he would be dead if his trusted dog Anya had not fought off a knifeman.
Sampson was stabbed seven times during the attack in January 2008 and Anya was knifed in the chest.
He said: "Police dogs and police horses are living, breathing creatures. And whilst they are the property of the police force, to call a dog or a horse just property and the offence criminal damage is not good enough.
"Because there is this love of animals that runs throughout the UK I'm hoping the Government will look upon it in a different light and say yes, these creatures are helping us and we should recognise their duty and try and help them."
The petition received the backing of Assistant Chief Constable Dan Vajzovic, head of the Joint Protected Services for Bedfordshire, Cambridgeshire and Hertfordshire.
He said: "Were there to be a proposal for legislative change I would support legislation that offered an effective mechanism for reducing the likelihood of officers and their police dogs being subject to assault and injury."
Related