The photos were chosen as the finalists and shortlisted entries for a photography competition called flash points, which explores the different health issues, challenges and risks at play throughout each stage of life for people in the UK today.
"We hope the selected works capture the breadth and depth of issues which confront people at different stages of life, both for the public and for those working to improve and protect the public's health."
Here are some of our favourites. If there's one thing these photos remind us it's that no matter what challenges we may face, humans are resilient to the core.
Early Years - 'Arrival' by Kauser Parveen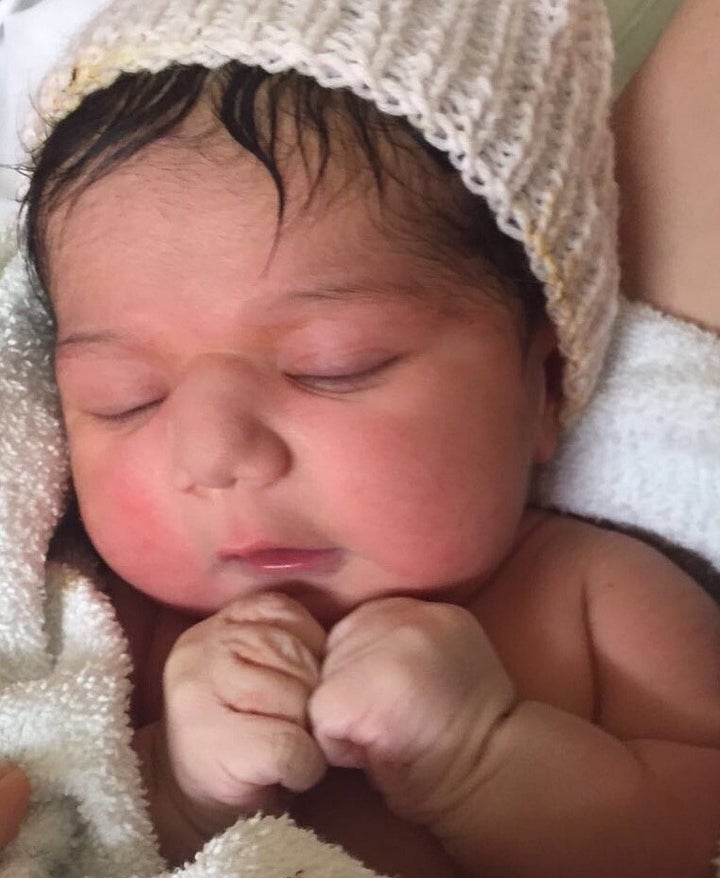 "The birth of a child into the world instills hope, fear and joy."
Childhood - 'Untitled' by Shelby Marie Clemens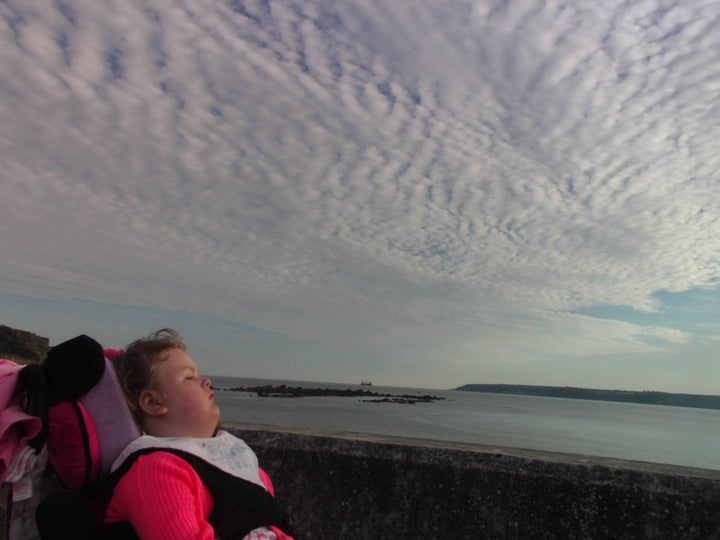 "This photo was captured in Penzance, UK. My little sister has a life-threatening condition called lissencephaly which makes her not talk, walk or eat. She suffers from epilepsy, fits and much more.
"I love her so much, and as I was watching her she was gazing at the clouds and the sea. She looked happy, and she stood out in the photo; the sky reflected on her like a mirror. Photos like this are memories that I treasure forever."
Adolescence - 'Untitled' by David Shaw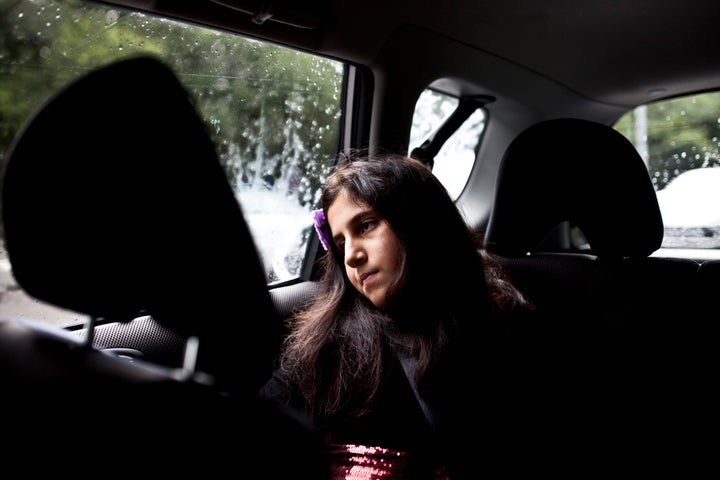 "Malaika Khalid, a young British girl who is from a Pakistani descent watches the town of Oldham go by. Oldham was named as Britain's most deprived town of 2016 and suffers high levels of poverty which has led to community tensions between the perceived 'White British' and 'Asian' communities.
"Many local British Asian people talk of an identity crisis; they feel that they are British, due to being born and living their lives in the UK, however they often still live in closed Pakistani or Bangladeshi communities, both physically in the town and socially."
Adolescence - 'Divergent Pier, Saltburn on Sea' by Robert Herringshaw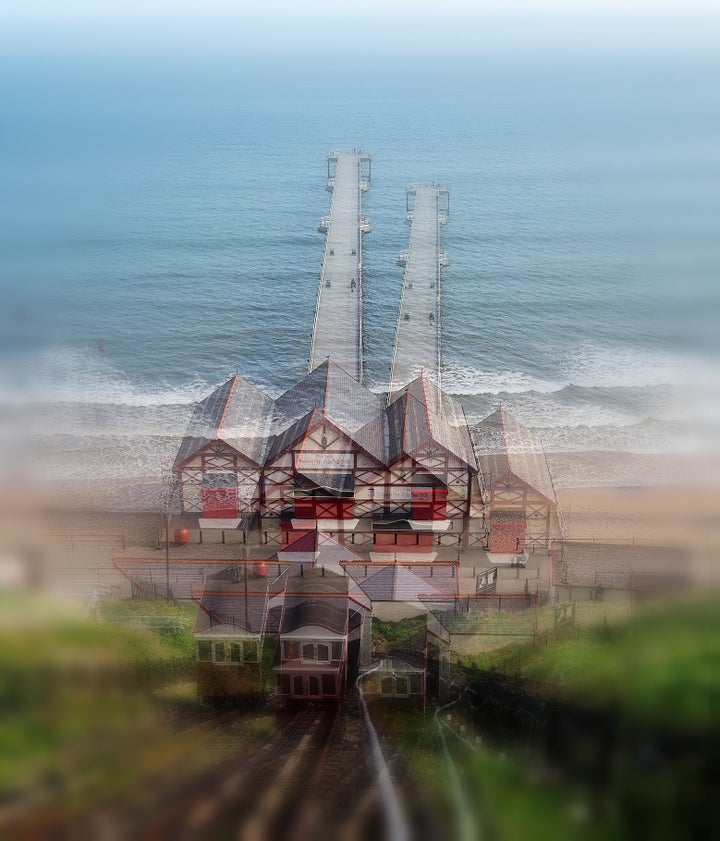 "It was shortly before my 16th birthday. My parents and I had taken a school friend of mine with us on holiday to Yorkshire. David and I would often race against each other, sometimes he would win and sometimes I would. The challenge that particular day was to race to the top of the funicular from the beach. I was determined to win.
"Reaching the top first, I suddenly realised I was seeing double. I didn't instantly recover and it was two years before I was finally diagnosed with Myasthenia Gravis, a neuro muscular disease that results in weakness of certain skeletal muscles.
"A hallmark of myasthenia is that muscle weakness worsens after periods of activity and improves after rest. In my case, and most commonly for myasthenia sufferers, it affects the control of the eye muscles and eyelids. This results in diplopia, or double vision. It varies from day to day, month to month, year to year and hourly throughout each day.
"This particular image simulates what I saw that day. There is right and left eye image separation, showing quite a pronounced divergent double image; my field of vision is often blurred."
Adolescence – 'Punch Like A Girl' by Sophie Naddell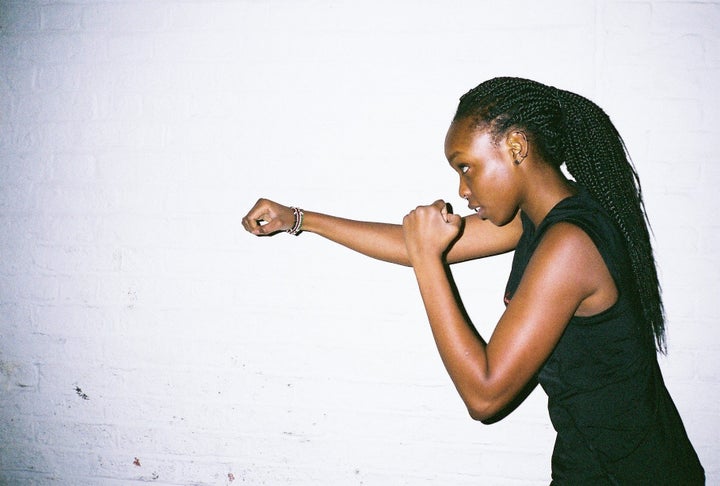 "One of the younger members of Cambridge University's Amateur Boxing Club tackles the cold and dark outdoors to train in preparation for the Varsity fight against Oxford. It is only the second year that women have been allowed to compete.
"Assumptions that anything less than a 'man's punch' is pathetic are only now beginning to shift, and as a result women carry a great deal more pressure to prove both their dedication to training and talent in the ring. With the growing acceptance of women's boxing comes the defiance of the delicate, sensitive, vulnerable female stereotype, and in its place the image of a powerful, determined, and skilful fighter.
"Although Cambridge University went on to lose the 2017 fight overall, their Women's squad brought home the first ever Women's boxing trophy the university has seen."
Young Adulthood – 'Untitled' by Huw Jones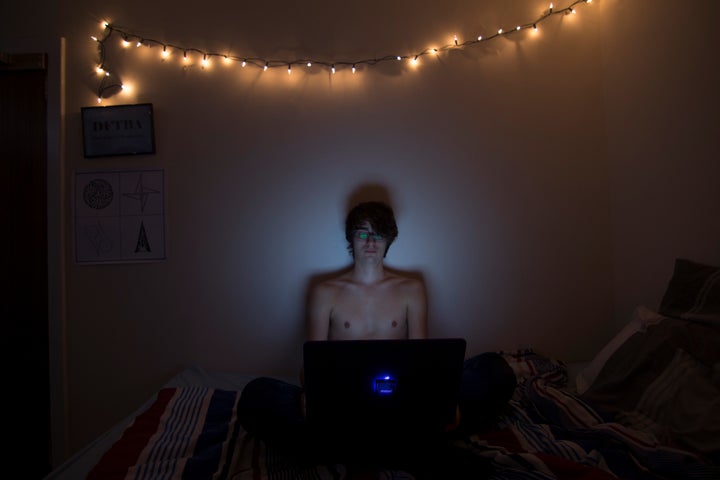 "Today's young adults are having to navigate a world that is totally alien to that of their parents, with technology playing an ever-increasing role in our lives. The children of the new millennium grew up alongside consumer electronics such as computers and mobile phones. These devices have many uses - organisation, entertainment, work - which explains their omnipresence in our lives.
"In an increasingly connected world, young people are struggling more and more with mental and emotional wellbeing. Being accessible 24/7 puts people under more pressure in the workplace; social media shows us how much everyone else is enjoying themselves when we're at home alone; entertainment at our fingertips makes it all the more easy to stay inside rather than getting up and doing something. Yet for all its flaws this technology allows us to communicate, to learn and to come together in a way that could never have been dreamed of when today's young adults were born."
Young Adulthood – 'Cyber Bullying' by Lee Morley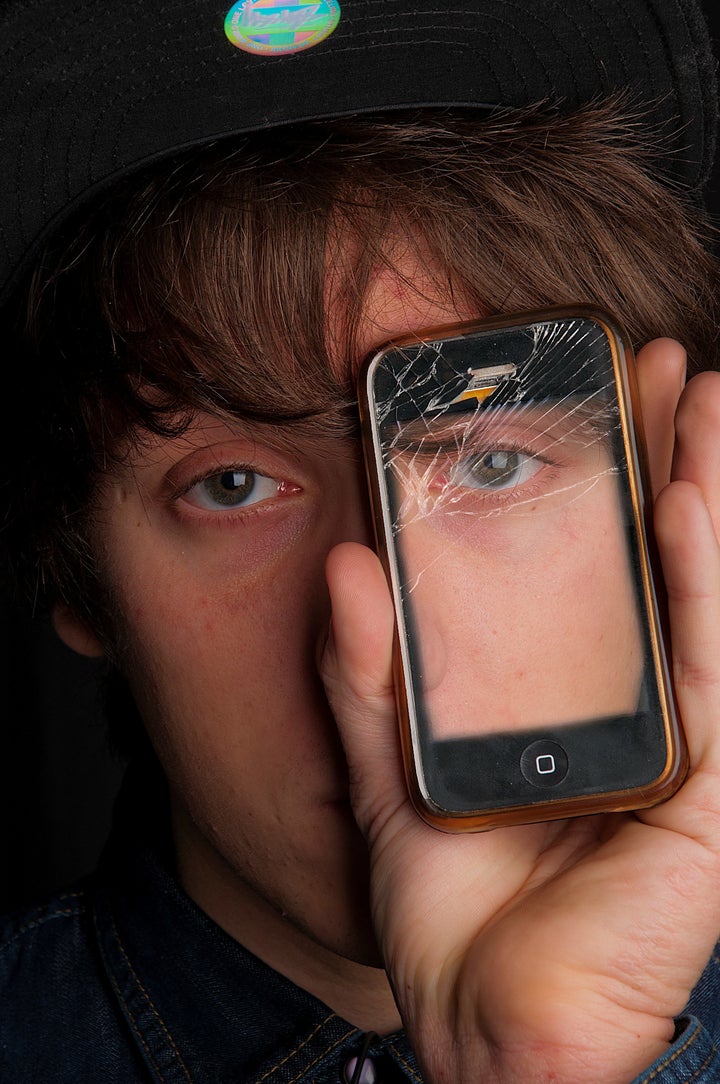 "Cyber bullying is a product of the digital age where the victims have no escape from their tormentors. With traditional bullying, the victim would have been able to find sanctuary at home or in the presence of adults but through the technology of mobile phones the bullies are able to reach them wherever they are."
Young Adulthood – 'Untitled' by Lara Casalotti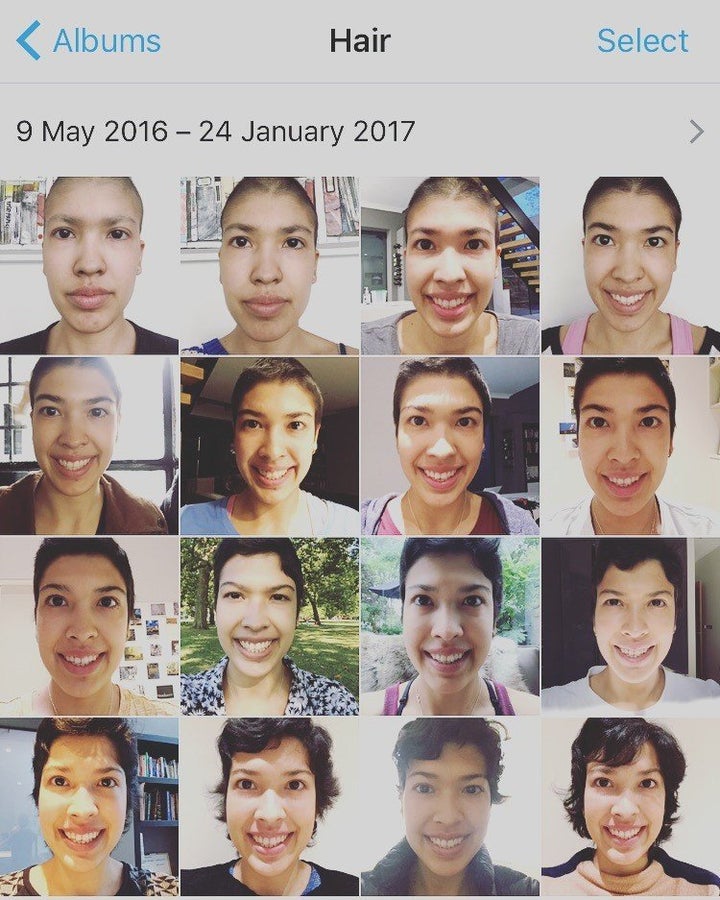 "At the age of 24, I was diagnosed with Acute Myeloid Leukaemia, an aggressive blood cancer. This came as a total shock as I had always been very active and healthy and experiencing cancer was never something I thought I would go through at a young age.
"As I started the intensive chemotherapy my hair quickly began to fall out. I would sit up in bed and find whole tufts left on my pillow. I never expected that it would get so tangled - and when I decided to shave it all off to relieve the itchiness - it all came off as one matted toupee.
"I much preferred to shave it off in one go rather than draw out the process of watching my hair thin clump by clump. I became very used to being bald, stroking my smooth scalp for comfort. I was pleased to hold onto my eyelashes and eyebrows for a bit longer than my hair. Fortunately, after three round of intense chemotherapy and a stem cell transplant from an unrelated donor, my body was rid of the cancerous cells. I then documented my recovery with weekly, and then monthly photographs for my hair growth. It is incredible how the human body can regenerate."
Young Adulthood – 'Strain' by Sam Grant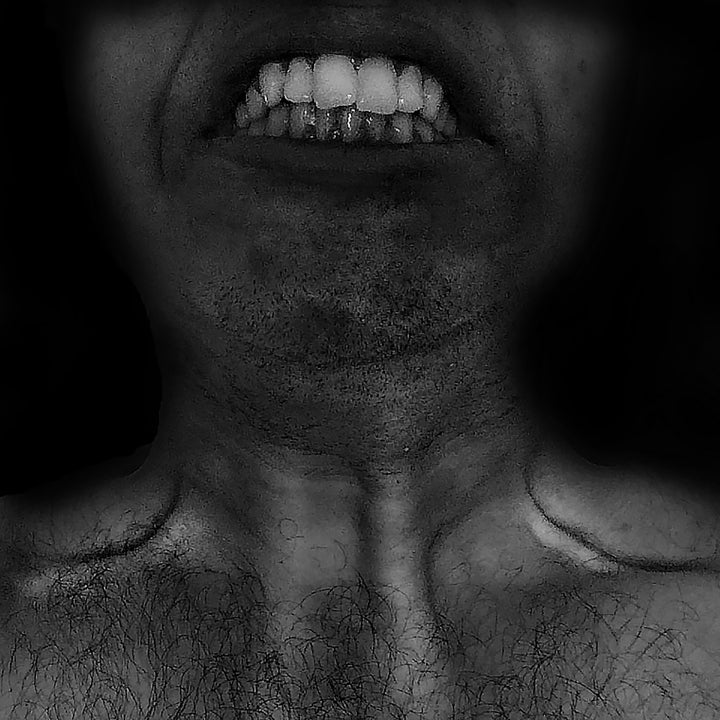 "A self-portrait conveying the fear, pain and anxiety of transitioning from young adulthood to adulthood when suffering from a disability. I drew from my stay in hospital after an unsuccessful operation to sustain full use of my legs, as well as the fear and isolation which results from living with autism, to create an image which reflects the mentality of people now in their 20s having to take on the responsibilities of the real world with mental and physical limitations."
Adulthood – 'A New Marriage' by Martin Nangle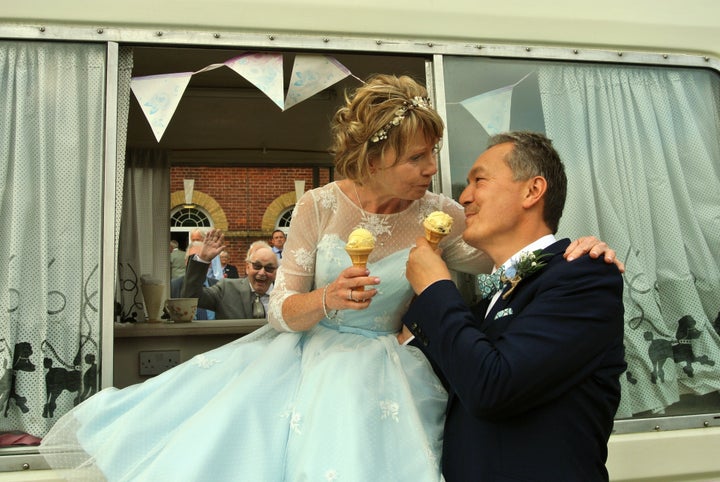 "This photo, taken in June 2017, shows how hope can be reinvigorated and new happiness can be found after shock events have disrupted an expected life course. Companionship is crucial to mental and physical wellbeing. When loneliness strikes, ill health can follow, but it's never too late to spend time with a friend."
Adulthood – 'Miracle in the Touch of a Mother' by Natasa Balogh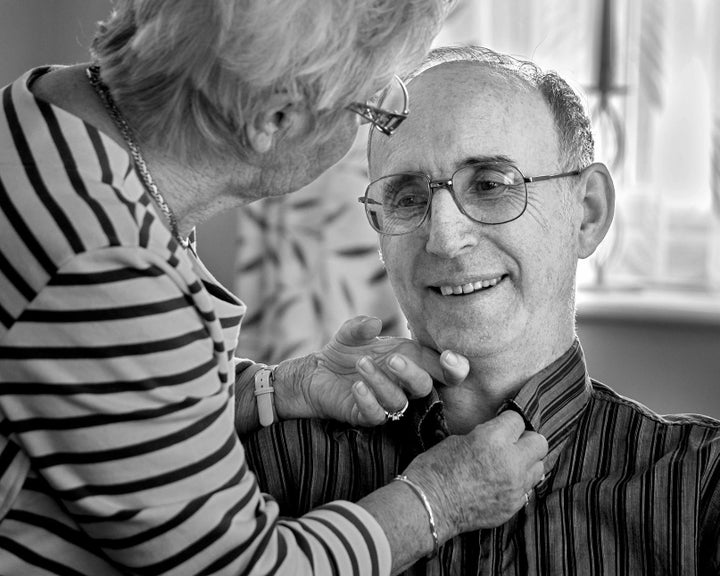 "This 64 year old man lost his memory in an accident and suffers from anxiety and multiple sclerosis. He needs 24/7 care. He lives his life bound to a wheelchair. Ceiling hoists, a power pack wheelchair and nursing shifts are required for his everyday care and wellbeing.
"But while these things make up for his declining physical ability, nothing can replace the love of a mother. Her warm touches and attention give him peace and a feeling of security, and her presence gives the opportunity for lively conversations."
Later Life – 'Tim' by Ameena Rojee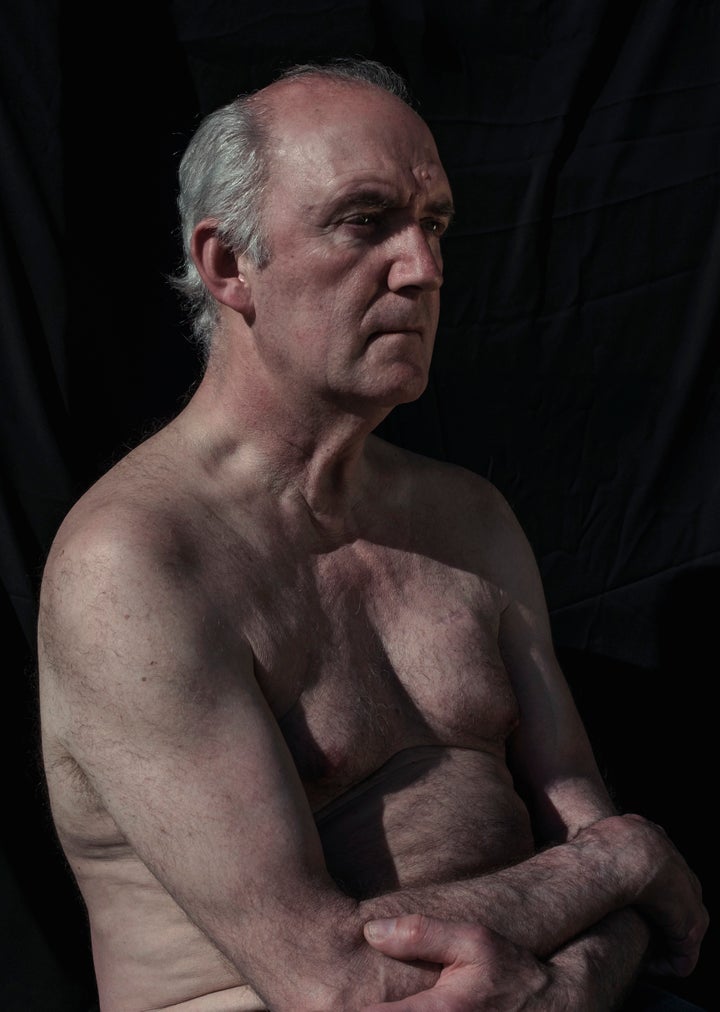 "After he was diagnosed with Parkinson's, Tim was forced to stop working as a lawyer. Not knowing what to do, on a whim, he responded to a newspaper advert from a photographer calling for nude models. That was over 10 years ago, and Tim has since been photographed by over 400 photographers as part of his project 'Over the Hill', in which he is the subject.
"I was honoured to be photographer 405 - we met in 2016 for the first time, and a year later, this past May, we met up again and I captured this tender, introspective Tim.
"It was after looking at so many performative yet brilliant photographs of Tim - I became ambitious and tried to plan something big and detailed. When I couldn't visualise something I really wanted to do, I went the opposite way. I decided to strip things back and capture Tim in a more natural and simple setting, setting up an outdoor studio and using the sun as my source of light. The result is a photograph that you can read as you feel; some days I look at it and see vulnerability."
Later Life – 'Roy In Restaurant' by Tadhg Devlin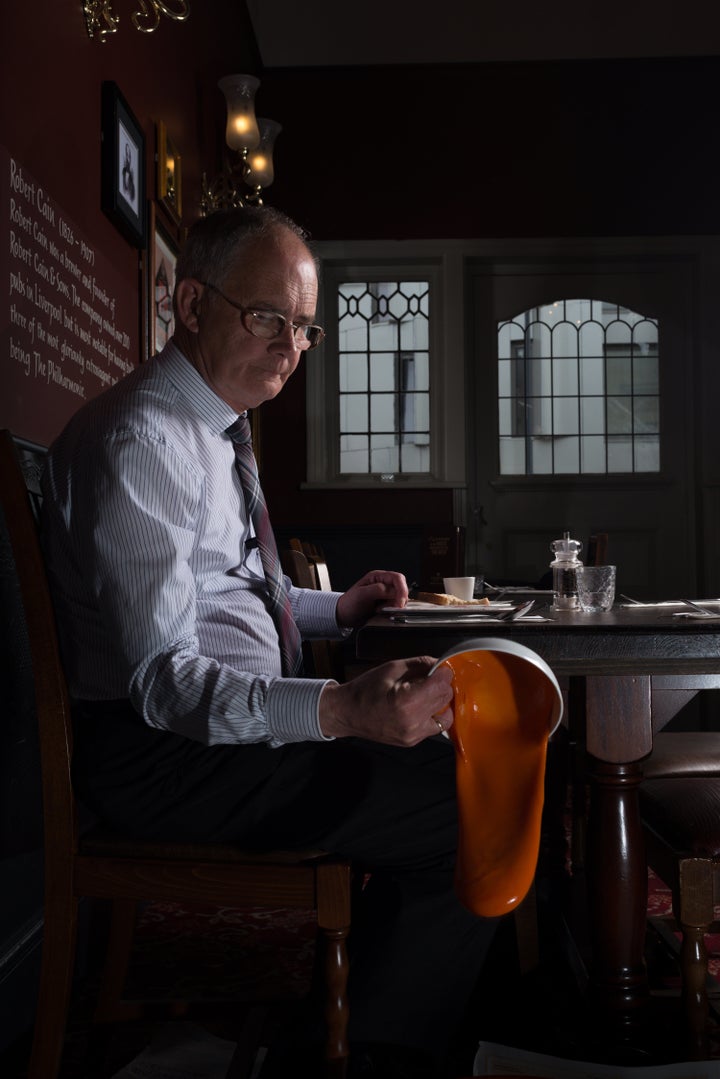 "This image is part a collaborative project titled 'Life Beyond Diagnosis' between photographer Tadhg Devlin and the Merseyside based SURF (Service User Reference Forum) Dementia network group. Current figures suggest over 850,000 people are living with dementia in the UK. Far from being a condition, which everyone experiences in the same way, it has an extremely wide array of symptoms.
"In a restaurant a few years ago I sat at a table with friends and when the starter was presented in front of me, I didn't know what to pick up. I was trying to hide the stupidity of it from friends because I didn't know what to do.
"It was soup of some type and I remember I picked the soup up and poured it onto the floor much to the horror of the other customers in the restaurant. I can only think I was psychologically trying to remove the problem. Perhaps. That's my best bet. But it's all because of lack of understanding of the settings on the table. So sometimes you have to fight against inappropriate behaviour."
Later Life – 'Untitled' by David Shaw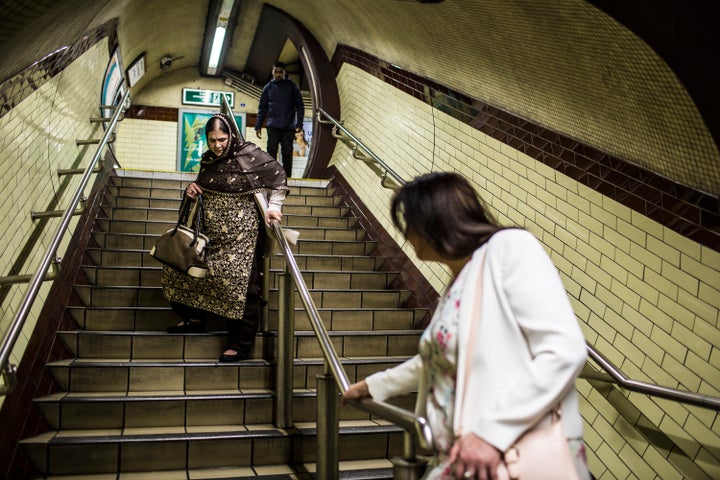 "Najma Khalid, a British Pakistani woman from Oldham travels to Buckingham Palace with her mother - Sabar Jan Masood. She was invited to a tea reception with the Queen due to her community work promoting healthy living in the Oldham area.
"Najma is a single-mother who has battled unemployment during her parenthood during which she figured out the related government welfare available to her without support. She now uses her experiences to help other local Asian women who struggle with similar social issues within the more traditional elements of Pakistani society.
"Chai Ladies, a group which was set up by Najma Khalid helps local Asian women with issues such as identity, poverty, religion, gender issues and parenthood through mutual support. They also take part in many public outreach and artistic programs that aim for positive cross-community interaction as well as promoting healthy living amongst the Oldham community."
Later Life – 'Sandra's Light' by Lottie Hampson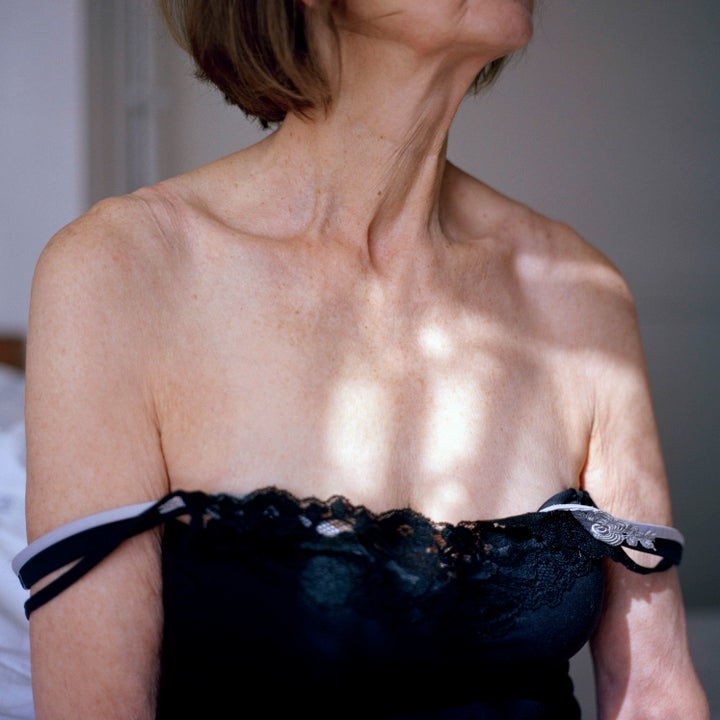 "I photographed my grandma whilst making a project about ageing and the passing of time. Sandra was going through chemotherapy at the time, so her skin is tired and the pigment in her skin is slightly off at times.
"As well as a study on the physicality of ageing, these images portray a meditation on the emotional side of illness and getting older. The natural light that falls through the window onto fragments of Sandra's body evokes a feeling of hope, juxtaposed with the ageing body, which is slowly shutting down on itself.
"The photos I took of my grandmother are especially poignant to me right now as Sandra passed away in mid July. The photos are a reminder of her, her illness, an ageing body, and also hope."
Later Life – 'Long Time' by Eric Aydin-Barberini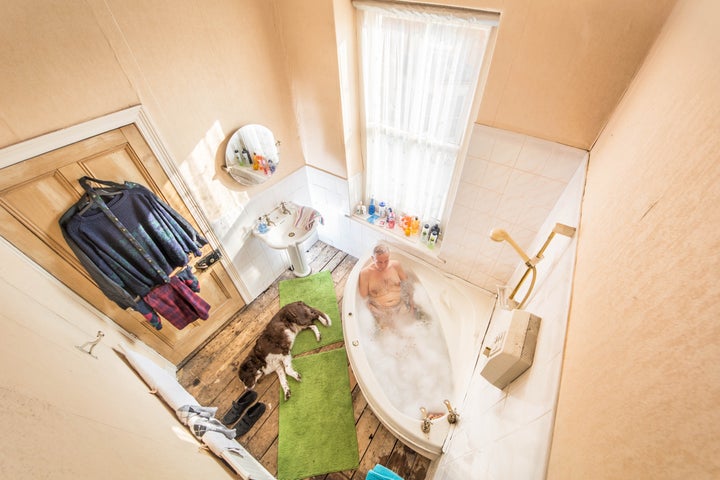 "A number of years ago my grandmother passed away, leaving me and my family to take care of my grandfather suffering from cancer and Alzheimer's disease. The latter makes normal, day-to-day activities a danger to him. Caring for my grandfather can be both tiresome and frustrating; as his fading memory and understanding of the world fails him, this leads to bouts of anger and confusion.
"Our roles have been reversed. It was once him that looked after me, now it is me that looks after him. My family moving in with him has allowed him to enjoy a good quality of life and live out his days in the way my grandmother would have wanted.
"This photo is part of my 'Old Timer Disease' series, which documents the change in my grandfather and the bond created, as our roles have been reversed."
Later Life – 'Would You Care For A Dance?' by Nadia Nervo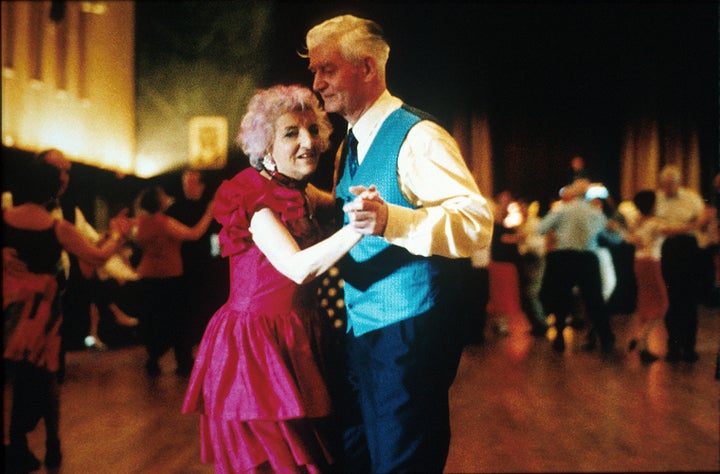 "This photograph was taken at a social dance project for elderly people. I met with elderly people in different ballroom dancing venues over the course of two months, documenting their dancing groups.
"Popular perceptions of ageing are so often negative. My project seeks to explore a lesser-known side to retirement: that of people in later life enjoying themselves and having fun."
Later Life – 'Sorrow' by Natasa Balogh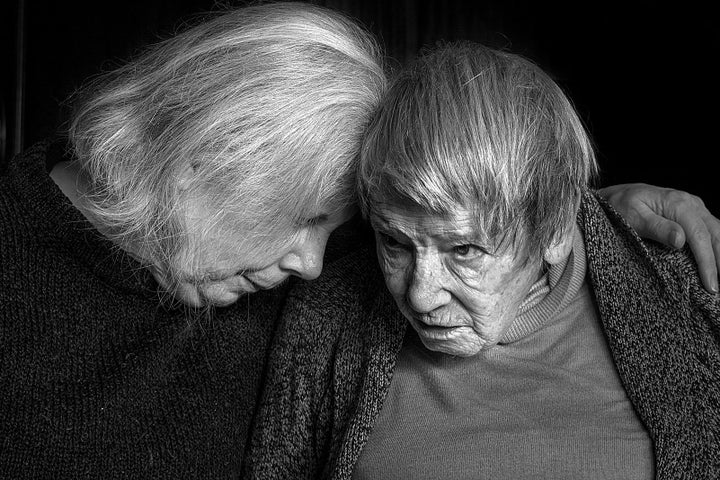 "This photograph depicts the relationship between a mother and daughter. A long life provided opportunities for love, pleasure and many different experiences.
"The difficulties of old age brought new emotions to their life, as the care and love shared between them became pressurised. Their relationship in the last few years was accompanied by deep compassion and sorrow.
"The mother, aged 97, was suffering from dementia and increasing physical dependence, requiring 24/7 caring by her daughter, but her character was quite unique and brilliant. Sadly, not long after this picture was taken, she passed away."