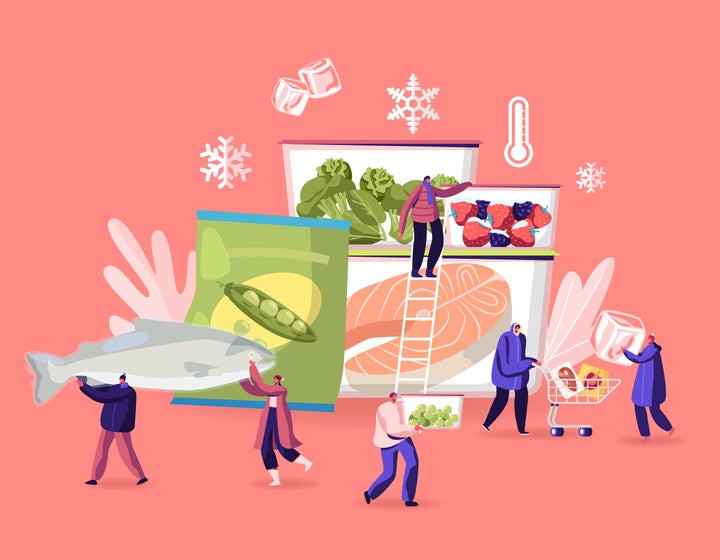 Our supermarket habits are changing. We're trying to make the foods we have in our cupboards last longer, reduce waste and limit the amount of times we need to head out to the shops.
For those who want to make their weekly supermarket shop go a long way, freezing could be the answer to your food waste woes.
Why freeze?
In short: it makes the food we buy last longer. A freezer acts like a "pause button", explains the Food Standards Agency – meaning the food in a freezer doesn't deteriorate and most bacteria can't grow in it. Basically, the bacteria are still alive, but they stop growing or producing toxins, in effect pausing reactions.
You can freeze pre-packaged food right up to the 'use by' date – leftovers and homemade goods should be frozen as soon as possible.
Make sure any warm dishes are cooled before putting them in your freezer. And, to stop cold air in your freezer drying out your food, place it in an air-tight container or wrap it well in freezer bags or freezer wrap.
Helen White, special advisor at Love Food Hate Waste, says labelling what's in your freezer is always a good idea so you avoid UFOs: unidentified frozen objects! "And pop the date on your label too," she tells HuffPost UK, "so you know how long it's been in there.
"Your food in theory can stay in the freezer as long as you need, but the quality will start to deteriorate after about 3–6 months, so keep an eye on those dates!"
Foods to freeze
The team at Love Food Hate Waste tell HuffPost UK we can all be freezing the following:
Eggs. "Separate into yolks and whites before freezing, and label your containers when they go in the freezer."

Milk. "Smaller amounts freeze better, and won't take forever to defrost. Try freezing in ice-cube trays so you've got the perfect amount to drop into your brew."

Cheese. "Grated cheese freezes brilliantly and you can just grab a handful whenever you need it."

Herbs. "Fresh herbs can be hard to use up in time, so chop them up, sprinkle them into ice cube trays, and pour in a bit of water. You can add these to the pan next time you're making a sauce, stir fry, or curry!"

All your veggie offcuts and peels. "Keep a container or reusable freezer bag in one of the freezer drawers and add whatever peelings you've got. When it's full, use to make stock."

Bread. "We all knew you could freeze bread, right? Pop your sliced loaf in the freezer (tap it on the counter first to separate the slices), and you can grab one whenever you fancy a bit of toast."

Leftover portions. "These make perfect homemade 'ready meals' for when you need something quick and easy. Let your leftovers cool down before freezing and then you can keep them for another day."
How to defrost
When defrosting the food, there are a few guidelines to follow to make sure you're doing it safely. Don't defrost food at room temperature, advises the FSA – ideally, it should be defrosted fully in the fridge. But if this isn't possible, you can use a microwave on the defrost setting directly before cooking.
Also, make sure your food is fully defrosted before cooking. Partially defrosted food may not cook evenly, meaning that harmful bacteria could survive the cooking process. Once food has been defrosted, eat it within 24 hours.