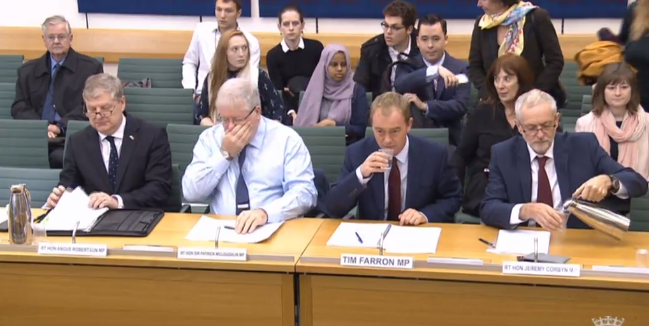 There are currently more men in the House of Commons than the total number of women ever elected. And four of those men appeared in front of the Women and Equalities Committee on Wednesday morning to explain what was being done to increase the number of female MPs.
Labour leader Jeremy Corbyn, Lib Dem leader Tim Farron, Conservative Party chairman Sir Patrick McLoughlin and SNP Westminster leader Angus Robertson all lined up to represent their parties.
Corbyn noted the gender imbalance. He told the committee: "I hope you are also going to be taking evidence from women representing all of the political parties. It seems slightly odd to have four white men sitting in front of you."
Maria Miller, the Conservative chair of the committee, shot back dryly: "With respect, that's your fault not ours."
Miller said just thirty per cent of MPs are women. "We have seen progress in recent years, but nearly a century after the first female MP took her seat in the Commons we have only ever elected 452 women," she said. "If the number of seats in the House of Commons is reduced by boundary changes, this must not be at the expense of a representative and modern Parliament."
Corbyn told the MPs he wanted to see Labour have a 50-50 split of male and female MPs as soon as possible.
McLoughlin said he hoped the Tories "get a bonus for the prime minister" being a woman.
There are currently 192 women MPs among the total 650.