Free condoms should be given to young people and gay men in order to reduce the number of sexually transmitted infections being passed around, England's health watchdog has said.
NICE said all councils should offer free condoms to young people aged between 13 and 25. Currently, there are a number of authorities who do this, however the watchdog said that every single council should follow suit.
Christine Carson, programme director of the centre for guidelines at NICE, said the move "could significantly reduce the rates of STIs".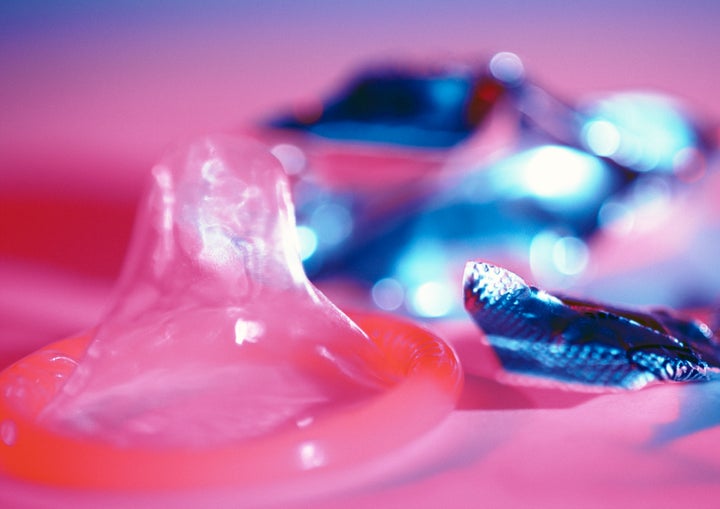 Syphilis is a bacterial infection that can be caught through unprotected sex with someone infected. It can usually be cured with a short course of antibiotics, however if it is left untreated it can cause severe health problems.
Experts suggested that the infection is becoming more prevalent among gay men and young people.
The report also found that cases of gonorrhoea have risen by 53%, however cases of chlamydia and genital warts have dropped slightly.
"We know condoms can protect against many sexually transmitted infections including chlamydia, gonorrhoea and syphilis," said Christine Carson from NICE.
"The recent increase in rates of gonorrhoea and syphilis among men who have sex with men has been attributed to high levels of sex without using a condom."
In response to the draft guidelines, sexual health charity FPA agreed that free condoms - particularly for young people - are key to tackling STIs.
Chief executive Natika H Halil added that it's really important to educate and support young people at the same time.
"This should start with statutory sex and relationships education in schools so young people are equipped with the skills and confidence they need to have those important conversations about safer sex with partners," said Halil.
"Condoms are already available for free in some places but there are always opportunities to reach more people, including in non-traditional health settings."
Currently, male and female condoms are free from contraception and sexual health clinics, young people's services, and some general practices and genitourinary medicine (GUM) clinics.
People under 25 can get free condoms through local C-Card schemes, however it is best to Google what is available in your area.
"It's also important to reiterate the fact that condoms protect against both unplanned pregnancy and STIs, so even if you are using another method of contraception and don't think about using condoms, you may be at risk of infection."
But Norman Wells, from the Family Education Trust, warned that easy access to contraception may put pressure on teenagers to have sex earlier.
"Making condom schemes available to young teenagers is sending out the message that they can experiment sexually without suffering any adverse consequences," he told the Telegraph.
"What young people are not being told is that casual sex still carries a high risk of sexually transmitted infections even if condoms are used."