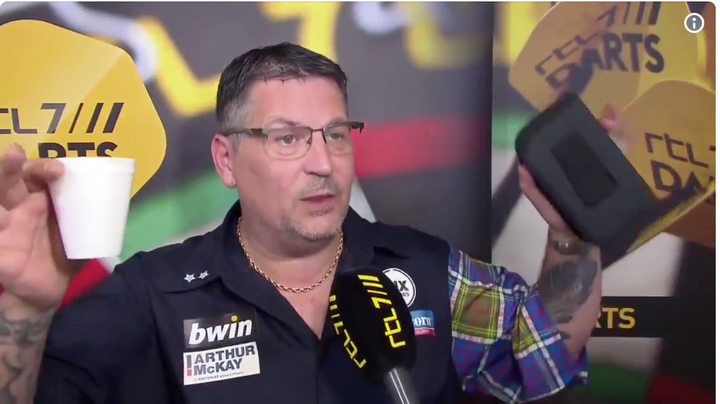 A Scottish darts pro has been forced to deny he farted on stage during possibly the greatest live TV interview of recent times.
Gary Anderson was being interviewed on Dutch TV station RTL7L after beating Dutchman Wesley Harms to win a place in the quarter-finals of the Gland Slam of Darts.
The presenter had evidently just had an interesting conversation with Harms, who had made accusations of chronic flatulence.
The interview is worth quoting in full:
PRESENTER: "Just spoke to Wesley and he said it was smelly on the stage."

ANDERSON: "I thought he had shit. I thought Wesley had farted on stage. Did he?"

PRESENTER: "Well, no erm.. he thinks you did it."

ANDERSON: "You can put your finger up my arse, there'll be no smell there. I thought he had shit and I went 'no, that's dirty'. It was bad. And then he started playing better, thought he must have needed to get some wind out."
PRESENTER: "He thought it was you."

ANDERSON: "No, hands up and swear on my kid's life. If I'd farted and it smelled like that I'd put my hands up and say sorry.

"I've had a bad stomach once on stage before and admitted it. So I'm not going to lie about farting on stage.

"It definitely came from table-side and it was eggs, rotten eggs, but not from me," Anderson said. Every time I walked past there was a waft of rotten eggs so that's why I was thinking it was him. It definitely wasn't me.

"It was bad. It was a stink, then he started to play better and I thought he must have needed to get some wind out. If somebody has done that they need to see a doctor. Seemingly he says it was me but I would admit it."