The production company behind Gavin & Stacey has made the decision to censor one scene, in which Bryn and Nessa perform the Christmas song Fairytale Of New York, for repeat broadcasts.
When the episode first aired in 2019, it attracted almost 900 complaints from viewers, as the pair – played by Rob Brydon and Ruth Jones – were heard singing uncensored lyrics including "old slut on junk" and "you cheap lousy f****t".
However, when the episode is shown again on Thursday night, the slurs in question will be cut, The Sun has revealed.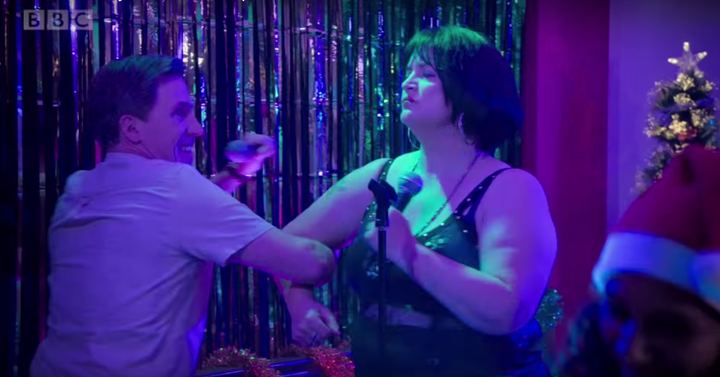 A spokesman for production company Fulwell 73 told the newspaper: "In keeping with the programme's themes of joy, love and inclusivity, Fulwell 73 have decided to re-edit the song.
"We are grateful to the BBC for allowing us to make this change."
A BBC representative said of the decision: "Attitudes change over time and we appreciate language is a sensitive and important topic for some people. We respect Fulwell's decision."
The BBC insisted: "While the word 'f****t' is now widely acknowledged as having the potential to offend, the song never suggests or implies that this is, or was ever, an appropriate way to address another person, nor does it link it to homosexuality.
"Nessa and Bryn were seen singing the original lines and we can assure you there was no intention to offend viewers. We understand that some people will find it offensive in any context but we also recognise that the song is widely played and enjoyed in its original form."
They also cited media regulator Ofcom's past assertion that it's "unlikely that audiences would widely perceive [the use of the slur] as a serious attempt to denigrate the homosexual community".
Meanwhile, Radio 2 has been playing the song in its uncensored form, while it is at the discretion of indiviual DJs on Radio 6 Music which version they preferred to play.
Gavin & Stacey will be shown again on Christmas Eve at 8.40pm on BBC One.