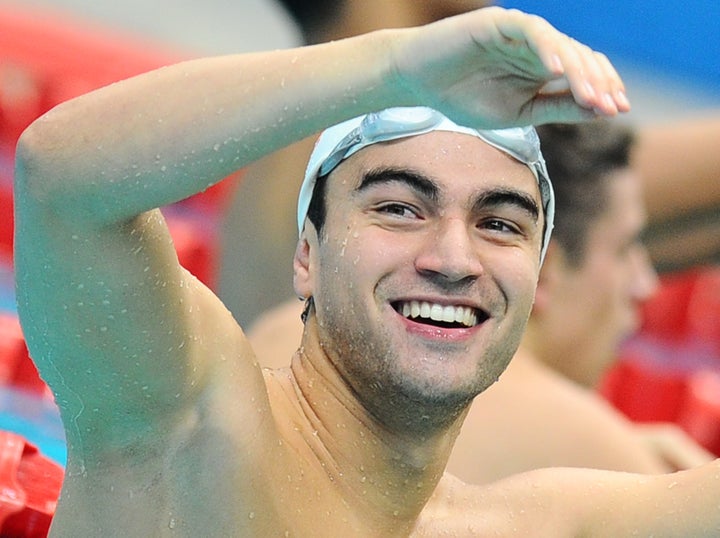 A gay Olympian has spoken of the "crushing wave of sadness" that spurred him into taking action against a website he claimed "endangered lives" by exposing athletes using Grindr.
Fonua, a 26-year-old Tongan who competed in the men's 100m breaststroke, was this week given an award for speaking out against the article, and said in his acceptance speech he felt a duty to protect his "family".
"We no longer had a safe space," Fonua recounted of learning that some gay athletes from countries where homosexuality is illegal could have been outed.
"I felt lonely—almost instantly. I debated about whether to say anything. I was really unsure whether it was my place.
"Then, I decided that—yes—it is my place. I opened my Twitter and out fell my heart—first in a heated rage then in a crushing wave of sadness that brought me to tears.
"Sometimes being part of the community means protecting it, and I protect my family."
In August, when the Daily Beast article was published - and later pulled, Fonua said the website "ought to be ashamed" for "ruining ... the one space you're able to be yourself".
This week, he revealed that there were many athletes on the gay hook-up app Grindr, many of whom felt unable to be open about their sexuality.
"I was one of 11 out gay male athletes at the Rio 2016 Olympics," he said at the Los Angeles LGBT Center's Vanguard Awards 2016. "Do you want to know how many athletes were on Grindr? More than 11."
Fonua also revealed he felt his community had been compromised when a journalist used Grindr to recount stories of how gay athletes competing in the Olympic Games were letting off steam.
He said: "Who here has ever felt personally victimised by somebody else on Grindr? I mean, we've all been there, but if you can filter through all the nastiness, you are left with something—and that something is community.
"Community is important because it allows us to feel less alone."
The Daily Beast apologised after a huge backlash, retracting and apologising for the article that it admitted could have compromised some gay athletes identities who were unaware they were conversing with a journalist.
A statement from the website's editors read:
"As shared in our editor's note earlier today, we initially thought swift removal of any identifying characteristics and better clarification of our intent was the adequate way to address this.

Our initial reaction was that the entire removal of the piece was not necessary. We were wrong. We're sorry. And we apologize to the athletes who may have been inadvertently compromised by our story.

Today we did not uphold a deep set of The Daily Beast's values. These values—which include standing up to bullies and bigots, and specifically being a proudly, steadfastly supportive voice for LGBT people all over the world—are core to our commitment to journalism and to our commitment to serving our readers.

As a newsroom, we succeed together and we fail together, and this was a failure on The Daily Beast as a whole, not a single individual. The article was not intended to do harm or degrade members of the LGBT community, but intent doesn't matter, impact does.

Our hope is that removing an article that is in conflict with both our values and what we aspire to as journalists will demonstrate how seriously we take our error. We were wrong. We will do better."
The statement changed multiple times after its original publication, first with the addition of "we're sorry", then including an extension of apology to the athletes affected.
Fonua tweeted after it was published that he and the thousands of others who criticised the piece had been "successful in defeating ignorance with truth and honesty".
READ MORE:
Related