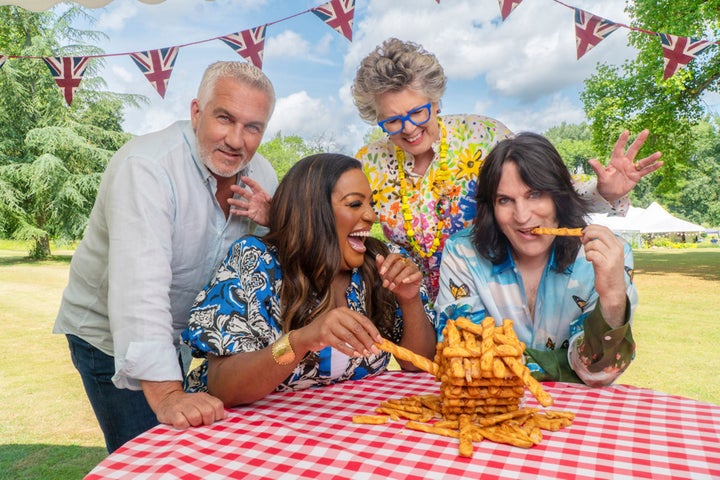 I don't know about you, but whenever I watch The Great British Bake Off (GBBO) I think two things: 1) where does Prue get her earrings from? and 2) who's doing all that washing-up?
I'd assumed for a long time that it was all dumped into a dishwasher off-screen at the end of the day, left for a machine to handle. But recently, I learned something that left me genuinely amazed; GBBO doesn't use a single dishwasher.

What? Why?
Apparently, it's to do with noise.
In collaboration with GBBO insiders, Stylist discovered that there were no dishwashers on set.
And GBBO's chief home economist Faenia Moore told BBC Good Food that "a dishwasher would be too noisy" for the set "and probably take longer" than their hand-washing method.
"Also, if you've got caramel, you've got to use plenty of elbow grease," she added.
Season 12 winner Guiseppe Dell'Anno shared with Radio Times that the cleaning process between bakes can take "hours" ― oof.
"We sit there while a swarm of 30 Bake Off elves come over and make the place spotless, they preserve your cakes, moving them around and making sure that nothing is broken in the process. It's like a clockwork mechanism behind closed doors that happens and they do it masterfully!" he added.

So, who does wash them?
According to Faenia, it was ― at least at the time of the BBC interview ― one woman named Iva Vcelak (though the runners helped to bring dishes to her two-sink system).
"Lovely Iva does all the washing-up. The runners help, and we have a good system with two sinks," she said, adding " I just give Iva regular hugs."
In 2014, the serial scrubber went through 1,000 cloths, 80 sponges, and 30 litres of washing-up liquid, according to Radio Times.
Well, that's made me feel better about my workload...