A German city is on lockdown as police hunt a suspect who is on the run from authorities after several hundred grams of explosives were found in an apartment on Saturday.
Police raided the apartment in the eastern city of Chemnitz as they sought a Syrian man suspected of planning a bomb attack.
Three people have been arrested but the suspect, named as 22-year-old Jaber Albakr from the Damascus area, is still on the run, police said.
"At the moment, however, we do not know where he is and what he is carrying with him. Be careful."
Saxony police raided the building after local authorities received a tip from Germany's domestic intelligence agency that the suspect might be there and that he was thought to be planning a bombing attack.
Saxony police put out an alert, identifying the suspect and urging anyone with any information of his whereabouts to contact authorities.
They released a photo of a dark-haired man wearing a hooded sweatshirt and said he was last seen wearing similar clothes.
"We have to assume that he is dangerous," Saxony police spokesman Tom Bernhardt said.
The explosives found in the apartment were "relatively well hidden", police said.
The explosives are not considered stable enough to move and are likely to be destroyed in place once residents in the area are evacuated.
Two people who had "contacts" with Albakr were taken into custody near the Chemnitz train station and a third was found downtown in the city, Bernhardt said.
Authorities have not said where they think the suspected attack was going to take place.
The German news agency dpa reported, citing unidentified German security sources, that the suspect is believed to be connected to Islamic extremist groups.
Bernhardt said, however, that police are still trying to determine what his motivation might be and would only say he was "known" to German intelligence.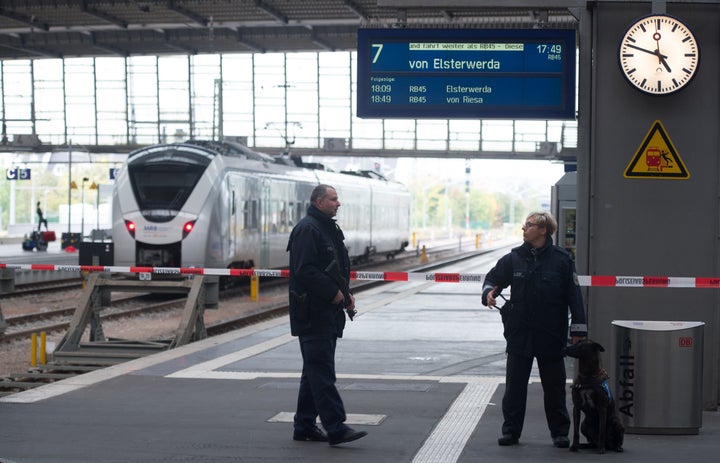 Authorities released no details about how long the suspect had been in Germany, and Bernhardt said it was unclear whether he had come in the wave of asylum-seekers in 2015.
Germany took in 890,000 asylum-seekers last year, and Syrians fleeing civil war were the single largest group.
Germany has been on edge since two attacks this summer claimed by the Islamic State in which multiple people were injured and both assailants died.
Two other attacks unrelated to Islamic extremism, including a deadly mall shooting in Munich, have also contributed to fears.