Marriage is a huge commitment whenever you undertake it, and many people could be accused of failing to understand the gravity of those vows, but for those getting married at a younger age, it often raises a few more eyebrows.
And it's easy to see why, as figures show that Brits are getting married later and later in life - the average age for heterosexual couples is 37.0 years for men, and 34.6 years for women - putting a ring on it before 30 starts to seem unusual.
So HuffPost UK has spoken to six women, who got married under the age of 25, about how youth shaped their relationship, and the things they'd like to tell other women about the mysterious m-word.
It Doesn't Have To Be Perfect, To Be Right
Dawn Tracy Wood, 44, got married to her husband Michael, 45, two decades ago when they were both just 24-years-old (having been in a relationship since sixteen, growing up together in rural Warwickshire). They have one son together.
Wood wants other couples to know that perfection in relationships is a fantasy.
"It's not perfect but it's not meant to be - it's a marriage but you need your own space too. We have our moments, I still roll my eyes and he still tuts at me and we moan about each other it just doesn't overtake our lives," she says.
"We have been through illness, poverty, fertility treatment, unemployment, depression, mental breakdown, and so many things that could easily have split us up but we keep going."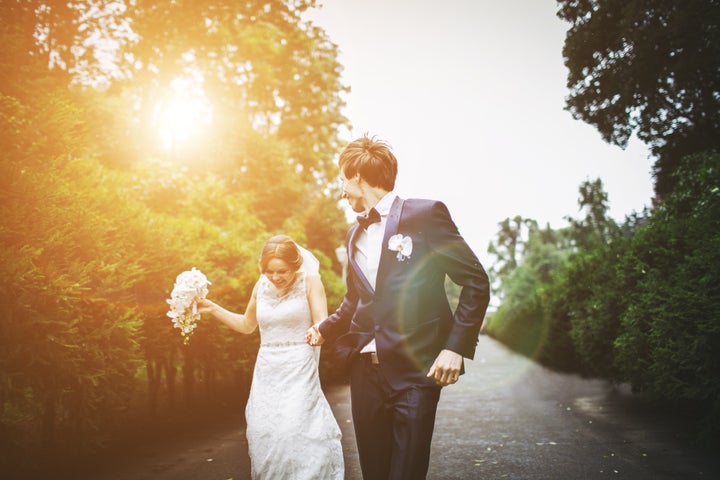 Other People Don't Always Know What Is Best For You
Rebecca Fisher, 22, and her husband Jonny, from Norfolk, had been dating for two years and had an 11-month-old daughter, Elsa, when they decided to tie the knot aged 20, and 23, in December 2015.
Rebecca tells HuffPost UK that she is so happy they married when they did. Not only was Jonny's grandmother growing increasingly unwell, but the ceremony coincided with Rebecca's Australian family visiting the UK on a one-off trip.
"Some people would say twenty is too young to get married but for us it was the perfect time...my advice, do what you want. It's your wedding. Don't let people try and tell you [otherwise]," she explains.
Getting Hitched Doesn't Mean Compromising On Your Career
Tamara Faber, 25, married her husband Aaron when she was 22, after having dated for three years. Their relationship was long distance (between in Birmingham and London) and they got engaged to show commitment to one another.
Tamara says that some friends rejected her choice because they wanted to focus on building their career instead: "I just said being married and having kids isn't the same and you can work on your career together. I know that having Aaron's help and support is definitely good for my career."
You Will Change In Time, But You Can Grow Together
Louise Smith, 27, got married aged 19 after dating her now-husband for just six months. Looking back she believes that people who get married younger probably change more than those who get wed later in life. For her, this doesn't necessarily mean you'll drift apart.
Louise says: "I feel I'm a very different person to when we met but our relationship has grown as I have. Far from changing the dynamic in our relationship, my development as a person has added new elements to what we have together."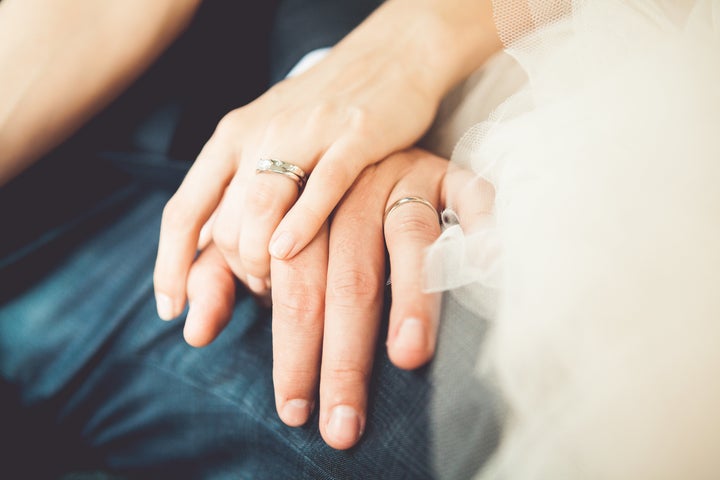 Youth Brings Fun To The Marriage (And It Can Last)
Many people criticise young people who get married for being naive and not having the full range of experiences available to older people, but Lucy Bellingham, who got married nine years ago, believes youth brings its old unique qualities to a marriage.
The 29-year-old tells HuffPost UK: "I think that a surprising aspect of marrying young is that you never lose that sense of fun, for us anyway. We matured together and molded into a couple. I think people presume that as you are young you will grow apart but we found the opposite."
But Marriages Can't Be Just Fun And Games
A 40-year-old woman from Cleveland, Ohio, who wanted to remain anonymous first got married to her husband Timothy, 43, when she was 23 (he proposed five months into the relationship). The couple then got divorced in 2012, but are now giving their relationship another go.
She believes that their youth meant they were in essence "playing house" rather than living a relationship for real: "Marriage requires a certain maturity. In our instance, we didn't have that then. We still found other people attractive. We found ourselves wanting to have separate social lives and not merge them. We had set expectations for each other that we didn't share.
"People assume you can go on adventures together. But most times, you can't. Adulting gets in the way: need to work to pay the bills, have to attend to a family...We were still in love, but we weren't equipped with the right tools to work through our problems. We weren't mature enough to admit when we were wrong."
It's Important To Trust Your Instinct, Whatever Age
Becky Craggs, 29, who lives in Farnborough, Hampshire, married her husband Richard Hibbert when she was 25 and he was eight years her senior.
Craggs says she was lucky not to receive negative comments about the marriage (despite her partner actually first proposing only six weeks into their relationship when she was 19) but she was aware of what other people might think.
"It might seem very young to decide you want to spend the rest of your life with someone, but when you know, you know."