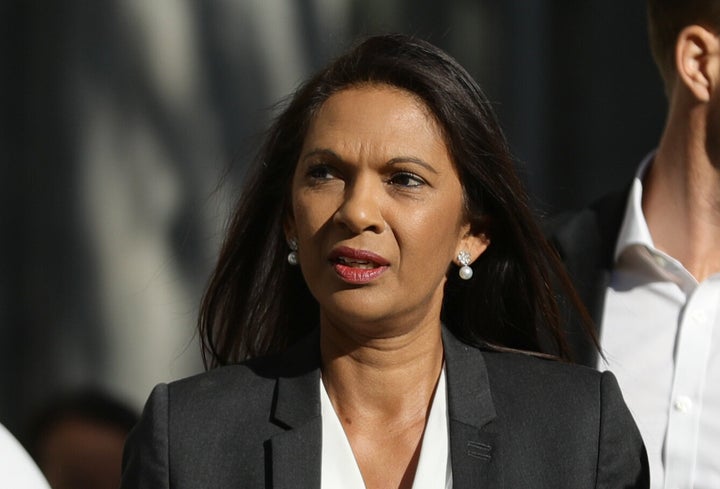 Campaigner Gina Miller has demanded tighter regulation for fundraising platforms after GoFundMe hosted a "Kill Gina Miller" crowdfunder – for five months.
The GoFundMe page read: "We want to raise £10,000 to hire a contract killer to kill Gina Miller. The traitor of democracy."
Despite the fact the page remained live for so long, the fundraising platform has been absolved of blame over the incident and avoided any kind of penalty.
In a statement, the platform said it had apologised to Miller "and implemented even more rigorous protocols since this incident".
"No crowdfunding platform has more robust protections than GoFundMe," a spokesperson said.

But Miller has warned that the government must push forward new laws that would hold online platforms to account if they failed to tackle harmful or extreme content.
The businesswoman – who has led two successful legal challenges against the government in the Supreme Court – said she felt "chills down my spine" when she first saw the page.
"It was absolutely shocking," Miller told HuffPost UK. "It's inciting violence – somebody could have seen that page and thought: 'It's OK for me to go and kill her'.
"I just kept thinking: 'In the last five months, somebody could have just walked up and killed me.' It was literally thought that went through my mind."
In October, when the crowdfunder was reported to police and removed by GoFundMe, the BBC reported the page had not received any donations.
In a statement, Miller added: "The fact that GoFundMe allowed this page to be set up and remain active and accept donations for such a long time should concern us all.
"It highlights a growing concern that there is a sinister side to fundraising platforms, due to what appears to be a lack of due diligence or algorithms to detect harm or scams."
In July, Barry Aslam – who set up the crowdfunder – pleaded guilty to "sending a letter causing anxiety/distress" and was handed a 26-week sentence, suspended for 12 months. He was also ordered to pay Miller £200 compensation.
"It's absolutely outrageous," Miller said. "£200 compensation when my children could have been left without their mother? From a personal point of view, I'm disgusted.
"But think about the much wider message it sends out that you can get less than a speeding fine for threatening to kill somebody."
She has urged ministers to bring forward the Online Harms Bill – legislation that would be used to hold online platforms to account if they fail to tackle harmful or extreme content online.
The new laws could see these companies required to take on a "duty of care" for their users.
But in June, it was revealed that the landmark bill – which is still in the proposal stage – could be delayed until 2024.
Miller called the potential set-back "completely unbelievable", saying online platforms must have a duty of care towards users.
"This has to be taken very seriously," she said. "Crime is moving online – from money laundering and trafficking to threats of violence or abuse.
"It's like cowboy-land and nobody is policing. If crime has moved online, regulation and policing needs to move online too."
A spokesperson for the Department for Digital, Culture, Media and Sport said: "Our Online Harms Bill will ensure that what's illegal offline is not acceptable online, and we'll make sure tech firms live up to their responsibilities to tackle harmful content."