An at-home gymnastics session took a devastating turn when a five-year-old girl suffered spinal injuries that left her paralysed from the waist down.
Eden Hoelscher, 5, from California, had been pushing herself up into a bridge (or backbend) - a move she had performed "hundreds of times before" - when she collapsed back onto the floor in tears.
Her mother, Kylee Hoelscher, gathered Eden up in her arms and rocked her to calm her down. Initially Hoelscher believed her daughter had only mildly hurt herself. But that changed half an hour later.
"Thirty minutes after she started crying, she stopped," Hoelscher wrote oh her GoFundMe page.
"Her face changed—it kind of filled with wonder—and she told me, 'Mum, I feel like my feet are sleeping.'"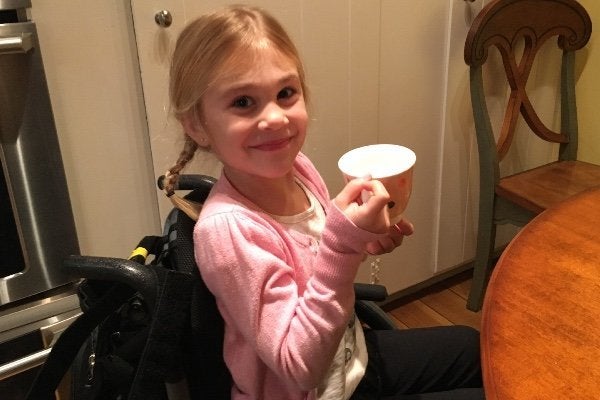 "I looked at her body, which seemed to be posed awkwardly on the bed, and told her to move her leg," Hoelscher continued. "She stared at it, saying, 'I can't, Mum.'
Hoelscher bundled Eden and her nine-year-old sister Isabella into the car and rushed to the hospital, where she learned her daughter had hyperextended her spine and caused the artery that feeds her spinal cord to stop pumping blood, causing a stroke in her spinal cord, which had left her paralysed from the waist down.
Eden was kept in hospital for 52 days and Hoelscher said the extent of the damage was "unheard of".
"In one instant, that backbend altered our lives forever," wrote Hoelscher.
"Eden is now in a wheelchair. She lost the ability to sit up on her own. Her bowels and bladder do not work. We have to wake up twice a night to move her so she won't get pressure sores from sleeping in one position too long.
"She cannot regulate her temperature so we have to watch her for signs of her getting too hot or too cold.
"She cannot reach a sink to wash her hands or brush her teeth. Our bathrooms are not equipped for her to easily shower or bathe. The list of what she now cannot do could span pages."
Before the accident Hoelscher said her daughter was very resilient.
"Eden started walking at nine months," the mum explained. "Her first birthday pictures are filled with fat-lip smiles from a tumble the day before.
"She learned how to ride a bike with no training wheels on the first ride. She did a flip on the bars a couple weeks into kindergarten and fell flat on her back, got up and went into class when the bell rang."
But althought the accident may have changed Eden's life in countless ways, there is one thing it hasn't affected - her spirit.
"Because of Eden's spirit and resiliency, we have never lost hope in her full recovery," said Hoelscher.
"Her physical therapist, two days after meeting her at acute rehab, nicknamed her, 'Daredevil Eden.'
"Her therapy team said she accomplished more in two weeks of rehab than most kids accomplish in six.
Eden started back at school one week after she was discharged from the hospital.
She is currently undergoing intense physical therapy, after which she will have three months of locomotor training - therapy to help improve her walking movement.
Her mother is worried about the effect it will have on Eden's life if she is unable to complete these therapies.
"If she does not start standing, her bones will become weak and brittle and she will develop osteoporosis and could break a bone with the lightest tap," wrote Hoelscher.
"Her kidneys are at risk, and she could develop arthritis. These therapies may also help regenerate her bowel and bladder functions and bring back sensation to her lower body.
"These therapies will also provide what we all need most of all: Hope."
A GoFundMe page has been set up to raise funds to help cover Eden's medical expenses and the cost of the family's travel to specialist treatment centres.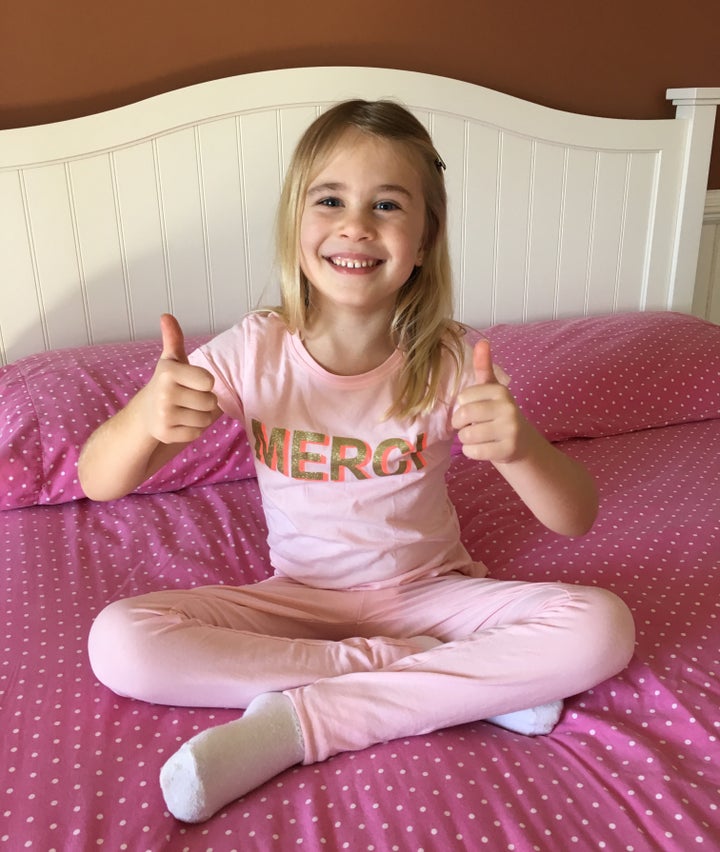 Eden's mother and her father Nicholas Hoelscher told The Huffington Post UK:
"Our ultimate goal, (in addition to Eden's full recovery, of course), is to raise awareness, so more research will be done on pediatric spinal cord injuries so we can find a cure faster.
"Our family is overwhelmed by the generosity of friends and strangers alike. Not only by your monetary donations, but also by the kind words and multiple social media postings.
"Our goal for pediatric spinal cord injuries to become a topic of conversation that will lead to a cure has come further in a few days than we could have ever dreamed.
"Thank you for joining our cause. Thank you for giving Eden and all children with spinal cord injuries a voice."