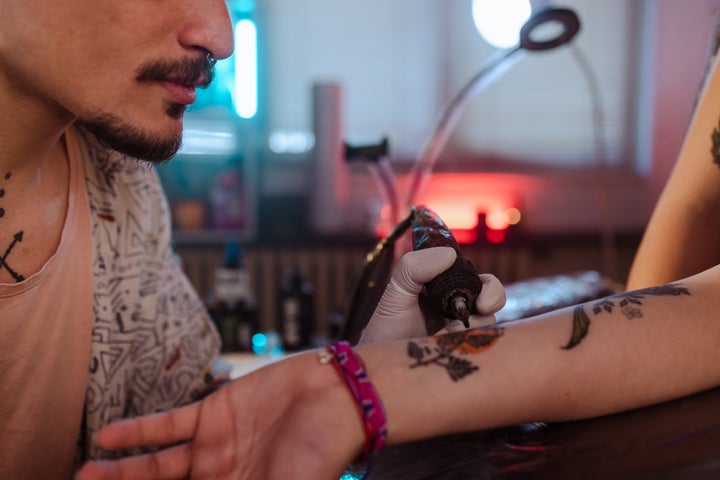 Tattoos have most certainly grown in popularity over the years. Whether you're getting a family member's name tattooed on your chest, or maybe a line of your favourite song spiralled out around your leg – there's no surprise that some tattoos are more loved than others.
Studies show that 40% of the population in the UK have at least one tattoo, and those with more probably have one they regret. Tinder wants you to know that all hope is not lost.
Singles that have gotten tattoos for an ex-lover and received the short end of the stick can now say goodbye to their past thanks to Tinder.
The dating app is hosting a tattoo studio takeover called 'Ink Twice' in partnership with Sixty Ink, to help singles embark on a "new dating journey" and leave the past in the past.
Got a bad tattoo? Listen up.
Why the partnership, you ask? According to Tinder: "new research reveals 60% of singles have at least considered getting a tattoo for someone they were dating," they said.
"While almost half (48%) of young singles admit they regret their body art as it reminds them of a past relationship."
If you're wondering why the sudden uproar in popularity, it's likely that younger people are seeing tattoos as a form of self-expression, removing the stigma that tattoos are permanent, and taking matters into their own hands.
Tinder, who are giving the tattoos away for free, have announced that anyone interested in getting their past erased should apply through Tinder's dedicated website www.inktwice.co.uk (consultations are subject to availability).
Laura Wilkinson-Rea, Senior Director of Communications, UK at Tinder says: "From matching tattoos to symbolic designs that hold secret meanings, we all know someone - or have been that someone - who has expressed their love in a bold and permanent way.
"That's why we're so excited to be launching 'Ink Twice' with our partners Sixty Ink, offering singles a service to date confidently and create new sparks, without any reminders of a past relationship."
Claudio Traina, Owner and Lead Tattoo Artist at Sixty Ink adds: "If you've ever had a tattoo that made you cringe, we feel you! We've seen many couples come into our salon to get matching tattoos with their significant other only to break up."
"We're offering to turn those tattoos of your ex's name into artworks with a new meaning, as it's all about rocking that fresh ink and getting back out there to date with confidence. So let's cover up the past and start a new inked-up chapter in your dating journey!"
Enquire here for a free tattoo re-do. Dates to get tattooed are 11th-13th October 2023.