Turner Prize-winning artist Grayson Perry has never conformed to stereotypical ideas around masculinity.
In fact, the father-of-one is almost as famous for wearing a dress as his alter ego Claire as he is for creating mind-blowing pieces for art.
For much of his life Grayson has been viewed as "different", but he thinks men are a "stranger and more interesting bunch" than they let on.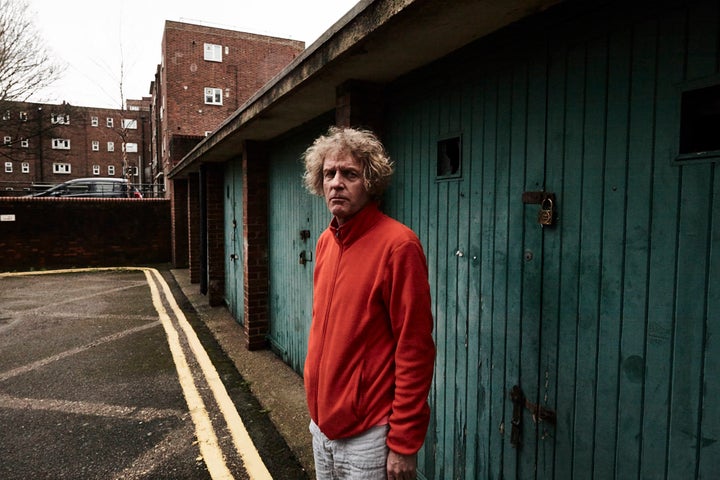 Throughout the series Grayson joins three "ultra-male" worlds to see what their extreme masculinity has to tell us about the changing expectations of all men in Britain today.
In episode one he travels to the north of England - an area where male suicide is highest in the UK - to spend time with a group of MMA cage fighters, including Alex, Colin and Andy.
He watches in awe as the men push their bodies to the extreme in the hope of defeating their next opponent. Alex, for example, doesn't eat or drink for 24 hours before a big fight to ensure he's the right weight.
Grayson soon realises that the intense training regimes and bloody fights are a way for the fighters to escape the pressures of everyday life and let go of their bottled up emotions.
"The people who look the hardest are not necessarily the hardest men," he says.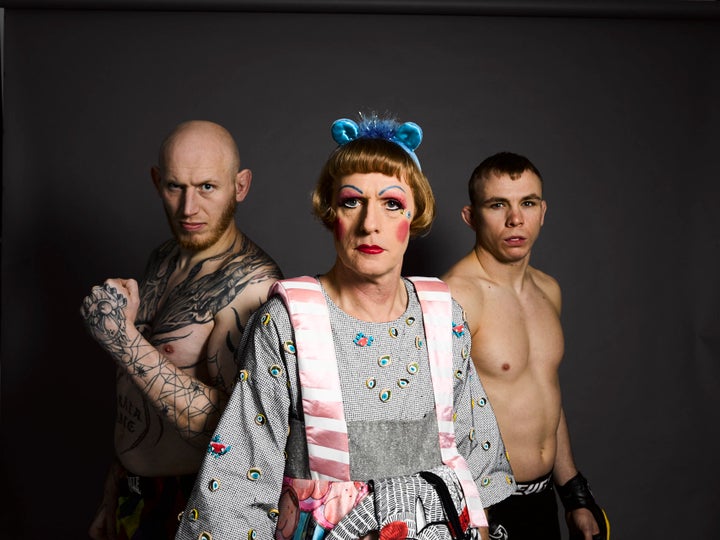 Later, the artist meets Thelma, whose son Daniel took his own life 18 months before they met, at the age of 30.
Thelma describes her son as "fun loving" and "the life and soul of the party" and says his death came as a shock to everyone who knew him.
"He would be the last person I would imagine who would take his own life," she says.
"I think he felt like he wanted to die in the moment but I don't think he wanted to die forever."
When Grayson goes for drinks with some of Daniel's friends, they also express their shock at his suicide.
The young men say Daniel never opened up about his feelings, adding: "There's a macho stigma surrounding being out with the lads, nobody wants to be seen as not being a man and everybody wants to be seen as being strong."
This culture of silence, Grayson realises, could be at the heart of why male suicide is reaching "epidemic" levels in the UK.
"I don't think men are always encouraged to be sensitive to themselves and to recognise that what they're feeling is sadness. They're not encouraged to notice what they're feeling," he says.
"One thing that keeps coming up is that men have this kind of skin in a way. It's their muscles, it's their tattoos, it's their bravado, it's their banter. It's all the things that we think of as masculine.
"The weight of that very armour they build up in the end is quite a burden."
'Grayson Perry: All Man' starts on Channel 4 on Thursday 5 May at 10pm.
Useful websites and helplines

Samaritans offers a listening service which is open 24 hours a day, on 116 123 (UK and ROI - this number is FREE to call and will not appear on your phone bill.)

Mind, open Monday to Friday, 9am-6pm on 0300 123 3393

Get Connected is a free advice service for people under 25. Call 0808 808 4994 or email: help@getconnected.org.uk

HopeLine runs a confidential advice helpline if you are a young person at risk of suicide or are worried about a young person at risk of suicide. Mon-Fri 10-5pm and 7pm-10pm. Weekends 2pm-5pm on 0800 068 41 41