This article contains spoilers for the latest episode of the Great Stand Up To Cancer Bake Off.
While Alison Hammond bringing the laughs to the celebrity Bake Off tent was no great surprise, what we hadn't anticipated was that Joe Sugg would be the one to serve up the night's biggest slice of drama.
But that's exactly what happened when the YouTuber and Strictly Come Dancing finalist ended up hitting the deck in the middle of the first challenge.
Near the beginning of the episode, Joe was left in need of medical attention when he accidentally cut off the tip of his finger while trying to peel an apple for his Signature Challenge, a tray bake.
But despite initially thinking he was alright to carry on as normal, Joe ended up needing some time out from the tent when he suddenly fainted in the middle of the action.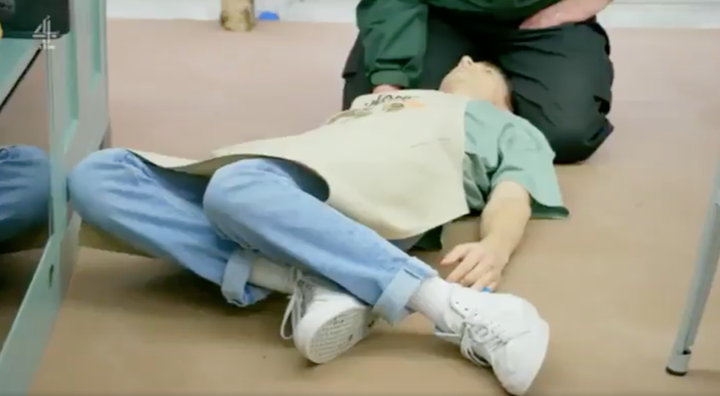 The moment left his fellow contestants in shock (although James Blunt's "oh dear" wasn't exactly an emotional outburst), with viewers tweeting along with the episode also expressing concern for the vlogger...
Fortunately, despite finding himself at the centre of the biggest Bake Off drama since #BinGate (ahhh, simpler times), Joe did end up being crowned this week's Star Baker, winning the coveted Stand Up To Cancer apron.
He triumphed over Alison, singer James Blunt and The One Show's Alex Jones with his showstopper, inspired by an archaeological dig.
The Great Stand Up To Cancer Bake Off returns next week on Channel 4, with Kelly Brook, Robert Rinder, Carol Vorderman and Mo Gilligan all trying to win over judges Prue Leith and Paul Hollywood.