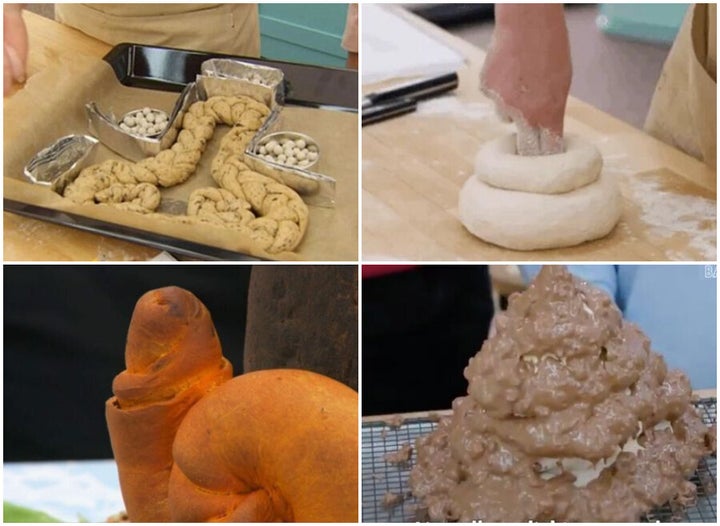 Anyone who watches the Great British Bake Off will already know that each episode is usually packed as much innuendo as a Carry On film.
However, from time to time, the double entendres spill over into the bakes themselves, with the contestants' crude creations reducing viewers (and often the judges) to fits of giggles.
With a new series now ready to be served up, we're taking a look back at some of the rudest bakes the tent has ever seen...
Andrew's jousting pole (2016)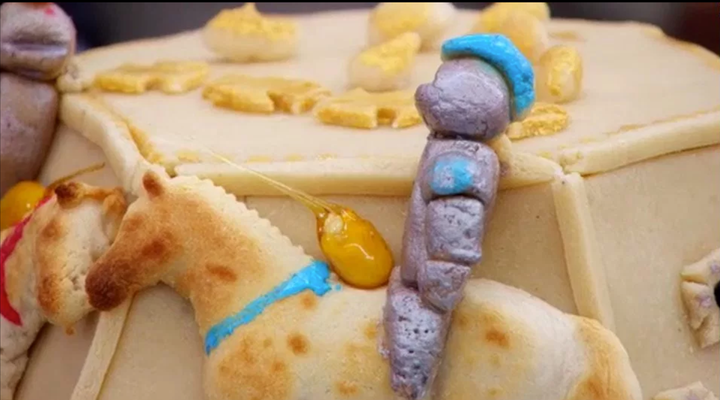 Bake Off's first-ever Tudor Week produced this classic as Andrew Smyth presented judges Paul Hollywood and Mary Berry with marzipan knights on horseback complete with caramel jousting poles.
We'll leave it to you to guess what everyone had to say about this knight's long pole.
Julia's snail trail (2017)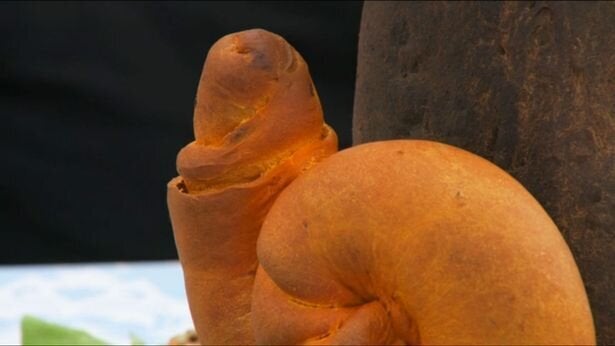 Who knew an innocent snail chilling out under a mushroom could look so, well, phallic.
Even 2017 contestant Julia Chernogorova realised the likeness herself, saying of her Bread Week showstopper: "That just looks inappropriate."
Well, that's one way of describing it.
Sophie's cork-popper (2017)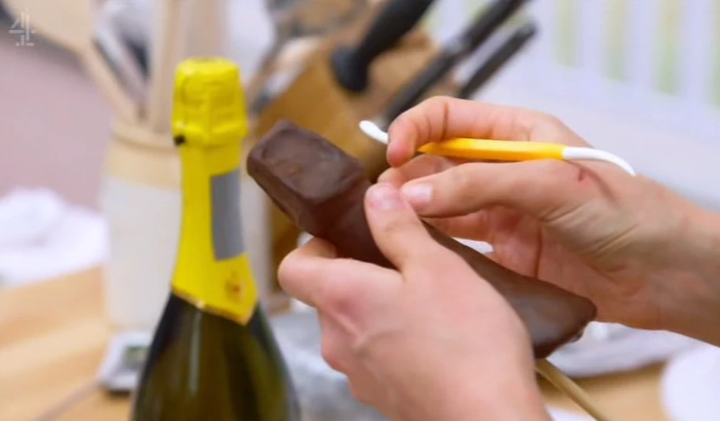 Sophie Faldo may have won the first Channel 4 series of Bake Off, but before that, she managed to leave host Noel Fielding speechless with this number.
In fairness, when you realise that she was actually crafting the neck of a champagne bottle out of chocolate, it doesn't look quite as rude as it does out of context. Almost.
Tom's phallic loaf (2016)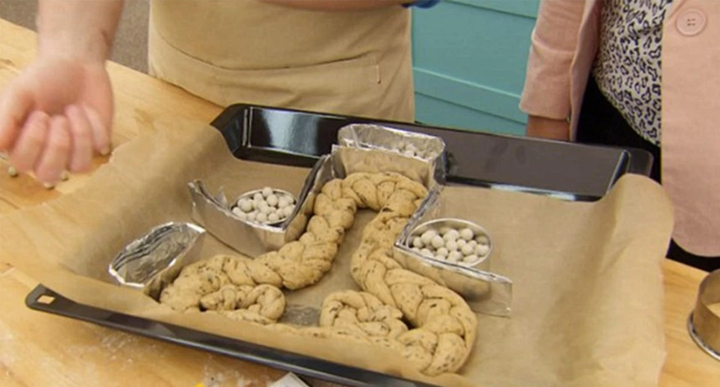 Arguably the most famous Bake Off gaffe of them all.
Tom Gilford's savoury plaited centre piece he presented as his Bread Week showstopper was not something most people would want in the middle of their table at a dinner party.
Although it would certainly be a conversation starter.
Dan's 'what the hell is he holding?' showstopper (2018)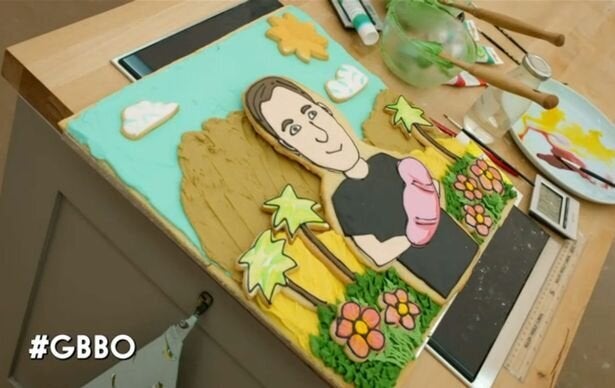 Having been tasked with making a biscuit self-portrait depicting a scene that was personal to him, 2018 contestant Dan Beasley-Harling decided to make something that featured his eldest child as a baby.
Now, there's no denying it was a work of art, but look closely at the baby's pink blanket and you'll understand why it raised more than a few smirks.
Yan's cock-olate puddings (2017)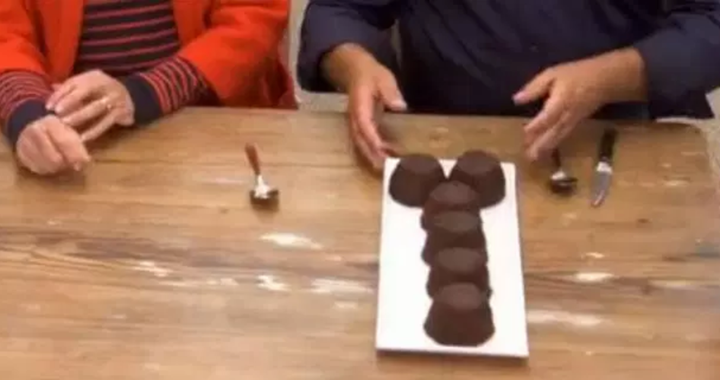 Scientist Yan Tsou unwittingly presented six chocolate puddings in rather rude arrangement during the technical challenge back in 2017.
No jokes about oozing centres here. We're much too mature for that.
Stacey's technical gets the finger (2017)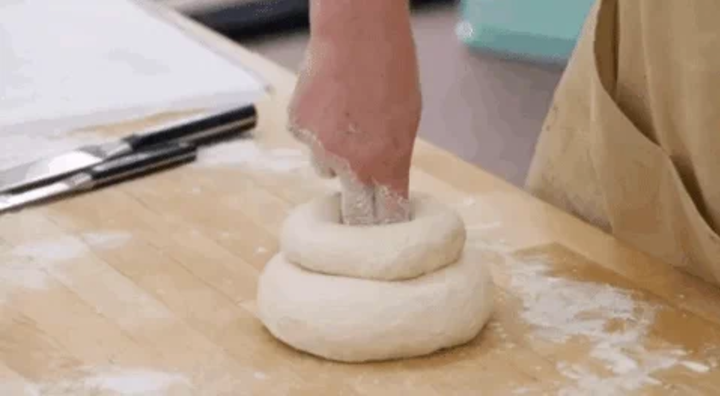 Channel 4′s first Bread Week prompted innuendos galore when Paul set them a technical challenge of baking a cottage roll, with a lot of chat about floured fingers.
However, when Stacey Hart revealed she knew exactly the right technique to get the two layers of dough to stick together, it led to this particular moment.
"What Paul does is he sticks his fingers in the flour and he does down like that with two fingers, and goes up and down like that", Stacey explained. "I just know how Paul likes it".
Rylan's poo-moji (2019)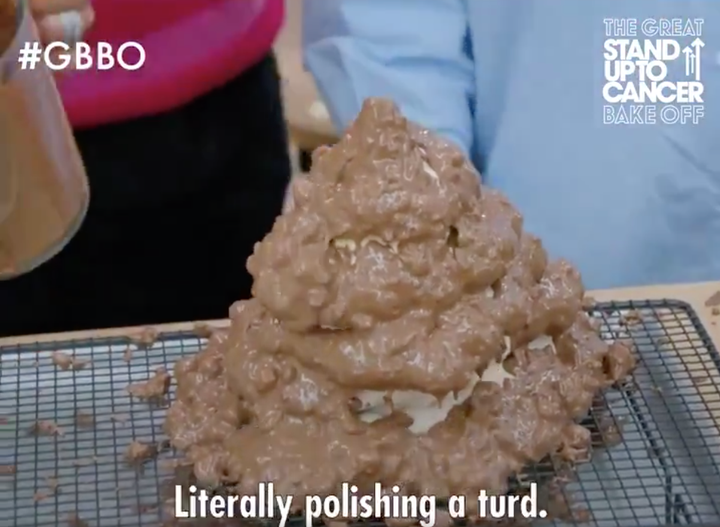 Having reached the finals of Celebrity MasterChef, big things were expected when Rylan Clark-Neal entered the tent for a Stand Up To Cancer special.
However, after being set to challenge to make a scene out of meringue depicting their happy place, the presenter had viewers howling as he cooked up a literal poo emoji.
He was attempting to make a beach scene that reminded him of time he spent in Ibiza, with the meringue stack (which was covered in chocolate) supposed to represent a rock in the ocean. But presenters Noel Fielding and Sandi Toksvig were at pains to point out what it looked like.
"Wow, you're going to find that dog and punish it," Sandi joked.
"I'm going to have to glitter it, ain't I?" Rylan replied.
"Literally polishing a turd," Noel added.
Joe gives it a good crack (2019)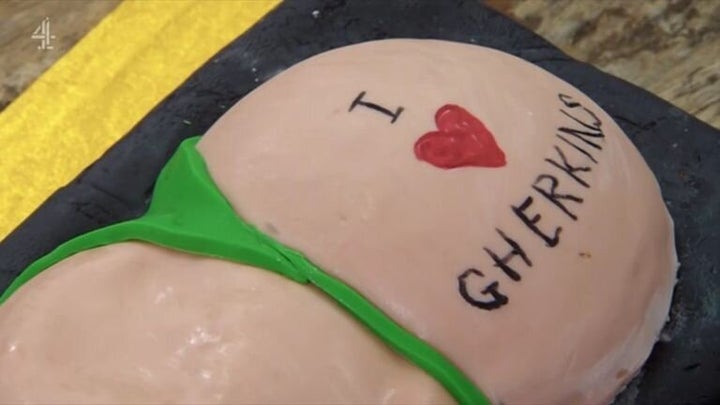 We love it when comedians are let loose in the Bake Off tent, and Joe Wilkinson did not disappoint during his Stand Up To Cancer stint.
He decided to base his Showstopper cake on his actual bum, with his design including a thong wedged into the crack of his bum, complete with a "I LOVE GHERKINS" tattoo.