A grieving woman has expressed her gratitude after a stranger gave her an envelope stuffed with cash in a "random act of kindness" he hoped she would pass on to someone else.
Emma Kate was waiting outside Asda in Gillingham, Kent, with her mother when a man called John approached them and said "here you go, love".
He then handed Kate's mother an envelope with "open me" written on the front, before walking away.
Inside was £50 and a note reading: "This is a random act of kindness. Doesn't need to be repaid but carry on an act of kindness. This was mine. What is yours? John."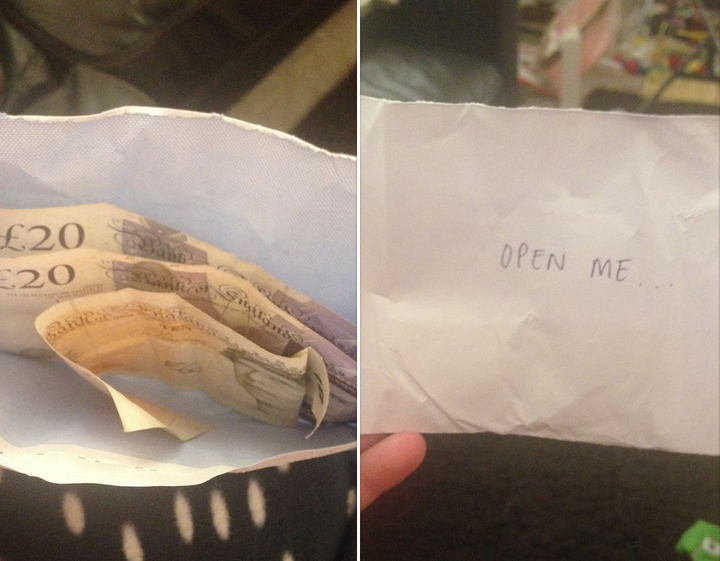 Kate relayed the incident on Facebook, where she explained that the act of kindness couldn't have come at a better time. Her mother had just buried her son.
She wrote: "Now John I don't know who you are or where you are from or why you even did such a generous thing... but little did you know that the woman you gave this envelope to (my mother) had just recently lost and buried her son, (my dear brother) and we were actually discussing ways we will get the money together to pay for the last bit of the funeral.
"Little did you know John that you touched the heart of my mum with your random act of kindness when the last couple of weeks have been her darkest!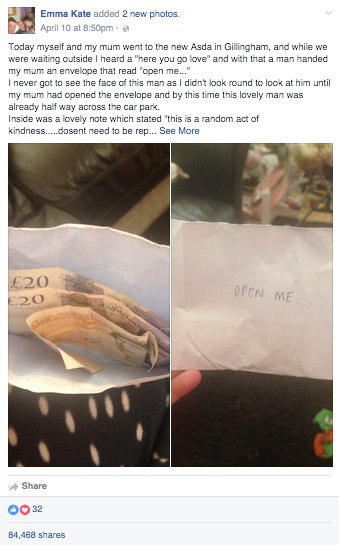 "I sincerely thank you so so much and I would love for you to be able to see this... to see how it was so much more than 'a random act of kindness'."
The post, from April 10, was shared more than 80,000 times and led to Kate tracking down her mystery benefactor.
In the comments section, Kate later added: "It was so random but so lovely. Should have seen my mum, bless her.
"I can't quite believe how it's gone though to be honest. Call me naive but I just thought I'd get a couple of shares, never thought the amount it has gotten!"
On April 11 she wrote: "I have found John at last. Still so, so touched by everyone's kindess. Makes you realise....the world isn't all bad after all."