Name a better starter than this halloumi salad? We'll wait. No, really. This dish covers all the bases and features sweet, salty, crunchy, and fried elements that are ideal for lunch on its own or as part of a mezze.
"Halloumi is probably Cyprus' most famous culinary export and undoubtedly the world's favourite squeaky cheese," cookbook author and writer Yasmin Khan, who created the recipe, tells HuffPost UK.
"This recipe is inspired by a dish I kept returning to at the Loxandra restaurant in Nicosia, Cyprus, and is one of the most popular mezze dishes I make for my friends at home," she says. "It's perfect for this time of year as it's light and quick and easy to pull together."
Have it as part of a springtime Easter feast – or save it for when you can host a dinner party this summer.
Halloumi Saganaki
Serves: 4, as part of a mezze | Prep time: 5 mins | Cook time: 5-10 mins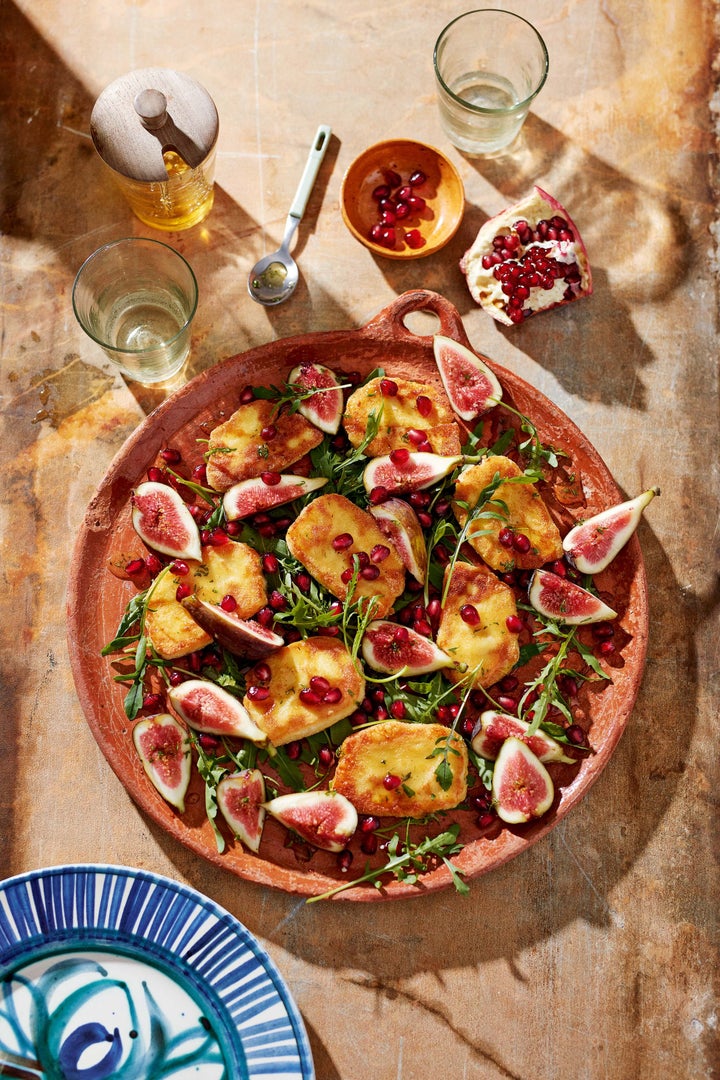 Ingredients:
300g halloumi cheese
1 medium egg
4 tablespoons fine
Semolina or polenta
3 tablespoons sunflower oil
2 tablespoons runny honey
1 teaspoon thyme leaves, finely chopped
Couple of handfuls of rocket leaves
4–5 fresh figs, quartered (optional)
3 tablespoons pomegranate seeds
Black pepper:
Method:
1. Cut the halloumi into eight thick slices.
2. Beat the egg in a small bowl and lay the semolina or polenta out on a plate.
3. Dip the halloumi slices in the beaten egg, then roll them in the semolina or polenta so they have a crust around them.
4. Heat the oil in a non-stick frying pan until it is hot, then fry the halloumi pieces for a few minutes on each side until they are golden brown. Place on some kitchen paper to soak up any excess oil.
5. Meanwhile, heat the honey in a small saucepan with the thyme.
6. Now assemble the dish. Place the rocket on a serving plate and arrange the halloumi on top, nestling the figs around. Drizzle a little of the hot honey over each slice of halloumi. Finish with a smattering of pomegranate seeds and grind over some black pepper.
Recipe from Ripe Figs by Yasmin Khan, published by Bloomsbury, £26. Out on April 1.