Katie Price's son Harvey has been offered the opportunity to make train announcements by National Rail, after the mother and son's documentary Katie Price: Harvey And Me aired on Monday night.
The one-off doc followed the former model and her eldest son Harvey – who is partially blind and has Prader-Willi syndrome, autism and other learning and behavioural difficulties – as he celebrated his 18th birthday, as well as searching for a residential college where he can live now he is in the adult care system.
Harvey And Me was a hit with viewers, and in one of the doc's most memorable scenes, Katie was seen taking the 18-year-old train enthusiast to a local station, where he was seen photographing passing trains on his iPad.
In the same scene, he was also seen impersonating a train announcer, saying: "May I have your attention please? This train is formed of 12 coaches. Platform four for the 11.34 South Western Railway service to Guildford."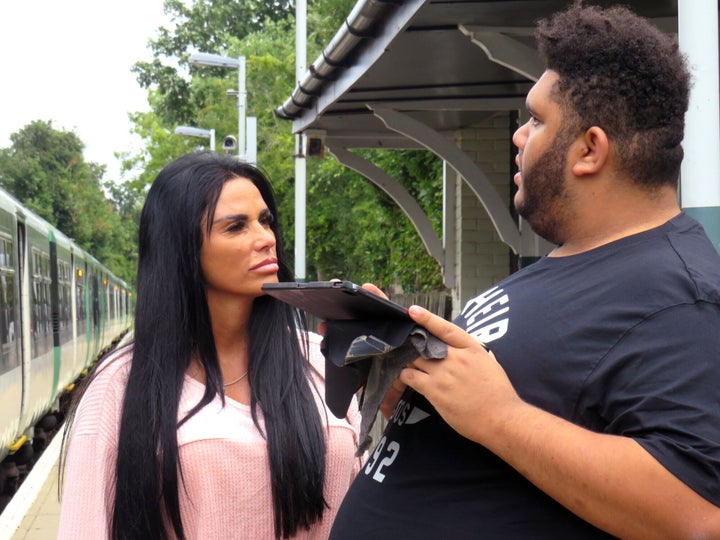 The moment led to many viewers sharing their hopes that Harvey could one day become a train announcer, with National Rail publicly reaching out to him the day after the documentary aired.
A spokesperson for the train company told Metro: "We, Network Rail, would be happy to arrange for Harvey to make an announcement at one of the Network Rail managed stations when it is safe to do so."
During the documentary, it was revealed that Katie had found a residential college that both she and Harvey would be happy for him to move into, and is now awaiting confirmation on whether his application has been accepted.
She told The Sun earlier this month: "It's so upsetting to think I won't see him every day but this is the best thing for Harvey and we have to think positively because I don't want him to think I'm just getting rid of him.
"This is his chance to live an independent life, learn skills and socialise with people other than me."