Hip fracture is the most common serious injury in older people in the UK, and costs the NHS a reported £1 billion every year, so any potential solution is unsurprisingly met with great enthusiasm by the medical community.
Now a French company - that normally specialises in airbags for extreme sports such as flying light aircraft, biking, horse riding - has designed a special belt for pensioners to protect their hip joints.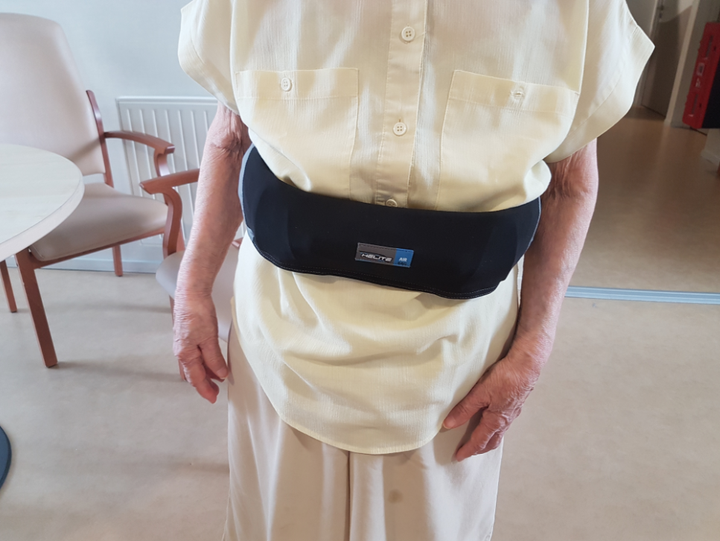 Unveiling the design at the Consumer Electronics show (CES) in Las Vegas, Helite said they are hoping to use their technology to protect the victims, 50% of whom lose their autonomy after a fall and 23% die within a year.
The Hip'Air is a belt that weighs approximately 2.2 pounds, and is worn just above the hips, on top of clothes, so it is able to deploy airbags as it senses the person is falling.
It is different to normal hip protection pads because it uses a combination of gyroscopes and accelerometers to detect when a fall is about to occur and deploy airbags before they hit the ground, rather than cushioning the impact when they do.
The company says that the average fall takes 400 milliseconds (0.4 seconds) and the bag can detect a fall within 200 milliseconds (0.2 seconds) and the bag takes 80 milliseconds (0.08 seconds) to deploy.
The shock absorption is about nine times better than a standard hip protector and the bags are able to reduce 90% impact force.
It has also been tested on 50 real patients in nursing homes in Burgundy, France, where one user, Huguette, said: "I have totally forgotten that I am wearing it and it doesn't bother me at all."
Although the Hip'Air will costs approximately $790 (as well as the $50 for a one-use gas canister) so it is pretty expensive for most people living on a pension, just for peace of mind.
It will be launched in March across Europe, and September in the USA.