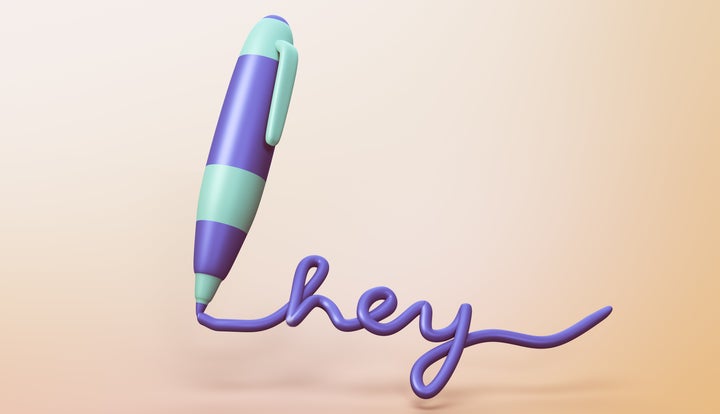 Three letters. One syllable. It may seem like an innocuous enough message, but in digital workspaces such as Slack or Google Chat, few words or phrases are as anxiety-inducing as a simple "hey."
And "hey" with no follow-up or with a heavy pause? That can be downright unnerving when it comes from a manager. ("Hey what? Am I about to be called into a conference room for layoffs?") If you've never chatted with the person before, a "hey" out of the blue can leave you second-guessing yourself, too. ("What does this person from a random department want? Am I being pulled into something?")
Even if you mean well ― you might be thinking, what's so wrong with saying "hi!" to someone before getting to the point? ― leaving someone "hey hanging" is generally ill-advised, said Pattie Ehsaei, a senior vice president of mergers and acquisitions lending at a major bank. (Ehsai also runs the TikTok account Duchess of Decorum, where she teaches financial literacy and workplace decorum.)
"All communication at work via email or Slack should have a clear agenda and purpose, either providing information or enough context for the receiver to reply," Ehsaei told HuffPost. "'Hey' leaves the receiver confused as to the purpose of the communication and doesn't initiate a reply."
"Hey" ― with no other text or context accompanying it ― suggests that the sender is waiting for a little chitchat before getting to their point. That doesn't always make sense for Slack, which has 10 million-plus daily users.
Though it depends on your work culture, people don't necessarily get back to Slack messages right away. That's because it's a form of asynchronous communication: One person says their piece, and there's generally a lag time before the recipient replies. (The opposite of asynchronous communication is synchronous communication, where a person is expected to reply immediately, like they would on the phone, in person or on a Zoom video call.)
Because so many people are on the move in an office, on different schedules, or working remotely, asynchronous communication is oftentimes the preferred means of communication at work.
To avoid any awkward pauses, it's better just to explain what you need right off the bat, said Nick Leighton, an etiquette expert and host of the weekly podcast "Were You Raised by Wolves?"
"Human communication often involves a lot of nuance, much of which is lost in text format," he said. "When communications are especially brief such as 'hey,' there isn't always enough to go on and it's easy to come up with a lot of different interpretations, not all of which are good."
Most of us crave closure and clarity in the workplace, Leighton added, and a lone "hey" feels too open-ended. Some online have noted that hey hanging is more common among baby boomers, and Leighton generally thinks that's true.
"Attitudes towards hey hanging are somewhat generational, and whether or not this is maddening or innocuous may depend on how old you are," he said. "But generally, if you're the sender, it's best to get it all out there in the first message."
The only other phrase or word that may inspire as much anxiety as "hey" on Slack or Microsoft Teams is "OK" (or its millennial/Gen Z kid sister, "kk"). As HuffPost's senior work reporter, Monica Torres, wrote in 2019:
In the mind of an anxious employee, an "OK" or "okay" can become proof of hostility and judgment in text-based communication. When the boss answers a deadline request with just "OK" in an email, the two-letter word can suddenly sound harsh. When a colleague replies to a paragraph-long question with a one-letter "k" on Slack, it can send us into an anxious tailspin, worried the sender is mad at us.
Uneasiness around "hey" and "OK" gets us to an important concept here: When it comes to online chatting, less isn't always more, according to Mary Crane, the owner of the business consultancy Mary Crane & Associates. That's especially true when so many of us are remote or hybrid workers and may not know each other very well.
"Slack and Gchat can be hugely effective when participants already know each other well and can communication quickly," Crane told HuffPost. "Co-workers who have established relationships rarely experience hey-hanging anxiety."
When co-workers don't have that familiarity, though, "there's room for anxiety and a lot of opportunity to misunderstand or be misunderstood, which increases stress and interferes with our productivity," she said.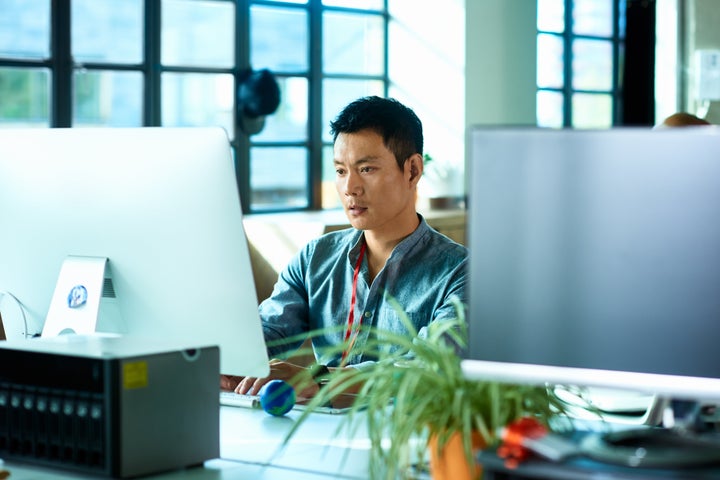 How to avoid hey hanging and deal with any hey hangers in your workplace
How do you avoid hey hanging (outside of just getting more familiar your co-workers)?
Unless you know otherwise, assume everyone is loaded down with work and would love a little direct communication. Crane said to try something like: "Hey, Jim. Hope you had a great weekend. I'm working on the XYZ project and have two questions. Can we connect?"
"That gives the recipient the option of responding immediately or replying: 'I'm in a Zoom meeting with a client. Will reach out when I'm free!'" she said.
In the case of "OK," experts say you might want to pad your message with bubbly qualifiers like "OK, great" or "OK, sounds good" to make the response a bit cheerier.
Crane had advice for dealing with a hey hanger, too.
"Rather than feeling anxious, a recipient can take control by responding: 'Glad to hear from you! I'm in the middle of a project. Let me know if you need anything' and simply leave it at that."