Up to 2 hijackers armed with hand grenades divert Libyan plane
Hijackers claimed to be from pro-Gaddafi group Al-Fatah Al-Gadida
All passengers and crew released in Malta

Hijackers surrendered after hours of negotiations
Two suspected hijackers have surrendered after diverting a Libyan plane to Malta, where they threatened to blow up the aircraft with hand grenades, according to Malta state TV.
The Afriqiyah Airways Airbus A320 was on an internal flight within Libya from Sabha to Tripoli with 118 people on board when it landed in Valletta at 11.32am local time.
Maltese prime minister Joseph Muscat confirmed a "potential hijack situation" and said security and emergency operations were standing by.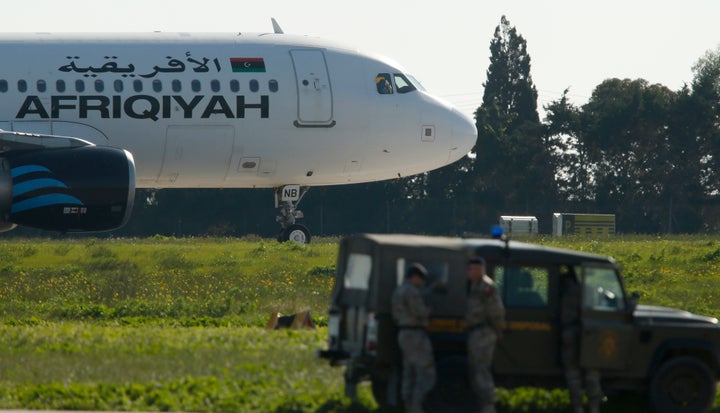 He added: "It has been established that Afriqiyah flight has 111 passengers on board. 82 males, 28 females, one infant."
Emergency teams were dispatched to the site of what Malta International Airport called an "unlawful interference" on the airport tarmac, as all flights were diverted and the hub was closed.
According to reports, the hijackers claimed to belong to the Al-Fatah Al-Gadida organisation, a pro-Gaddafi group, and had stated they were willing to release the passengers, though not the seven crew members, if their demands were met.
It is not known what their demands were, but following several hours of tense negotiations, 109 passengers were allowed off the aircraft. The final crew members including the pilot later followed.
Some outlets had claimed there was just one hijacker aboard the plane and the BBC carried reports that he was trying to claim political asylum in Malta, citing information from the mayor of Sabha, Colonel Hamed al-Khayali.
Former Libyan leader Muammar Gaddafi was killed in an uprising in 2011, and the country has been racked by factional violence since.
Malta's National Security Committee coordinated the operation, a government statement said.
One Libyan lawmaker was among the list of passengers, the Associated Press reports. It was unclear whether the lawmaker, identified as Abdel-Salam al-Marabet, was actually on the flight.
A Libyan news channel identified the hijackers as Mousa Shaha and Ahmed Ali, though as yet their identities are officially unconfirmed.
Related