Supporters of the 96 people killed in the Hillsborough stadium disaster have paid tribute to the campaigning work of mother of a victim who never lived to hear "the truth" after she died of cancer two years ago.
Anne Williams, whose 15-year-old-son Kevin died in the tragedy, was one of the most vocal forces in the fight to overturn the first inquest verdict.
Williams, who died in 2013, kept fighting despite her poor health and attended a hearing at the Royal Courts of Justice when the original inquest verdicts were quashed.
Despite being diagnosed with terminal cancer, she beat medical expectations and attended a Hillsborough memorial service at Anfield three days before her death.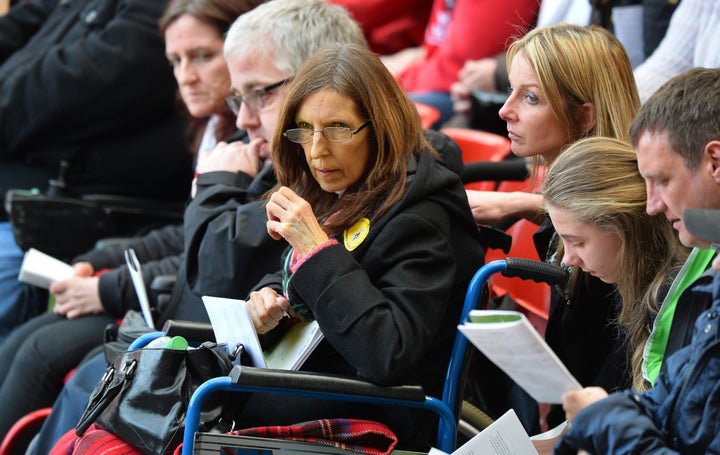 She is credited with tireless campaigning that prompted the fresh hearings over the 1989 football stadium tragedy.
Lawyers acting for the families said the conclusions, reached at the end of the longest jury case in British legal history, had completely vindicated their tireless 27-year battle.
Supporters on Twitter heralded Williams as a "warrior" and said "the truth" of how her child died had been revealed.
One fan hoped she was "up there having a bevvie" after the verdict of unlawful killing was delivered.
Williams was nicknamed the 'true Iron Lady' in a reference to Margaret Thatcher, the Prime Minister at the time.
Some also tweeted about Williams after a memorial to the Hillsborough victims earlier in the month, asking why she was not menioned.
The Hillsborough disaster unfolded during Liverpool's FA Cup semi-final tie against Nottingham Forest on April 15 as thousands of fans were crushed at Sheffield Wednesday's ground.
The fresh inquest followed a dogged campaign for justice by the loved ones of those who died.
The jury found that:

- Both the police and the ambulance service caused or contributed to the loss of lives in the disaster by an error or omission after the crush in the west terrace had begun to develop

- They found unanimously that policing of the match caused or contributed to a dangerous situation developing at the Leppings Lane turnstiles

- Commanding officers caused or contributed to the crush on the terrace as did those senior officers in the police control box when the order was given to open the exit gates at the Leppings Lane end

- Features of the design, construction and layout of the stadium considered to be dangerous or defective caused or contributed to the disaster

- The safety certification and oversight of the stadium also played a part

- Sheffield Wednesday's then consultant engineers, Eastwood & Partners, should have done more to detect and advise on any unsafe or unsatisfactory features of the stadium which caused or contributed to the disaster