Buying your first property is a confusing enough process at the best of times, but doing it during a pandemic is a mindfuck. Trust me, I did it.
We were in the middle of first tentative steps, we'd had an offer accepted and things were going swimmingly. A few months later my other half had been furloughed, I'd lost a ton of work as a freelancer, and the housing market had shut down. It was almost enough for us to turn and run, accepting we'd be renting for the rest of our lives.
But, we persevered and we did it – with more questions than answers and countless nights of lost sleep doubting our decision making, admittedly. And now I wanted to pass on some important lessons learned along the way (sometimes the hard way) and tips I wish I'd known before trying to navigate the property market.
1. Do your research and work out mortgage maths
It's optional, but I'd recommend getting a mortgage broker. It might cost a small fee, but the time and energy you save from searching for mortgage deals yourself is well worth it. Some brokers have a deal where they waiver their mortgage application fee if you agree to take out life or home content insurance with them as well, while some mortgage products offer cash back which will cover the broker's costs.
"Our job is to link the solicitors, the agent and the lender together. We help buyers get it right the first time. Answer any questions and guide you in the right way rather trying to piece it all together from the internet," Nick Blatcher, director of Citrus Mortgages, explains.
"At the moment, It's quite a struggle to get mortgage funds for clients – it's like getting tickets for Glastonbury. It's not near impossible though, we have been successful, it's just taking a little bit longer than usual. Lenders are keen to lend, they're just cautious about trying to match their workflows in a pandemic spread, so there's not a massive influx of business."
Whether you're a sole trader, self-employed or full-time, brokers can provide free advice to help you understand the different types of mortgages available to you. "They're currently putting these types of applications through the wringer and are requiring three months of bank statements to see if they've been impacted by Covid-19," Blatcher adds. "There always options available but just more hoops to jump through at the moment."
2. Get organised
If you're not a spreadsheet person, buying a property will soon turn you into a spreadsheet person. It might seem like an obvious tip, but it's vital to know the ins and outs of every penny – it'll save pulling your hair out and angrily bashing on your calculator app trying to work everything out.
Keep tabs along the way, plan out exactly how much money you're going to need for the deposit, solicitors fees or any sneaky hidden costs because things do add up. "Budgeting efficiently can save you a surprising amount of money. Everyone tends to get caught up in life easily and forgetting to keep an eye on their outgoings," Damien Fahy, founder of Money To The Masses, explains.
"Budgeting and tracking your daily spending using an app like Monzo, Tandem and Yolt can help you easily spot those little expenses that add up to a surprising amount each month."
There might be a stamp duty 'holiday' in place until the end of March 2021, which is potentially one less outgoing you have to worry about – but if the sale doesn't go through before March you will have to pay, so it's good an idea to factor in extra cash as a worst-case scenario.
Fahy added: "Although you may not be thinking about saving your money in these uncertain times, it may be a good time to squirrel away some of the money you are saving from being at home."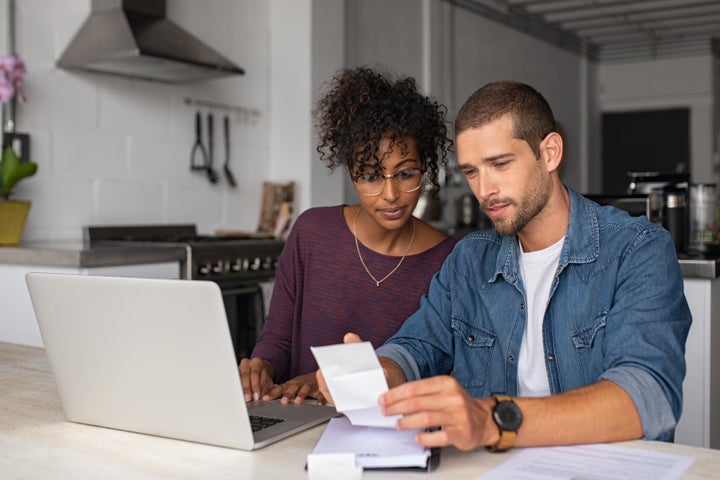 3. Don't get into a bidding war
Leave the bidding wars to eBay, unless you're really dead set or have an extra wad of cash to blow on your property. You might secure it, but going way over budget leaves you with barely anything left for the essentials – like furniture or white goods – and any potential renovations or decorations along the way. No one wants to sleep on a mattress on the floor for the better half of the year.
It's disheartening to lose out on the dream home that got away, but almost always something better comes along. You just have to be on the lookout and glued to property websites at the right time and place – set up those alerts – or in lots of contact with local agents, the joys! Often, it's down to lucky timing.
4. Avoid the smoke and mirrors
A lot of people forget that an estate agent is working for the vendor of the property, they're not working for you. "Take what's being said with a pinch of salt because their job is to sell that property," Blatcher says. "Do your due diligence and your research. If you have any doubts about a property seek advice. There are people out there who will help you."
If you're at all unsure or there's a potential issue, take your time and don't be pressured into buying. If the survey reveals issues such as damp or subsidence, always get a second opinion on the costs to fix it – only then can you consider your options properly. And beware of knotweed.
It's crazy to me that you see a property for less than half an hour and decide on one of the biggest purchases of your life there and then. Really take the time to think carefully and discuss it through.
5. Have

a little

a lot of patience
It's only natural for you to want everything to go through quickly and with few problems – after all, you may have been waiting for or working towards this moment for a lifetime. But finding 'the one' takes time. And conveyancing – the legal paperwork needed for you to exchange and complete – takes longer.
From house viewings to waiting for a solicitor to respond to your email, it's a process and things do fall through. At times you'll feel like you're stood still; you might even feel like you're going backwards. Try not to obsess over it and acknowledge what's in your control and what isn't. Remember to breathe.
Keep in mind house viewings get old very quickly. It's pretty draining when you spend every waking weekend or evening looking at flats. They start to merge into one. Try to view each property with fresh eyes: ask questions, take plenty of photos, videos and write down notes about each potential property, so you can compare and contrast afterwards. Estate agents may try to rush you, but this is one of the biggest purchases of your life – take your time.