A popular instant hot chocolate drink is "saltier than seawater", health campaigners have warned.
The drink contains 16 times more salt than the maximum amount detailed in official salt reduction targets for 2017.
Galaxy Ultimate Marshmallow Hot Chocolate is one of many products being called out as part of Consensus Action on Salt and Health (CASH)'s call for an immediate reduction on the nation's salt intake.
In a review of 28 food categories, CASH found that bread rolls were the only category to have so far met the maximum - and not even average - target for salt intake in 2017.
Professor Graham MacGregor, chairman of CASH, labelled it "a national scandal" and said they were "alarmed by the lack of action so far by manufacturers and Public Health England (PHE)".
According to CASH, 14,000 deaths could be prevented every year by reducing salt intakes from the current 8g per day to the recommended 6g.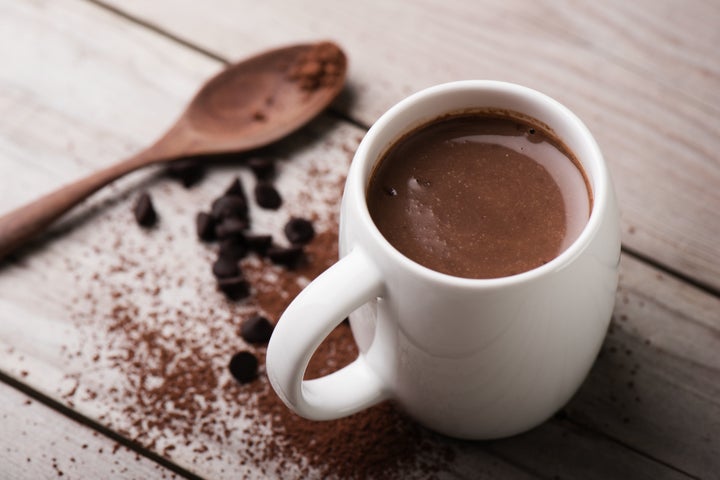 "The UK was leading the world in salt reduction, but PHE are doing nothing to ensure that the 2017 salt targets are met," said Professor MacGregor.
"NICE clearly demonstrated the huge cost savings for the NHS of salt reduction (1g reduction saves £1.5 billion per year, at a cost of less than half a million pounds a year).
"PHE should seize this opportunity and ensure the 2017 targets are met, as well as setting new mandatory targets for 2020, to ensure that we continue to lead the world and save the maximum number of lives."
The new survey by CASH compared two shopping baskets each containing similar everyday food items, but with different amounts of salt.
The saltiest shopping basket had 107g of salt compared to a basket containing the same categories of foods with only 47g of salt. This is a 60g difference which is equivalent to 130 bags of Walkers Ready Salted crisps.
Worst offending products included Galaxy Ultimate Marshmallow Hot Chocolate, Baxters Chef Selections Cullen Skink and Aldi The Fishmonger Piri Piri Smoked Mackerel Fillets, which contained four times more salt than the target for fish-based meals.
A spokesperson for Mars told The Telegraph: "Our Galaxy Ultimate Marshmallow Hot Chocolate is an indulgent treat that comes as a powder. Each 25g serving of the powder diluted with hot water contains 0.6g of salt, some of which comes from the intrinsic sodium in milk and other ingredients and some of which is added to enhance the chocolatey flavour.
"As a business, we continually work to improve the nutritional profile of products across our whole range, while maintaining the best possible taste for our consumers."
A spokesperson for Baxters told The Huffington Post UK: "Baxters has nearly 50 varieties of soup products many of which are within the current guideline levels for salt content. We constantly monitor the recipes of all our products for nutritional, fat, sugar and of course salt content to ensure we can deliver healthy, nutritious products full of flavour.
"Soup by its nature is a savoury product and some recipes and varieties require more or less seasoning in order for the taste to be acceptable to the consumer. Baxters provides full nutritional information on the labels of all of its soup products, both sodium and the equivalent value as salt, in order that our consumers can make a fully informed choice."
A spokesperson for Aldi said they are working to reduce salt levels across their range and are working with their fish supplier to ensure they achieve the salt reduction target by the end of 2017.
In light of the review's findings, CASH has urged PHE to "immediately ensure that the 2017 targets are met and that they urgently set mandatory targets for 2020".
In response to this, Dr Alison Tedstone, chief nutritionist at Public Health England, said: "The food industry has reduced the amount of salt found in our foods by 11% in recent years, which is encouraging progress.
"We know there is more to do. This is why we're talking to retailers, manufacturers, and the eating out of home sector on how they go further and faster to reaching the 2017 salt reduction targets."
A separate poll highlighted that only 40% of people know that a teaspoon (6g) of salt is the maximum amount you should have in a day.
The general population believed that ready meals, crisps, savoury snacks and salt added to food during cooking contributed the most to the salt intake. But in reality, bread and cereal products are the worst offenders, contributing nearly a quarter of salt in the UK's diet.
Katharine Jenner, registered nutritionist and campaign director for CASH, said: "Salt is the forgotten killer. We are shocked to see that many food manufacturers and retailers are still failing to meet the salt reduction targets, despite having had years to work towards them.
"We congratulate the other, more responsible manufacturers that have successfully achieved them, or are on track to meet them by the end of the year – which shows it is possible. With only nine months to go, action must be taken now."