Dozens of fox hounds have been killed following a suspected bovine tuberculosis (bTB) outbreak in Buckinghamshire, leading to calls for hunting to be "suspended indefinitely" nationwide.
The Kimblewick Hunt, which counts Tory peer and former Countryside Alliance deputy chief executive Lord John Gardiner of Kimble as an honorary member, has implemented biosecurity measures at its base, near Aylesbury, to contain the disease.
The hunt confirmed about 25 hounds have been euthanised, but the League Against Cruel Sports suspects the number is closer to 40 and has called for hunting to cease to ensure the thousands of dogs that participate in the rural sport cannot spread the disease.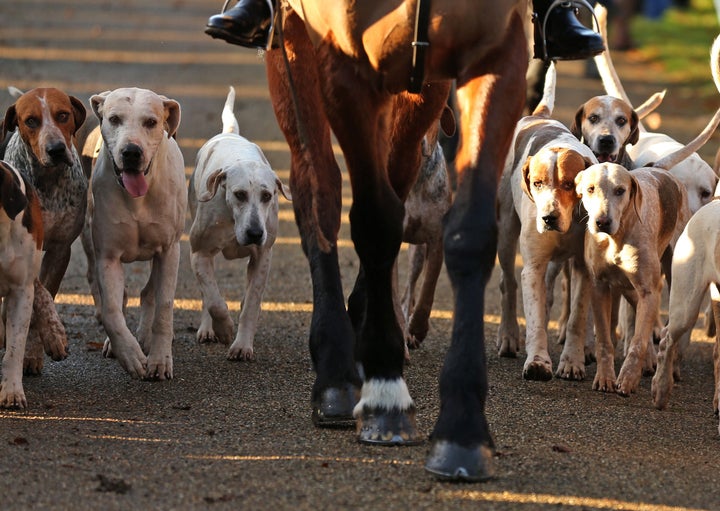 The hunt believes the hounds may have contracted bTB after eating contaminated meat and more than 120 hounds are still in kennels being monitored.
An APHA spokesperson said in a statement: "Options for managing bTB in dogs include further testing to identify all infected animals, treatment and euthanasia.
"Treatment of animals is not recommended due to the difficulty of achieving an effective cure, the risk to handlers of infected animals, and the potential to cause resistance to drugs that are important to treatment in humans.
"This is a decision for the hunt kennels, to be made in consultation with their private vet."
The APHA said it had "offered advice to the hunt kennels on options for managing this case".
Fox hunting in its traditional form was banned under the Hunting Act 2004, but trail hunting with hounds is still allowed.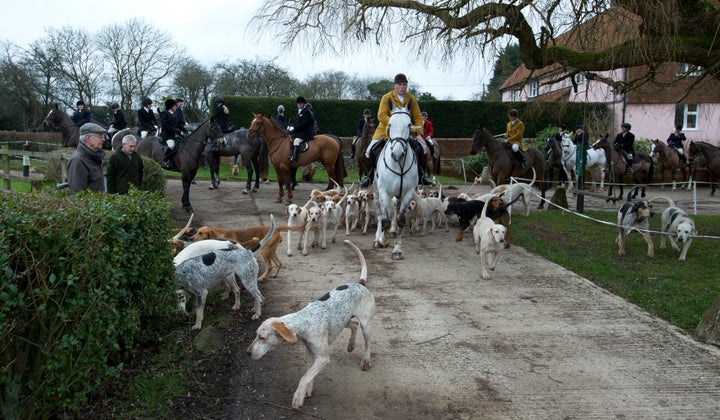 Eduardo Gonçalves, CEO of the League, said: "The implications of this outbreak are huge.
"We already know that restricting the movement of animals in the countryside is the only effective way of controlling bTB, but thousands of hunt hounds are free to chase from field to field, farm to farm and across private and National Trust land pretty much on a daily basis during the hunting season.
"How on earth can this be allowed to continue now we know that at least some hounds have caught the disease?
"It would be a farce if hunting was allowed to continue while bovine TB is rife."
Gonçalves said all hunting with dogs "must be suspended with immediate effect at least until bTB is under control", adding: "To do anything else – or to do nothing – would raise serious questions as to who is really in charge of looking after our countryside."
The hunt said in a statement it "voluntarily and immediately suspended hunting activities with its own hounds" after bTB was suspected.
"The Kimblewick hounds have not been in contact with any other packs of hounds since the initial case was suspected, and a monitoring and testing protocol has been rolled out across the country."
The hunt added: "Testing continues on the Kimblewick hounds in line with advice given from veterinary and scientific experts during this very difficult time for the hunt staff and their families."
The League estimates that there are more than 3,000 hunting hounds in the England bTB epidemic zone.
Dogs can be outside their kennels and in the countryside for an average of two days a week during the six-month hunting season.
The animal welfare charity said that it was tipped off about the outbreak from Hounds Off, an organisation that supports people negatively affected by hunts.
Joe Hashman, founder of Hounds Off, said: "It is because Hounds Off works with local people in local communities that we are able to find out things which might otherwise be kept secret.
"With the link between the Kimblewick Hunt hounds and bovine tuberculosis now confirmed, Hounds Off calls for the immediate blanket suspension of all hunting by all packs of hounds pending further investigations and enquiries."
Animals that contract bTB can become anorexic, suffer shortness of breath and vomiting before they die.
"However, the hunt immediately suspended hunting in the interests of farmers and landowners and the wider hunting interest.
"There is only one recently recorded case of a dog with bTB in England, some four years ago."
Gonçalves warned that thousands of dogs could be destroyed if the government does not "act decisively" to control the spread of the disease by stopping hunting.
A Countryside Alliance spokesperson added: "This has been a particularly difficult time for the hunt staff, their families and all those associated with the Kimblewick hounds and our thoughts are with them."
Related