Customers who still have House Of Fraser gift cards they purchased before the department store was bought by Sports Direct owner Mike Ashley may be left out of pocket, it is feared.
The chain, which was rescued last month in an 11th hour deal, has gone silent on whether or not it will issue replacement cards to people who sent them in, which it reportedly instructed people to do. It is also unclear whether refunds for online orders placed before the deal but not yet received will now be honoured.
The company previously tweeted to say it would halt and refund any orders not received but has now changed its tune – advising people instead to seek their money back by contacting the administrators.
If you have an unspent gift card or an undelivered item, here's what you can do.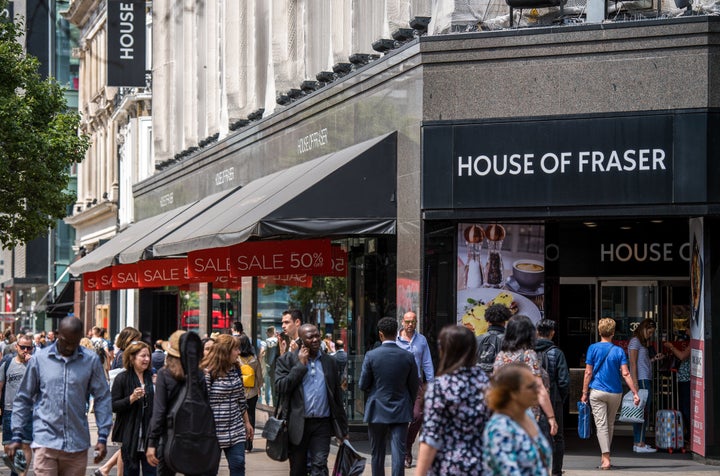 1. Contact House of Fraser.
The company has told the press it can't comment on individual cases but you may be able to find more information by phoning direct on 0141 404 3747 or writing to House of Fraser, Customer Services Department, 3/1 Granite House, 31 Stockwell Street, Glasgow, G1 4RZ.
Just don't hold your breath for a speedy reply – lots of people have been complaining online about slow response times.
2. Contact your bank if you paid using a credit card.
If you used a credit card to purchase a gift card or an online order, you can make a claim via your bank under Section 75 of the Consumer Credit Act.
The Act deems that your credit card provider is just as liable for a breach of contract (in this case failure to deliver the items, for example) as the retailer. You can find out more about how to make a claim via Which? here.
The bad news is that you can only do this for individual items that cost £100 or over. Items that cost less than that – even if they collectively reached that amount in an order – aren't included.
3. Seek a 'chargeback' if you paid with a debit or credit card.
You can ask your bank to withdraw funds previously paid to the recipient and put them back in your account (though the recipient can dispute this).
If you paid using a credit card and your order was less than £100 you can also try this method. While most banks will discuss chargebacks with customers, it's worth bearing in mind it is not a consumer right so making a chargeback is not guaranteed.
4. Make a claim to the administrators.
You can also make a claim for the amount to the appointed administrators of House of Fraser, EY, the company responsible for paying creditors left out of pocket before the chain was sold.
Bear in mind that customers will be pretty far down the list in terms of who gets what money back though, meaning you may get only a small amount refunded, if anything at all.
This is because there is a vast amount of money owed to other businesses by House of Fraser, too, including many suppliers to the business owed millions of pounds who will also most likely be left out of pocket.
EY said : "Customers can submit a claim against the HF Stores Realisations Limited (formerly House of Fraser (Stores) Limited). However, this will be treated as an unsecured creditor claim and unfortunately they will only receive a very modest recovery against the amount claimed."