We slurp our way through more than seven billion bottles of water every year in the UK. Worryingly, many of those bottles are made from so called "virgin" plastic – which means they are brand new and do not contained recycled materials. What's more, many of those plastic bottles will be chucked straight into regular rubbish bins or littered within minutes of use.
In an attempt to curb our reliance on plastics, the government announced in the 2018 Budget that it would consult on taxing packaging that does not include at least 30 percent recycled plastic by 2022.
The so-called "plastic tax" would encourage us to make sure the plastic we used was recycled before and after we used it. But take one plastic bottle, for example: is there a limit to the number of times that it can be recycled?
"You can recycle plastics a lot of times but if you were to do an experiment where you just kept on melting the bottle, making the bottle, and then melting the bottle [again] it would eventually degrade," Dr Karl Williams, head of the centre for waste management at the University of Central Lancashire told HuffPost UK.
"A plastic is made up of very long chains, and every time you process them these chains will break, and as they break the plastic is degrading. So there is a finite time that you can keep recycling the plastic."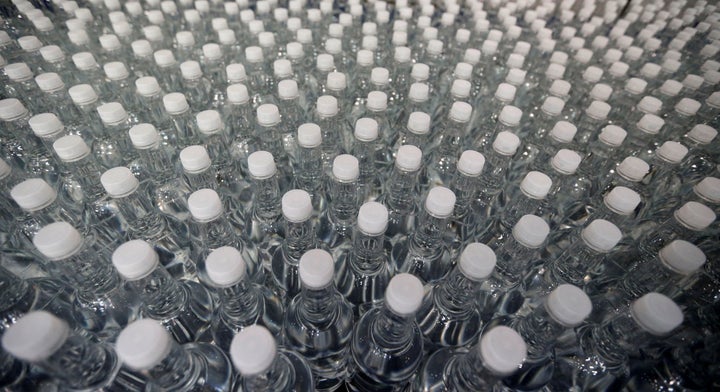 One way manufacturers achieve extra longevity is by adding virgin plastics to recycled plastics to make them stronger, allowing you to recycle a single bottle "a lot of times", says Williams. "I can't say its 10, 20 or 30 times, but it's quite a lot. But there is a finite limit on how often you can do it."
The clear plastic used in water bottles tends to be of high quality, he explains, and when recycled material is added to virgin plastic, it's being "up-cycled."
Conversely, when that plastic has hit its limit and starts to degrade it can be "down-cycled" to a lower quality product such as plastic decking or park benches which are typically made of a blend of other plastics – meaning your water bottle could end up melted into an entirely different form.
"Usually polymers in the form of plastic bottles can be recycled a maximum of 10 times. Polymers are basically chains and during the process of recycling they might get damaged, so the quality of the chain decreases in time," says Simona Maccarrone from Matmatch, an online platform that helps product designers and engineers to source and evaluate materials.
"When something is recycled there's already the challenge of collecting different plastics separately," she told HuffPost UK. "You might have [three types] of plastic. They collect and shred the bottles in mini, tiny pieces, and then they melt it in a furnace and form new things."
Plastic that's reached the end of its life is often burned for energy or ends up in landfill. But the key is to make use of it rather than leaving it to litter the environment or pile up in landfill.