Couples in the UK are prepared to spend big bucks in order to get the wedding of their dreams.
According to a new survey of 4,000 brides, the average cost of a UK wedding is now a whopping £27,161 – the highest it's ever been and up 9.6% from last year.
The single biggest wedding expenditure is venue hire, costing an average of £4,354.
The honeymoon is the second biggest outlay for the wedding, an average of £3,630, followed by food at £3,353.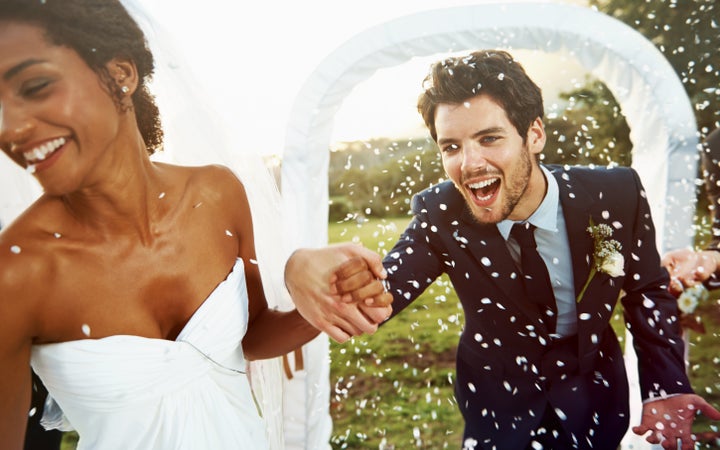 The survey, conducted by hitched.co.uk, also revealed how wedding spending varies by region in the UK.
It showed that Londoners spend the most on their wedding with an average cost of £33,884 while couples from the Midlands proved the canniest, spending an average of £25,915 on their wedding.
The average cost of an engagement ring is now £2,084, up 17.6% from three years ago. Londoners shelled out the most on their engagement rings spending £3,133, while couples from Midlands were the most prudent, spending £1,810 on their engagement rings.
The survey revealed that parents are no longer the sole financial contributors for the big day as 51% of couples pay for it themselves with a little help from family contribution, while 32% of couples are funding it themselves completely.
Commenting on the results Sarah Allard, editor at hitched.co.uk, said: "It's clear to see that the venue really is the most important part of a bride's big day, with couples opting to spend 16% of their total budget on their favoured place to say 'I do'.
"It seems most couples are paying for their big day with a little family contribution, and inviting more guests to their day and evening celebrations too – both of which could account for an increase in total spend compared to last year.
"Perhaps less surprising that the average cost of an engagement ring is now the highest it's ever been with one in three brides now involved in choosing their ring too."
The breakdown of wedding spending by region can be seen below, but if those figures make you shudder (yep, us too), check out these tips on how to have a fairytale wedding on a budget.
Total average cost of the wedding:
UK Average : £27,161
London: £33,884
Scotland: £26,544
Northern Ireland: £28,339
Midlands: £25,915
The average cost of an engagement ring:
UK average: £2,084
London: £3,133
Scotland: £2,103
Northern Ireland: £2,498
Midlands: £1,810
The average cost of venue:
UK average: £4,354
London: £5,054
Scotland: £3,770
Northern Ireland: £4,575
Midlands: £4,202
The average cost of food:
UK average: £3,353
London: £4,741
Scotland: £3,111
Northern Ireland: £4,066
Midlands: £3,174
The average cost of honeymoon:
UK average: £3,630
London: £4,015
Scotland: £3,331
Northern Ireland: £3,212
Midlands: £3,545
The full findings of the hitched.co.uk 21 Century Bride survey are presented online and also in the latest issue of You & Your Wedding Magazine on sale 14 September and Perfect Wedding, on sale now.