Face masks and cloth face covers are used in our everyday lives – but how often should you wash it?
If you have a surgical face mask or cloth face cover, it's important that you either dispose of and replace it regularly, or wash it after every use. This is because coronavirus germs may have landed on the outside of your mask – and you don't want to risk becoming infected.
Surgical masks are tricky to clean because they're made from a material that degrades pretty quickly. Paul Hunter, an infectious diseases expert and Professor in Medicine at University of East Anglia, told HuffPost UK they're "essentially made out of paper".
Some people have been trying different approaches – including disinfecting them to try and reuse them – but he stressed that their make-up is quite complex.
In the centre of the masks is a material that's better at trapping viruses, he explained, but if that gets wet, damaged or displaced during the washing process, the mask becomes "useless". It's important to remember your breath alone on the mask will be enough to slowly disintegrate it. A general rule of thumb is that they should be replaced after three hours, said Prof Hunter.
Heavy duty masks worn by healthcare professionals – such as N95 and FFP2 masks – also can't withstand a laundry cycle as it damages the filters. They should be worn once and then replaced.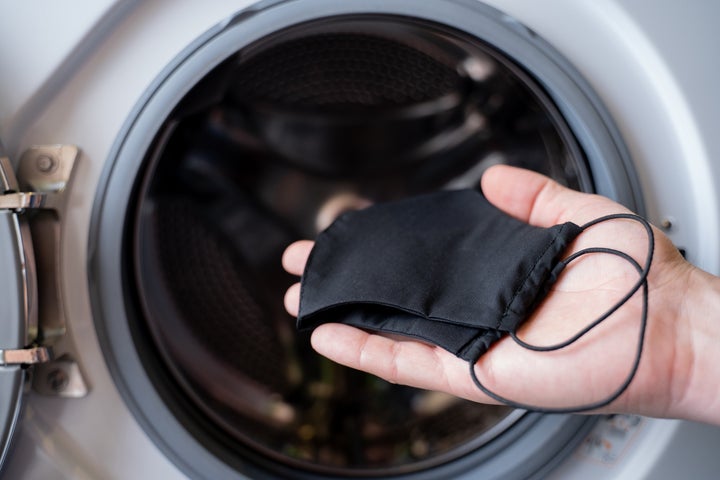 It's wise to check the washing instructions your mask came with if you bought it from a shop, but ultimately people should aim to wash them at 60 degrees Celsius and use detergent to kill the virus. "It can go in with other laundry," says the UK government's advice page on face coverings.
Coronavirus particles have a fatty, oily outer layer – and using detergent damages that layer, said Dr Ed Wright, senior lecturer in microbiology at the University of Sussex. "That layer is required for the virus to be able to infect a cell," he told HuffPost UK. "If you use soap or detergent, they will interact with this waxy, oily layer and disrupt that, so the virus will fall apart and won't be able to infect anybody."
You can dry your cloth mask by popping it in the tumble dryer if you have one, or laying it flat somewhere. The Centers for Disease Control and Prevention (CDC) in the US recommend placing the cloth face covering in direct sunlight to dry. A study published in the Journal of Infectious Diseases found that 90% of coronavirus particles deactivated within 10 minutes when exposed to ultraviolet light from the midday sun.
Store the face cover in a clean, plastic, resealable bag so it's fresh and ready for when you next need it.