For a lot of us, brunch dates used to be a staple of the weekend. Whether you prefer a full English breakfast or the mortgage-sabotaging, millennial favourite, smashed avocado on toast, brunch is a meal of leisure – the food equivalent of patting ourselves on the back after a hard week.
But while currently, we're not able to visit our favourite cafes, brunch is still a way to ease yourself into the weekend. Which is why we checked in with two kings of the kitchen for their take on a couple of brunch classics.
Reclaim your weekend ritual at home instead with their tips and recipes and start your day with something way more exciting than your usual toast.
How to poach eggs like a pro
Chef-founder Bill Granger is often been referred to as the "Brunch King", having popularised the ritual when he opened his original Bill's cafe, in Sydney, Australia 25 years ago.
He now owns the Granger and Co. cafe group in the UK and was very happy to talk through his fresh Aussie spin on a full English with HuffPost UK.
"It's a high-protein, low-carb, high energy big breakfast that keeps you going all day, using smoked or tea-smoked salmon or any preserved fish," he says. Eggs are poached, not fried – this is brunch, after all – and to achieve the perfect poach, it's all about controlling the temperature of the water, says Granger.
"To poach the eggs, bring 5cm of water to the boil in a frying pan, then turn off the heat and immediately add the eggs. Cook for around three minutes with the lid on, or when the whites are opaque," he explains. "To minimise spreading, break the eggs directly into the water, open the two halves of the egg at the water surface so that the egg slides in."
Take your eggs out with a slotted spoon and drain on kitchen paper to soak up excess water before serving. Bread wise: opt for sourdough, which offers better flavour and texture. We hear people have been baking it a lot of it lately!
Recipe: The Fresh Aussie
Serves: 4 | Prep time: 10 mins | Cook time: 5 mins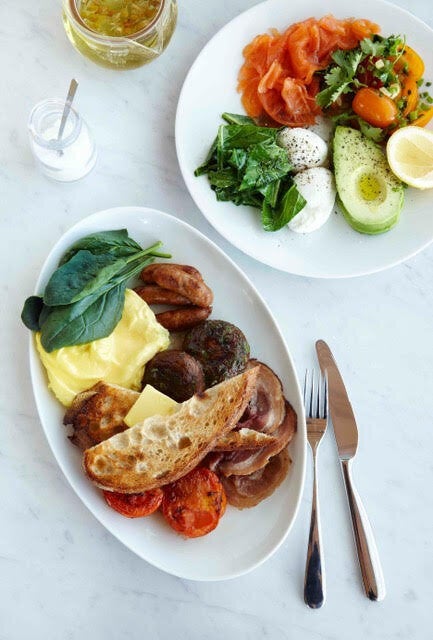 Ingredients:
50g greens (silverbeet, cavolo nero, spring greens, kale (cut into short lengths and blanched)
250g gravlax (cured salmon) or tea-smoked salmon
1 avocado, cut into wedges
For the cherry tomato salsa:
50g spring onions, finely sliced
1 handful coriander leaves
Method:
1. To poach the eggs, bring 5cm water to a boil in a frying pan. turn off the heat and immediately add the eggs. Cover with a tight-fitting lid and leave for three minutes. The eggs are cooked when the whites are opaque. Remove from the pan with a slotted spoon and drain on kitchen paper.
2. To make the cherry tomato salsa, mix together all the ingredients.
3. Arrange the greens, poached eggs, salmon, avocado wedges, and cherry tomato salsa on plates. Drizzle the avocado with extra virgin olive oil. Season the avocado with sea salt and freshly ground black pepper and a pinch of furikake. Serve with lemon wedges.
How to flip the perfect pancakes
Cooking brunch shouldn't be stressful, especially when it's supposed to be a chilled and relaxing two days off.
Henry Omereye, chef patron at Riding House Cafe in London, suggests not overcomplicating things, but taking your time over a good pancake stack.
"My secret is adding the egg yolks first to your mixture and allowing it to rest for three minutes then in a separate bowl beat the egg whites and combine all ingredients together," Omereye advises.
"Always make sure your pan is not too hot as the batter goes in, you should be able to tilt the pan so the batter forms a thin layer over the base. Now, gradually turn up the heat and cook for two to three minutes each side. Keep checking so it doesn't burn." Details count. "I prefer a medium flame and rub a small amount of butter on a non-stick pan," he says.
For the all-important flip, it's important the batter is fully cooked on the side in contact with the pan beforehand, he says: "My technique to flipping is to flick the pan up almost aiming the tip of the pan back towards you really quickly."
(Alternatively, let someone else do all the hard work for you. Riding House now offer a Weekender Box, with all you could need for a decadent weekend of feasting. That means brunches, suppers, and everything in between).
Recipe: Pancakes with Berry Compote and Chantilly Cream
Serves: 4 | Prep time: 10 mins | Cook time: 10 mins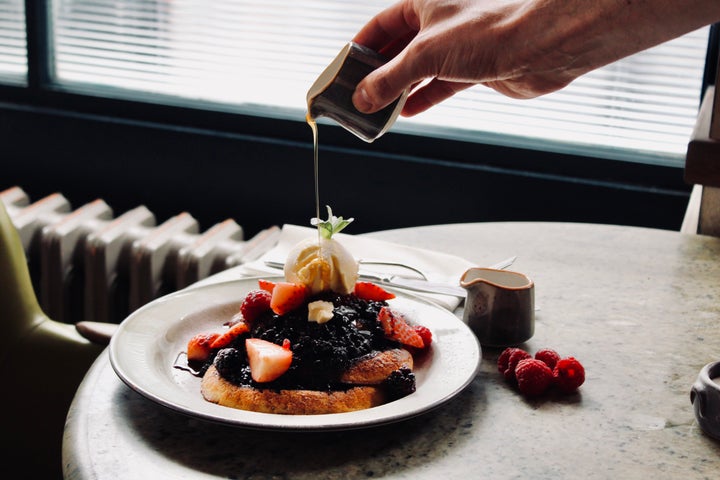 Ingredients:
A mixture of fresh blueberries, raspberries, blackberries and strawberries
Method:
1. Sift the flour into a mixing bowl, melt the butter and separate the egg yolk from the whites.
2. Make a well with the flour in the bowl and in the centre add the yolks, sugar, butter and milk. Mix and adjust the texture with water and allow to rest for three minutes.
3. In a separate bowl, whip the egg whites into a foam and then combine with the rest of the mixture. Have your non-stick pan and some butter ready to hand. Put a ladle full of batter into the pan and cook the pancakes for two minutes on each side, then finish in the oven for five to six minutes at 190°C.
4. For the berry compote, combine all the ingredients together in a pot and cook out on a low heat until the mixture is reduced by half, then take it off the heat.
5. For the cream, whip all the ingredients together making sure not to overwhip.
This new year, we focus on fun, not denial (because we've all had enough of that). Follow our month-long plan, with a new Here, Try This idea each day, spanning easy ways to engage your body and mind, inspiration for your food and home, and tips for boosting how you feel – inside and out.