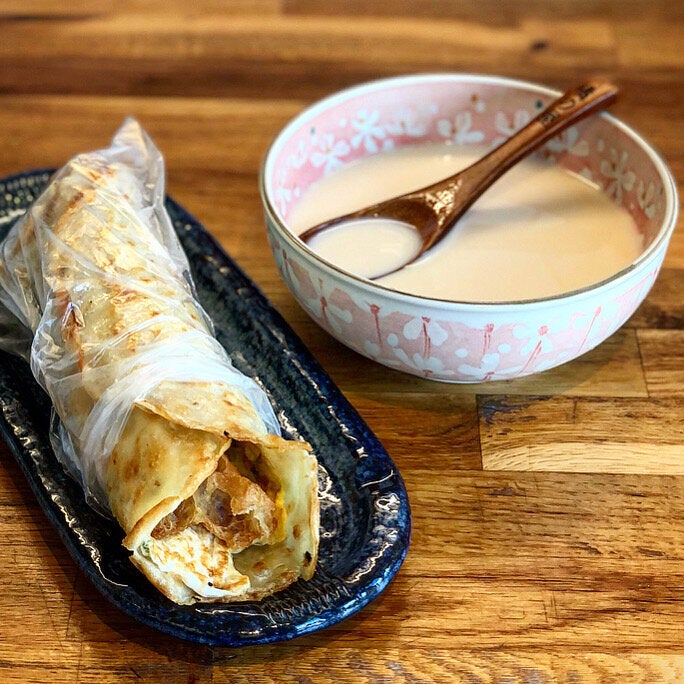 Cooking With Kids is a weekly recipe series on getting creative in the kitchen with the family.
No time for an elaborate breakfast? Enter: the dan bing, the Taiwanese street-food answer to a breakfast burrito. Chef and recent winner on Netflix's cooking show Crazy Delicious, Tiffany Chang, has the perfect savoury breakfast recipe that's quick, easy and mouth-watering.
"Traditionally it's served with youtiao (fried dough stick) and eaten with a bowl of soy milk," Chang explains. "My kid loves how versatile this is and she can add her own twist in the fillings. She likes hers with guacamole, Taiwanese pork floss and smoked mozzarella."
Besides having fun mixing and matching different fillings, this is a great recipe for kids to understand measurements and sneak in a little maths. "Speaking like a true tiger mum, I can ask them, 'And how much do you need if I'm making double?'" Chang explains. "Kids can do pretty much all the heavy lifting until the cooking part, which they can do when they're a bit older."
"This was one of my favourite breakfast items when I was a kid in Taiwan," adds Chang. "I wanted to show my kids as long as you have flour and water, you will never starve."
Dan Bing 古早味蛋餅 (Taiwanese Egg Pancake)
Makes: 3 | Prep Time: 15-20 mins | Cook Time: 1-2 mins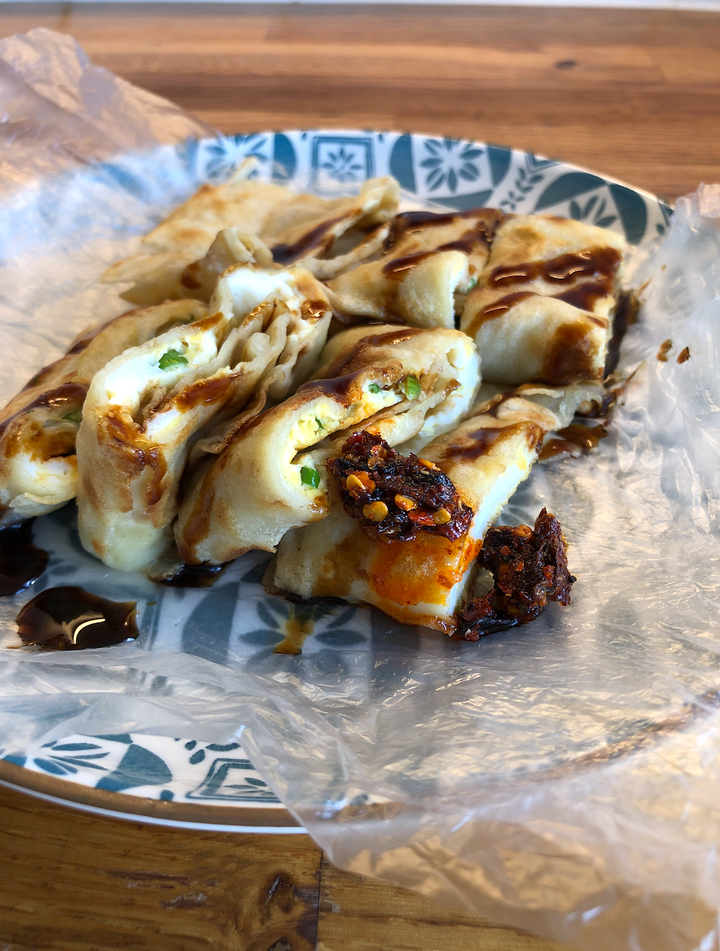 Ingredients:
70g plain or all-purpose flour
30g fine sweet potato flour or tapioca flour (I wouldn't recommend subs for this as it will change the texture but if you really must, you can use cornstarch).
1/2 tsp of white or black sesame seeds (optional).
For the fillings (per bing):
1 spring onion, finely chopped
Any other fillings you'd like.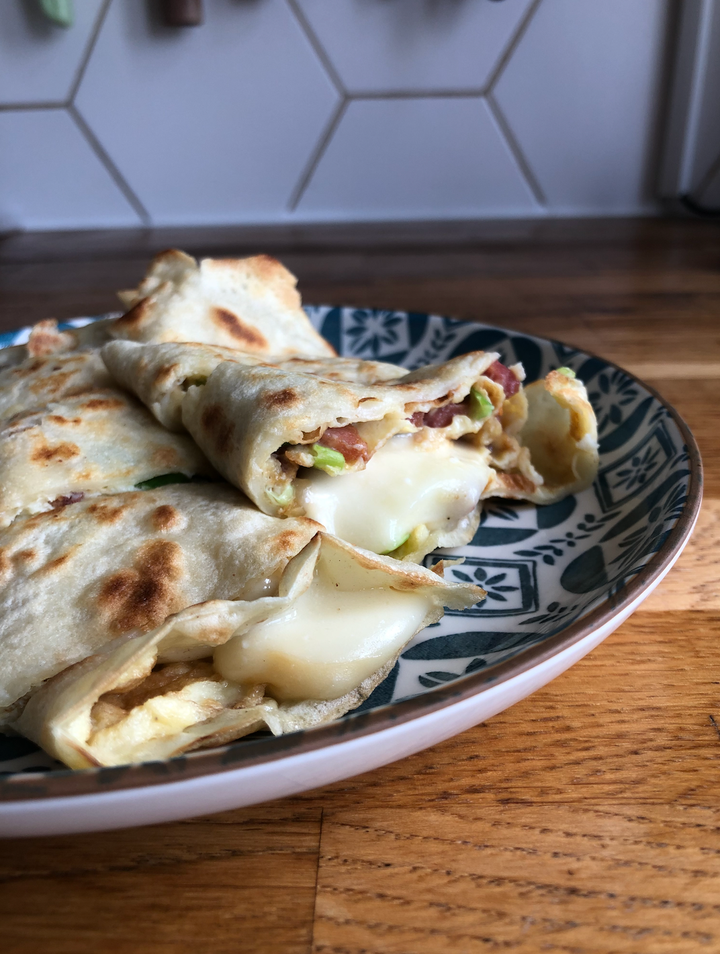 Method:
1. Mix all the dry ingredients in a bowl except the sesame seeds. Add in water and whisk until you no longer see any flour.
2. Whisk in the egg, then pour the batter through a fine sift into a clean bowl to remove all the clumps. Add in sesame seed and mix gently with a soft spatula.
3. In a 10 or 12-inch non-stick frying pan, on low heat, using a brush or a paper towel, lightly coat the pan with some oil.
4. Using a ladle or measuring cup, pour 1/2 cup of batter into the pan and swirl quickly so it coats the pan – like how you'd make a crêpe. Cook the first side for about 45 seconds, or until you can easily flip without the base sticking. Cook the second side for 30 seconds. Remove to a plate and set aside.
5. Cook the rest of the bings and move to the plate.
6. In the same frying pan, turn up the heat to medium and coat the pan with 1/2 tbsp of oil. Soak up the excess with a paper towel. In a small bowl, beat the egg, salt, pepper and chopped spring onion together.
7. Once the frying pan is preheated, gently put down one dan bing sheet, and fry the first side again for about 30-45 seconds, until it's slightly golden, then flip. Cook the second side again for about 20 seconds.
8. Using tongs, fold the dan bing in half and move to the edge of the pan.
9. Add 1 tsp of oil in the middle of the pan and pour in the egg mixture. Now put the dan bing on top, the second side down.
10. Press down the bing with a soft spatula and cook for about 15 secs, flip again and lower the heat. Now, this is a good time to add your fun toppings, like cheese, pork floss, bacon, ham, last night's pulled pork, the sky's the limit!
11. Roll it up in the pan and remove to a chopping board. Serve it chopped in big pieces – or wrap it up in parchment paper (in Taiwan, they use plastic bags) and eat it like a burrito!
12. You can either eat them straight away or freeze them for another time (it will be good for a month in the freezer if each bing is separated with parchment paper, wrapped with cling film and in a ziplock bag).