Cooking With Kids is our new weekly recipe series on getting creative in the kitchen with the family.
There's always time for pancakes, just ask chef Adam Rawson, who loves to turn overripe, blackened bananas into sweet, fluffy American-style pancakes with his son.
"It's a pretty simple, straightforward recipe to make with kids so it works really well," Rawson, who is executive chef at Double Standard and Isla at The Standard restaurants in London, tells HuffPost UK. "There's lots for kids to get involved with – anything from the weighing, whisking, mixing, squeezing the banana pulp, cooking, and, of course, flipping the pancakes!"
Besides perfecting tossing skills, there are plenty of things little ones can learn about from this recipe. From weighing out ingredients to the timing of the pan when cooking and teaching them the importance of appearance – just because fruit and vegetables look wonky doesn't mean they won't taste amazing.
"My little boy loves cooking, and just seeing him wearing his little apron, getting his hands dirty, mixing things, (carefully) helping with the cooking and then eating what he just made, is really special," Rawson explains. "He loves the banana trick especially when it comes to squeezing it after. And of course, what kid doesn't like pancakes?"
Banana Pancakes
Serves: 12-16 pancakes | Prep Time: 10 mins | Cook Time: 10-15 mins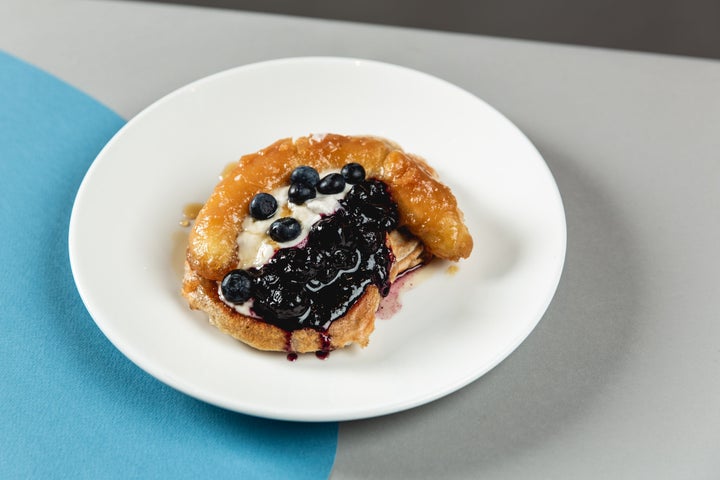 For the sticky banana topping:
butter for the frying pan
1. The day before, you'll need to freeze 2 bananas (you can also keep a few in the freezer for any other baking). Once frozen, defrost the bananas either at room temperature or in the microwave. They will turn black and mushy but the flavour and texture are perfect for baking. By freezing and defrosting, the banana cooks inside its skin, whilst retaining its raw flavour.
2. For the sticky banana topping use a non-stick frying pan, bring the maple syrup to a boil with a touch of butter and a pinch of Maldon salt.
3. Once boiling, add the fresh bananas and glaze until the banana becomes sticky. Set aside while you work on the pancakes.
4. In a large bowl, sieve all the dry ingredients until they are fully incorporated. Pour in your milk and buttermilk and stir the mixture.
5. Squeeze the black banana until all of the pulp is out of the skin. With the whisk, mash the banana pulp into the pancake batter. Add your eggs, followed by the melted butter.
6. In one of the frying pans, melt a thumb of butter on medium heat until it starts foaming.
7. Carefully ladle some of the pancake mix and cook slowly until the pancake mix almost dries up on the surface, then flip it and cook for another minute or so.
8. Once all the pancakes are cooked, top them with your sticky glazed bananas and some berries, or cream, or whatever you feel like.