Wedding prep can be lovely – choosing your venue, invitations, dresses and suits, flowers and food. But nothing pierces the bubble of romance quite like an enormous great invoice.
The average UK wedding costs in excess of £21,000 – or the same as a decent house deposit – and can be well out of reach for many couples. But why fork out all that cash if you don't need to? There is another way to do it, as proved by these couples who capped their wedding budgets at £5,000.
We've asked them how they did it, so you can too.
Our wedding cost £5,000: we married on a Greek island a year after we got engaged there.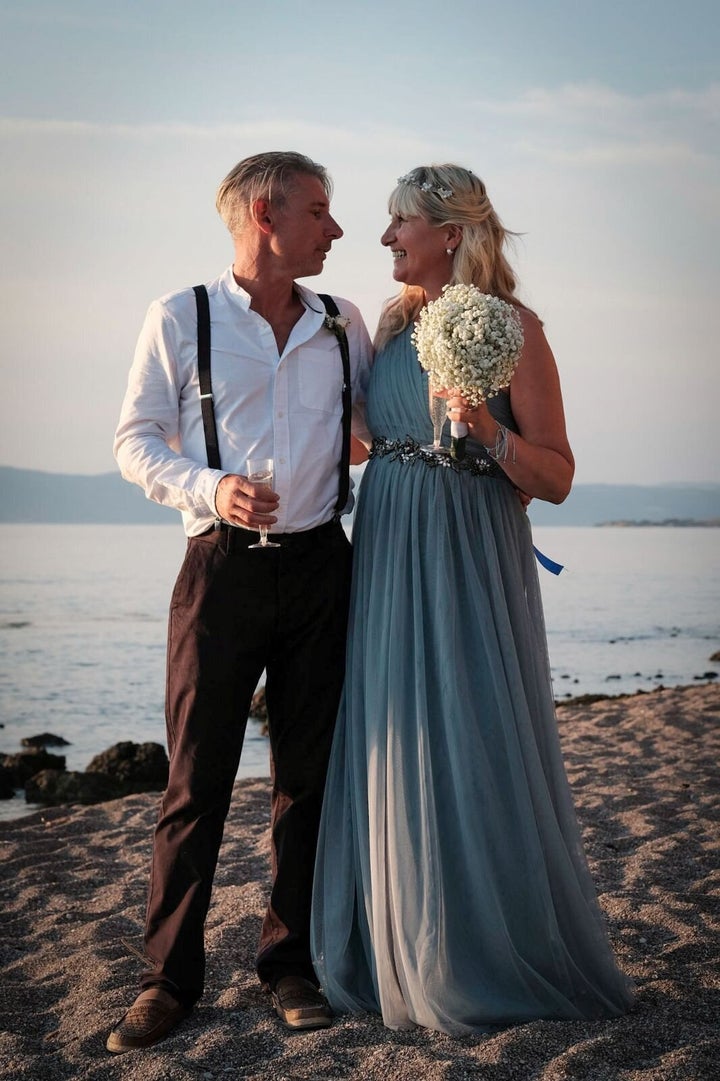 Claire and Royston had their perfect, dreamy DIY Greek wedding on a beach in Anaxos, on the island of Lesvos in front of 65 guests. They spent £5,000 in total, which included the flights and hotel, the ceremony, wedding outfits, and food and drink for their guests. It was affordable, Claire says, as Lesvos isn't as well known as other islands such as Santorini.
"We were very fortunate because Royston's mum and stepdad live in a little village just outside Anaxos," she explains. "We'd gone over to visit them the previous year and that's when Royston was taken by the Greek fabulousness and proposed – so having someone living out there was helpful." His mother Val and sister Jo really helped with planning and organisation, Claire says, including help with finding the venue for the reception.
"We have four daughters between us so we paid for their flights and accommodation, which was a main expense." The couple then had a ceremony on the beach before having a meal in a nearby restaurant, which came with a constant supply of Greek food and beers and wine. "For 65 people it came to about £1,200," says Claire. "It was incredible and very, very hospitable – we had so many traditional Greek dishes one after the other."
Val and Jo decorated a gazebo for the ceremony on the beach, while the restaurant provided the chairs which guests then took back for the reception. "It was an informal but amazing experience."
Claire saved on items like her wedding dress which, she says, wasn't expensive. "It was about the experience of getting married to someone I loved rather than spending a fortune on a dress. For brides who do want to do that, it's their day and their decision but for me it wasn't a priority."
If you're considering getting married abroad, Claire suggests being open-minded – rather than searching for wedding venues, she and Royston chose their favourite restaurant. Picking a less popular spot can also make things more affordable for your guests, she notes: "If someone is thinking about getting married abroad it's only fair to think about the expense that'll be for friends and family too. If you're not going to a headline destination that helps as well."
Our wedding cost £1,000: my dress cost £60 from Asos and I arrived at the ceremony in a black cab.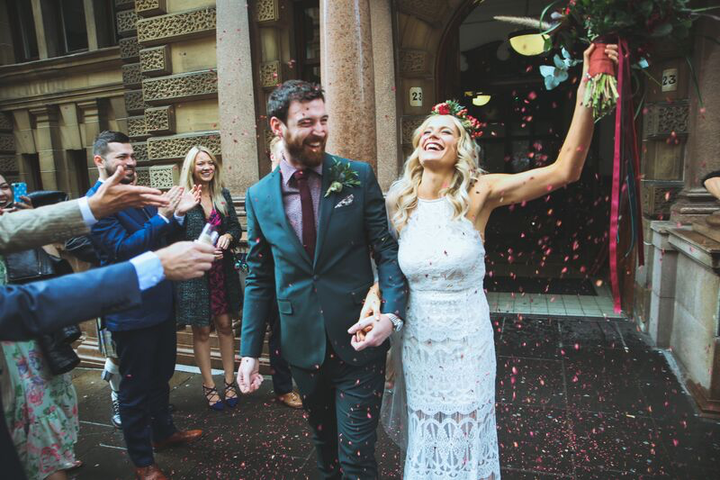 You don't need to jet off abroad to keep your wedding costs under control, as proved by Australian Emilyrose, 31, and partner Rory Fitzpatrick, 37, who is Scottish. The couple spent just £1,000 when they married in Glasgow in front of 30 friends and family in 2016.
In fact, the pair had been planning to elope, just the two of them, and only decided to have their September ceremony when Emilyrose's parents told them they were planning to visit from Australia.
They couple met the previous New Year's Day and it was love at first sight. "I literally saw him and said I'm going to marry that guy", Emilyrose tells HuffPost UK. She then spent six months in Scotland before returning to complete her art degree in Australia. Rory visited, proposed, and Emilyrose moved to Scotland so they could be together.
"We held a small ceremony at the Glasgow City Chambers for 30 close friends and family," Emilyrose explains. "Then we had an after party at a local pub where Rory got a special deal as he knew the guys who owned it."
The main expense was the ceremony and officiating the marriage, which cost £600. To keep other costs down, Emilyrose ordered five relatively cheap high street wedding dresses to try on and ended up choosing an Asos frock that cost £60, while Rory's suit was bought from M&S in the sale for just £65. Instead of a cake, the couple had a cheese tower, and when it came to flowers, Emilyrose put together her own bouquet and headdress using flowers from Tesco, Sainsbury's and M&S mixed with ivy taken from outside her bedroom window.
"My friends did my hair and makeup and I got a black cab to the ceremony," says Emilyrose. "I met my photographer through a friend-of-a-friend in a pub. She was just starting out in wedding photography so she only cost £200 pounds for two hours and was beyond amazing."
Because the pair were able to keep their spending low, they could then put their money towards getting Rory an Australian visa, which cost £10,000.
"That was the driving force behind keeping costs down," says Emilyrose. "I would have liked to have more family and friends there but it was hard with them being on the other side of the world. It wasn't really out of choice to keep costs down, it was more a necessity – but do you know what, it ended up being perfect and so 'me'. I am a bargain hunter always!"
Want to keep your own costs down? Here are some tips:
Ask someone to bake you a cake.

Wedding cakes can cost hundreds of pounds - and can really make your budget rack up fast. But if you know someone who's a brilliant baker, why not ask them to make you a cake as a gift? Better still, create a cake table by asking a selection of friends and family to bake their favourite recipe, meaning you'll have a range of sweet treats for people to tuck into.

Become a dab hand at DIY.

You can really trim costs by making your own bouquet and headdress from supermarket flowers as Emilyrose Fitzpatrick did. (A bespoke bouquet from a florist could cost you upwards of £100). You can find tutorials and information online to build your confidence.

If you're someone who's comfortable doing your own hair and makeup then doing it yourself will also save a significant sum.

Buy second hand or high street.

Wedding day outfits are often a significant cost. But many high street brands have moved into wedding gear in recent years – from Asos and French Connection to & Other Stories.

The same is true of shoes. For lots of people they are just as important as the dress or suit – but there are so many stylish designs on the high street meaning you don't have to splash out.

There are also marketplaces out there for couples who want to sell their wares after the big day – from dresses and props to centrepieces and lanterns. Popular sites include Sell My Wedding .

Save on the photos.

Hiring a photographer is a major cost and can easily cost in excess of £1,000. You can try negotiating to see if you can get a good deal if they cover only the ceremony. Or arm your guests with disposable cameras to get some fun pictures you can print and turn into an album.

If you're a fan of photobooths it's just as easy to create your own as it is to hire one (and a lot cheaper). Just pop down the charity shop for props.