This chocolate cake looks tricky to make but is simply a sponge cake, creatively cut and decorated with chocolate buttons. If you're nervous about cutting out the owl shape freehand, make a simple paper stencil to work around.
Chocolate owl cake recipe
Ingredients:
20cm square, loose-bottomed cake tin
200g caster sugar
200g unsalted butter, softened
140g self-raising flour
½ tsp baking powder
4 tbsp Cadbury Bourneville cocoa powder
4 medium eggs
100g Cadbury Bourneville dark chocolate
100ml double cream
Knob of butter
2 Cadbury Diary Milk Giant Buttons
1 bag of Cadbury White Chocolate Buttons
1 bag of Cadbury Dairy Milk Buttons
1 or 2 Cadbury Flake
1 Cadbury Dairy Milk Marvellous Mix-Ups With Maynards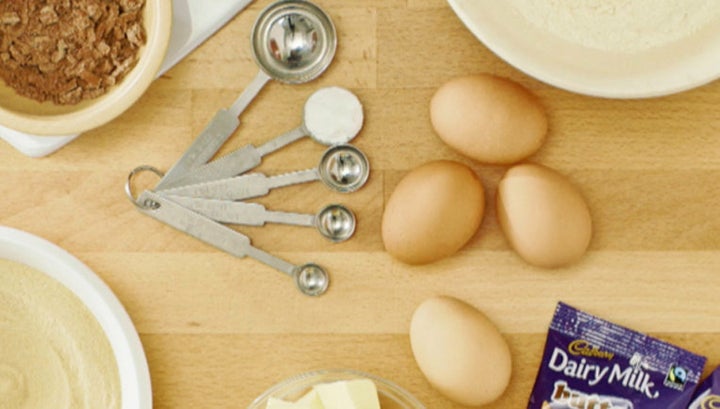 Method:
1. Preheat the oven to 180°C fan/160°C and line your cake tin with grease-proof paper. Cream together the sugar and butter until light and fluffy. Slowly add the eggs with 2 tablespoons of flour to prevent it from curdling. Then add the remaining flour, baking powder and cocoa powder. Mix until combined.
2. Pour the cake batter into your prepared tin and place in the centre of the oven for 30 minutes, or until a skewer comes out clean when placed in the centre of the cake. Place on a cooling rack for five minutes, then remove the cake to cool fully.
3. Meanwhile, make the icing. Melt the chocolate and cream together in a bain marie (a bowl over a pan of simmering water, being careful not to allow the bowl to touch the surface of the water)
4. Once melted, remove from the heat and add a knob of butter, stirring until combined. Leave to cool and thicken up until you have a good spreading consistency.
5. When you are ready to decorate, use a serrated knife (and a paper stencil if you need one) to cut out an owl shape. Use the leftover sponge to create two wings and place on either side. Add a layer of icing until the whole cake is fully covered. Begin by placing two giant buttons on the face as eyes, then two white chocolate buttons for the pupils. Create a beak by using a Cadbury Dairy Milk Marvellous Mix-Ups With Maynards raspberry jelly.
6. Using your fingers, crush up the chocolate flakes (do this while the flake is still in its sealed packaging) and use to cover the wings, ears and around the owl's face to create a feathery look. Finally, place layers of milk and white chocolate buttons for the owl's belly.
7. Slice and enjoy!