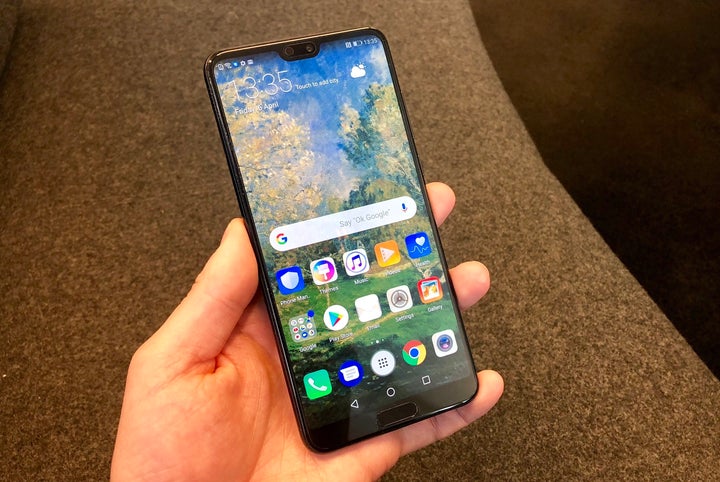 K E Y P O I N T S

The P20 Pro is the new flagship phone from Chinese manufacturer Huawei.

It has a 6.1-inch Full-HD AMOLED display (yes, with a notch) that's big, crisp and extremely bright even in direct sunlight.

This a big phone, but it's not totally unusable in one hand. I really like the design, it's flashy without being crass.

The P20 has not one, but three cameras on the back: a 40MP main sensor, 20MP black & white sensor and a 8MP sensor with 3X optical zoom.

The camera is both a triumph and failure. It can take incredible low-light photos yet at the same time takes bafflingly unrealistic selfies.

Huawei's version of Android is well...not to everyone's tastes, it's a bizarre mashup of other companies ideas from early 00s Apple to current day Samsung. I just ended up using either Google's own apps or third-party ones.
V E R D I C T

In the past Huawei has always tried to undercut its rivals by selling a phone that was technically very good, wasn't going to win any design awards but had a price so reasonable you couldn't refuse.
That is not the case with this phone. It costs £799 SIM-free and so while it's not as expensive as the iPhone X or the Galaxy S9, it's clearly aiming for both of them.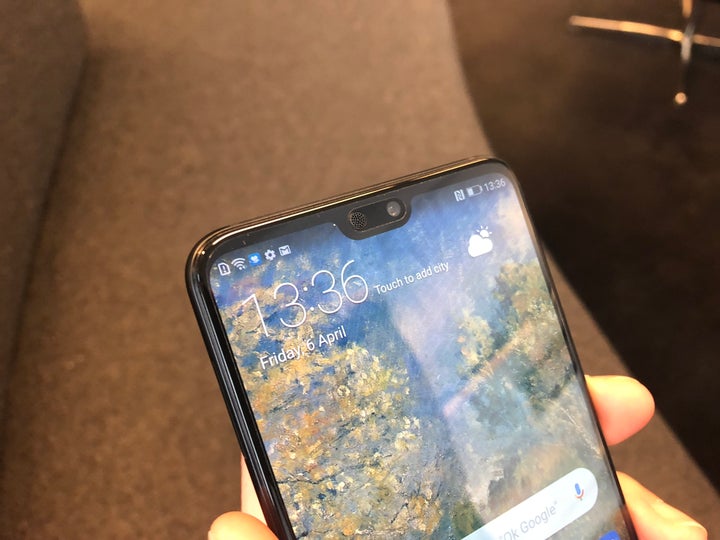 The phone has a very large 6.1-inch AMOLED display that's clean, sharp and exceptionally bright even in direct sunlight.
Despite its size the P20 Pro isn't that hard to hold in one hand, making it certainly more manageable than both the Pixel 2 or the Galaxy S9+.
What I'm significantly less keen on is the phone's operating system. It's a skinned version of Android called EMUI and as with previous Huawei phones it seems to be a mashup of several different design languages, none of which are particularly pleasant. Maybe it's a matter of taste but I found myself replacing the phone's apps with either Google's own or third-party equivalents.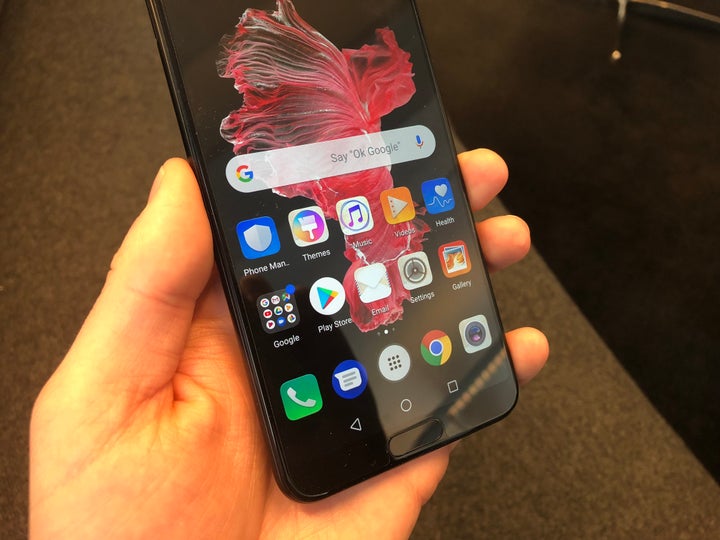 What I'm more excited about is the camera, or rather all three of them. The P20 has a 40MP sensor, a 20MP B&W sensor and a 8MP sensor with 3X optical zoom.
Why have three? Versatility, it means that whether you're taking a close-up, a wider panorama or a moody night-time photo the camera can use all three lenses, combine the shots and produce something that's better than the sum of its parts.
To do this the P20 has a Pro mode that gives you a dizzying amount of control over all three cameras but it does require a fair amount of tinkering. It also uses the three lenses to 'see' in the dark, allowing you to take night-time shots that would never be possible on either an iPhone or Galaxy S9.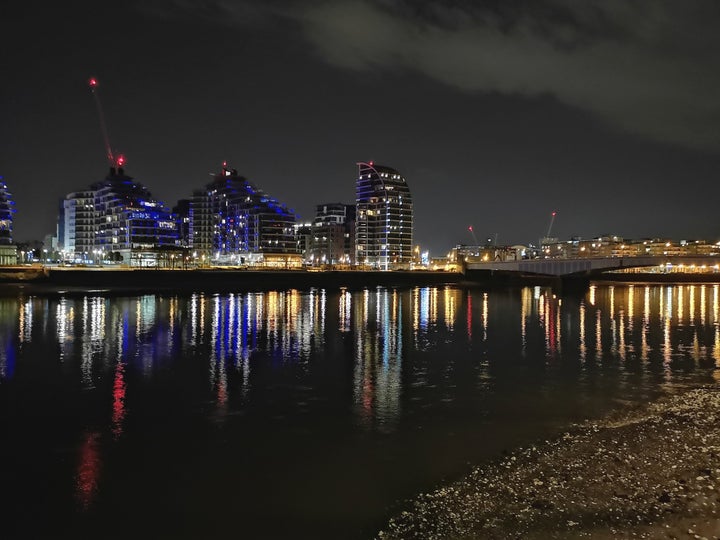 Where it all falls apart however is when you let the phone do the tinkering for you. It uses AI to recognise what's in the scene and then 'enhances' the images for you. In the case of selfies it smooths out skin tones, removes blemishes and even gives your eyes a glistening shine. Call me old-fashioned but I like to at least have the choice over which bits of me are visible or hidden. Indeed when I showed the results to the office it's fair to say that while some liked it, the majority thought it was just deeply odd.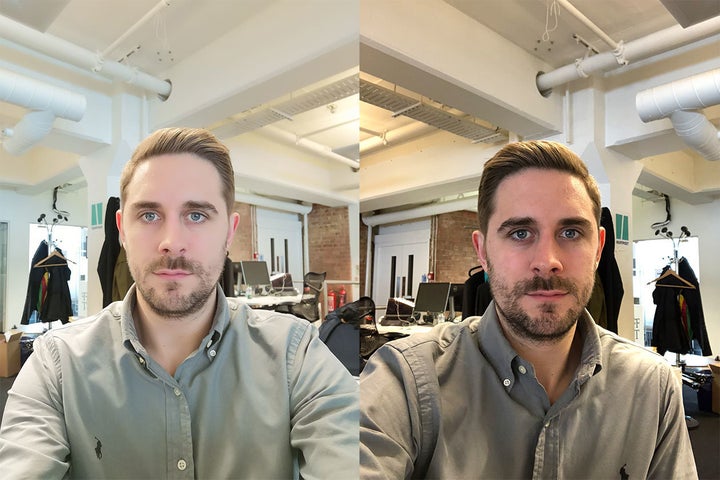 Beyond the camera there are some other annoyances as well including the lack of wireless charging which feels like a must with today's smartphones.
Finally, and despite those shortcomings, I was incredibly impressed with the P20′s battery life. In the week so far I've easily seen it last for over a day and I'd never worry about having to charge it before plans in the evening.
Correction: This article stated that the P20 Pro was not water-resistant, it is IP67 water resistant and can be submerged for up to 30mins in 1m of fresh water.
S P E C I F I C A T I O N S

Display: 6.1-inch AMOLED display

Processor: Kirin 970

Camera: Rear facing 40MP sensor, 20MP B&W sensor, 8MP sensor with 3x optical zoom. Front facing: 24MP

Storage: 128GB

Connectivity: WiFi, Cellular, Bluetooth and NFC

Software: Android 8.1, EMUI 8.1

Price: £799 SIM-Free
T A K E H O M E M E S S A G E

On reflection the P20 is a great phone some of the time, and at others it's downright infuriating. Yes it can see in the dark, but you shouldn't buy a phone solely because it can see in the dark.
The P20 feels like a brainstorming meeting where some ideas (camera, screen, battery life) were brilliant and others (operating system, also the camera) just shouldn't have left the room.
On the one side you have the £900+ Samsung Galaxy S9 and iPhone X, both of which I think are objectively better. Then on the other you have the equally excellent Pixel 2 at £629 and sadly the P20 isn't markedly better than any of them.